World Cup Odds and Picks: Argentina vs. Mexico Predictions
by Nicholas Tolomeo - 6/26/2010


Get more World Cup betting information including betting bonuses, World Cup odds and our famous World Cup picks, which in 2006 earned $100 bettors over ten times their initial investment. ($100 bettors earned $1,820 click here for details)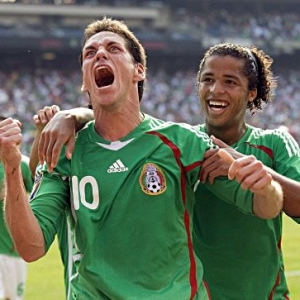 For the past four years Mexico has been salivating for a chance at redemption against Argentina. It was the Round of 16 in Germany in 2006 when Mexico could not hold on to a 1-0 lead and eventually succumbed to Argentina 2-1 in extra time on an incredible goal by Maxi Rodriguez.
Fast-forward to South Africa 2010 and now a rematch against Argentina may be the last thing Mexico is looking forward to. Argentina steamrolled through Group B outscoring its opponents 7-1 and the lone goal conceded was an own goal. As of Wednesday most sportsbooks have moved Argentina into pole position as favorite to win the World Cup at 4/1 odds.
Finishing second in Group A has forced Mexico to go through the Argentine buzz saw. It is a similar situation to what both countries went through in 2006. Mexico finished second in Group D and drew Argentina who had won Group C. Rafael Marquez struck early for Mexico in the sixth minute but Hernan Crespo equalized four minutes later. There would not be another goal until Rodriguez's stunning volley from outside of the box into the opposite top corner of the net.
At 2:30 p.m. EST on Sunday at Soccer City in Johannesburg the two countries will renew acquaintances on the World Cup stage for the first time since that memorable game in Germany.
The pressure was on Argentina before this World Cup and it seemed to mount as the offensive attack never truly found its way in an underwhelming 1-0 opening win over Nigeria. The goals started to come in droves then as Argentina would score six more over two games and all of a sudden even Diego Maradona looks relaxed.
Stopping the Argentina scoring machine is now the problem of the Mexican defense, a capable unit but hardly an elite group. The defensive core anchored by Rafael Marquez, Carlos Salcido, Ricardo Osorio and Francisco Rodriguez will be put to the ultimate test against the versatile, experienced and lethal Argentine attack. All four of the Mexican defenders have played all 270 minutes thus far in the World Cup but never will more be asked of them than in the first 20 minutes against Argentina.
Soccer City Stadium is not a new venue to either team. Mexico opened the World Cup there with a 1-1 draw against South Africa. Argentina must feel a little more at home in Johannesburg after a 1-0 win over Nigeria there and a 4-1 win over South Korea in the same city five days later.
Regardless of where this game would be played Argentina is the overwhelming favorite because of its attack. Against Greece, without too much at stake and with an improvised lineup, the Argentine goals came from defender Martin Demichelis and substitute Martin Palermo. The goal scorers from here on out can be expected to be household names. Lionel Messi is still scoreless but his ability to create and send shots on target played a large part in Argentina's seven goals during the group stage.
Carlos Tevez, Sergio Aguero, Diego Milito, Gonzalo Higuain and Messi give Argentina an attack unmatched in this World Cup. Mexico will not be able to shutdown all the scoring options Maradona will employ but it has to find a way to limit their early chances. An early Argentina goal could be demoralizing for the heavy underdog Mexican team.
Argentina vs. Mexico World Cup Odds:
Argentina enters the knockout stage the same way it did the group stage, as a heavy favorite. At -1 Argentina is -130 while Mexico at +1 is Even. In three-way betting Argentina is -220, a draw is priced at +315 and Mexico is the long shot at +600. The total is 2.5 with an over paying out +110 and the under at -140. All lines apply for only regulation and injury time. Odds are courtesy of Bodog and Sports Interaction.
Argentina vs. Mexico Picks and Predictions:
Argentina Will Win If: It leans on its weapons, the elite scorers at the top of the lineup who make Argentina so feared. The Argentina attack should also be its best defense as Mexico will be forced to pack in midfielders tight to prevent Messi and company from having space to work their magic. Messi is yet to land on the score sheet for Argentina but it is tough to see that streak extend to another game.
Mexico Will Win If: It gambles and takes chances. If there is one lesson Mexico can take away from the loss four years ago it is that it cannot afford to allow the more skilled Argentina team to control the tempo, it must push the issue. There is World Cup life to lose in this game but Mexico has to play like it has nothing to lose. It must take risks early on, bring the fight to Argentina and hope for an early goal just like four years ago. However unlike four years ago, Mexico will not be able to rest if it can stun Argentina early on, it needs to keep the arsenal of Argentine weapons guessing and on the defensive. It is a tall order but it is the only way Mexico can dream of an upset.
LOOKING FOR WINNING WORLD CUP PREDICTIONS? Doc's Sports has been professionally handicapping all major sports since 1971 and we have a great reputation for winning in our industry. In 2006 our World Cup picks clients hit 71% winners and $100 bettors made $1,820 (HUGE 1,482% ROI). For Euro 2008 we had 67% winners and $100 bettors made $2,225 (Huge 1,834% ROI). Click Here for Winning World Cup picks for 2010 World Cup Soccer.
---
Most Recent World Cup Betting