World Cup Odds and Picks: Argentina Vs. Nigeria Predictions
by Robert Ferringo - 6/10/2010


Get more World Cup betting information including betting bonuses, World Cup odds and our famous World Cup picks, which in 2006 earned $100 bettors over ten times their initial investment. ($100 bettors earned $1,820 click here for details)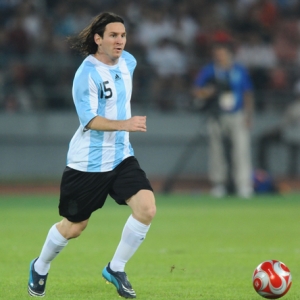 Two of the more rip-roaring, free-wheeling, fluid and creative national teams on the earth are set for dueling brushes in the World Cup opener for each team. However, in an odd turn there seems to be more attention being paid to the headmen on the sideline rather than the players on the pitch.
Argentina and Nigeria will open their 2010 World Cup with one of the most intriguing matchups of the first round of games. The two sides will meet at 10 a.m. EST on Saturday, June 12 in Johannesburg.
Argentina is one of the favorites to win the tournament and is No. 7 in the FIFA World Rankings. Nigeria, the most populous African nation, is No. 21 in the world.
These two clubs have met just three times in the last 20 years, yet all three matches have come in major world tournaments. Argentina is 2-0-1 in those games, winning 2-1 back in the 1994 World Cup and then playing to a 0-0 draw in the 2005 Confederations Cup. Their final, and most recent, win came via a 1-0 decision back in the 2002 World Cup.
But instead of breaking down the form of the players on the pitch, it seems each of these clubs is currently shackled with questions about the men on the bench.
For Argentina, soccer god Diego Maradona is attempting to lead his countrymen to its first title since The Hand of God-aided title in Mexico back in 1986. Maradona's passion for football and for his country is unquestioned. But his coaching knowledge and ability are. Repeatedly.
Maradona has been criticized throughout qualifying for a variety of reasons. First is the roster and lineup shuffling. He used 36 different players in seven qualifying games, and La Albiceleste actually faced the possibility of not qualifying for the World Cup finals late in the session. Second, he has not been able to get the best out of arguably the world's greatest player, Lionel Messi, and has been criticized for his staunch support of a firm 4-4-2. Third, a 6-1 loss to Bolivia in qualifying showed a myriad of technical flaws in his game plan.
Finally, and perhaps most importantly, Maradona has been accused of being too passive and too defensive-minded. As mentioned, he has stuck with the 4-4-2 formation despite an abundance of talented forwards on his roster. Also, this formation seems to leave Messi too far away to do as much damage as everyone knows he is capable of. Maradona has said he wants to build his team from the back. But it remains to be seen whether the personnel will mesh, or even buy in, to his system.
The Nigerian sideline is no less of a question mark. The country's football association decided to sack coach Shaibu Amodu back in February, after Amodu guided this team into the field. Lars Lagerback has replaced him, but the new headman has had barely any time at all to meet, evaluate, or lead his team. That's never a good thing heading into the most important soccer tournament on Earth.
Despite any issues off the field, the Argentinean squad appears to be rounding into form. They won 4-0 over Haiti and 5-0 over Canada this May in their final tune-ups. Those victories came after an impressive 1-0 win over Germany in March in Munich.
And in Messi they have an X-Factor that no team in the tournament can match. Combine his brilliant play with a host of players excelling in Europe's top league and you have a group that some analysts predict is the best Argentine squad in decades. And a 2008 Olympic Gold Medal win has done little to dampen the enthusiasm around this club's prospects.
It's just the opposite for Nigeria, which won the 1996 gold medal. This team is constantly being compared to that generation's players. But unfortunately this Nigerian club lacks the flair and flow of any of those teams. If they have any hope of advancing out of this group they'll need to find it. Fast.
That said, the Nigerians have a 1-0 win in France last year on their resume. And you can't ignore the home-continent advantage that this massive African nation should enjoy. Despite the turmoil, a rousing home crowd could be exactly what the Super Eagles need to galvanize them.
Argentina vs. Nigeria World Cup Odds:
Argentina is a heavy favorite in this matchup at -1.0 (-130). Nigeria is currently listed at +1 (+100). Betting with the draw emphasizes the disparity, as Argentina is listed at -185, Nigeria at +500, and the Draw at +275. The total in this game is 2.5.
Argentina vs. Nigeria Picks and Predictions:
Argentina Will Win If: They let Messi be Messi. Argentina has one of the best defenses in the field. If they can hold down the back third then they should be able to press forward with their arsenal of capable offensive players. The ringleader is obviously Messi, who was named FIFA Footballer of the Year at age 21. He dominates for Barcelona but hasn't had that success transfer to the national team. They need to get him involved early and everyone will feed off his creative ability. Argentina should be able to control possession against an undisciplined Nigerian squad and over the course of 90-plus minutes they will find some seams.
Nigeria Will Win If: Argentina remains passive. The Nigerians will have an excellent home crowd advantage and I'm certain that their club will feed off that. If Argentina is playing back on its heels or being too defensive then that should allow the Nigerians to gain some confidence. This team has absolutely no cohesion at the moment. But perhaps the off-the-cuff, haphazard situation surrounding their qualifying could allow this team to simply feel the crowd and feel the game. If they come out and play loose they can spring an upset. If they are sloppy and disorganized this one will get ugly.
Robert Ferringo will be releasing rated selections on the 2010 World Cup this summer. Robert is a long-time soccer aficionado and one of the most exciting handicappers in the industry, and he guarantees a profit through the entirety of the tournament. Sign up today and get on board the Victory Train!
---
Most Recent World Cup Betting