World Cup Odds and Picks: Cameroon Vs. Netherlands Predictions
by Trevor Whenham - 6/24/2010


Get more World Cup betting information including betting bonuses, World Cup odds and our famous World Cup picks, which in 2006 earned $100 bettors over ten times their initial investment. ($100 bettors earned $1,820 click here for details)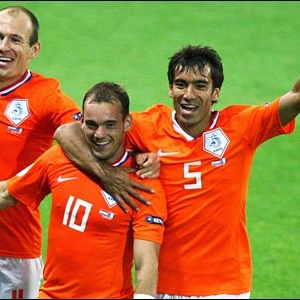 When the organizers of the World Cup looked over the schedule this must have been a game they got excited about. It had all the makings of a classic - a traditional European power against a dangerous African upstart with a history of providing World Cup drama.
Unfortunately, that script hasn't been followed at all. The Dutch have done their part with two wins, and are guaranteed of a spot in the second round. Cameroon has already lost twice, though, and is eliminated from the next round regardless of what they do here. In fact, they were the first team to be eliminated from the tournament. In other words, this game is essentially meaningless. The only possible outcome of interest is that Netherlands could wind up in second in Group E if they lose this game badly, and the game between Japan and Denmark also becomes a lopsided blowout. Not likely.

This disappointingly uninteresting Group E contest takes place on Thursday, June 24 at 2:30 pm ET in Cape Town.

While Netherlands has little to play for they certainly have some work left to do here. While they have won both of their games without too much challenge they certainly haven't looked great doing so. They have looked flat throughout most of both games, and seem to be lacking a spark. That hasn't been a real issue given their reasonably soft draw so far, but it will be a real issue if they hope to end their string of disappointing early exits in elimination rounds. They haven't earned style points, but this is a team that knows how to win. They have won 10 straight between this tournament and their qualification games.

The Dutch will get a big boost here as they try to show that they are in form to contend when midfielder Arjen Robben returns to action. He missed the first two games with a slight hamstring tear, so he'll definitely be using this game to get back into game rhythm before the games really matter. He's a brilliant playmaker who should give the offense a much-needed boost and start to get the strikers contributing to the outcome.

Cameroon is obviously very frustrated but they still have pride to play for, and this game will tell us how much of a factor that is. They have had their issues, but they are a dangerous team and are ranked 19th in the world. In striker Samuel Eto'o they have one of the most creative and explosive strikers in the tournament. He's 29, so this could easily be his last World Cup. He has one goal already, and I'm certain he'd love to add a couple more on his way out the door.

Netherlands vs. Cameroon World Cup Odds
Oddsmakers don't seem concerned that the Dutch have almost nothing to play for because they are still quite heavily favored. They are at -1 (+145) while Cameroon is at +1 (-185). When you consider the draw you have Netherlands at -125, Cameroon at +330, and the draw at +250. The total is at the standard 2.5, with the under favored at -130. Odds are courtesy of Bodog and Sports Interaction.

Netherlands vs. Cameroon Picks and Predictions
Netherlands Wins If: It keeps doing what it has been doing. They beat a decent Japanese team and a pretty good Danish one by playing fundamentally sound defense and taking advantage of enough opportunities presented to them to come out on top. You can argue that there is a lot that they could be doing better - and you'd be right - but the fact of the matter is that if they play the same basic game that they have played twice already in this tournament then they will win. The challenge is deciding just what their motivation is - will they look to win this game convincingly, or will they use it as a glorified scrimmage to work out some kinks and make sure that they are ready for the big games. Either way, if they don't come out on top then they can only look in the mirror.

Cameroon Wins If: Pride is an overwhelming factor. This team came into the tournament with high hopes, but nothing has gone right for them. There were signs that there could be issues before this tournament began. Most notably, Samuel Eto'o questioned whether he would even play after facing criticism at home form past players. It's hard to believe that he ever would have actually missed the tournament, but the episode had a clear impact on the team. They'll have to get beyond that and all of their other issues and force the tone of this game from the outset if they want to come out of top. They are certainly capable of it - especially because Netherlands isn't likely to push back if there will be a significant long-term cost to them to do so - but it's hard to believe that they are in a place to do so.
LOOKING FOR WINNING WORLD CUP PREDICTIONS? Doc's Sports has been professionally handicapping all major sports since 1971 and we have a great reputation for winning in our industry. In 2006 our World Cup picks clients hit 71% winners and $100 bettors made $1,820 (HUGE 1,482% ROI). For Euro 2008 we had 67% winners and $100 bettors made $2,225 (Huge 1,834% ROI). Click Here for Winning World Cup picks for 2010 World Cup Soccer.
---
Most Recent World Cup Betting