World Cup Odds and Picks: Netherlands Vs. Slovakia Predictions
by Trevor Whenham - 6/27/2010


Get more World Cup betting information including betting bonuses, World Cup odds and our famous World Cup picks, which in 2006 earned $100 bettors over ten times their initial investment. ($100 bettors earned $1,820 click here for details)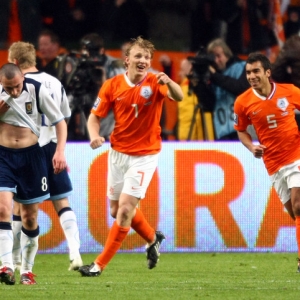 It seemed inevitable that there was going to be a couple of all-European games in the Round of 16. This contest isn't one that seemed particularly likely, though.
The Netherlands part is no real surprise. They were well positioned to win Group F, and they did just that, and did it without a blemish. Slovakia is a real surprise, though. They were outclassed by Paraguay, and that should have been the end of them. They were in a group with the defending champions after all. Italy couldn't have been more disappointing, though. They played underwhelming soccer in their first two games, and were fortunate to escape with draws. Slovakia put the entire country of Italy into a crisis on Thursday when they won a crazy game 3-2.
This unlikely pairing will be played out on Monday, June 28 at 10 am ET in Durban. That stadium was the site of Switzerland's stunning upset of Spain, so it has definitely been kind to European underdogs. It was also the site of the Dutch win over Japan, so Netherlands will have the relatively unique advantage of familiarity.
If you put a lot of stock in experience then this match is clear-cut and one-sided. Netherlands is playing in their ninth World Cup, and have now moved beyond the round robin seven straight times. Slovakia, on the other hand, is making their first World Cup appearance. Their history as an independent nation is short but it's still clear that the Dutch are the stronger, more historically significant squad.
Netherlands never lost and was never particularly threatened in their weak group. Interestingly, their most educational and perhaps best game was their last one against Cameroon. Thad already advanced and were all but assured of the top spot in the group so the game didn't really matter, but they played well anyway. Up until that point the team had faced criticism that they had been flat and some of their biggest stars hadn't been making any noise. That changed in the third game. Robin van Persie only played 59 minutes but made the most of it by notching a nice goal. Arjen Robben saw his first tournament action as a late sub after injury issues and showed that he is ready to make an impact. He set up the winning goal almost as soon as he took the field. The game wasn't perfect, but it answered some crucial questions and let Netherlands work out some kinks and prove their readiness.
When I close my eyes and think of a strong elimination round team I don't see visions of Slovakia dancing through my head. They opened the tournament by playing to a draw against New Zealand - something that proved to be much easier than it should have been. It's not that they couldn't beat such a lousy team that was the concern, but rather that they didn't look like they were clearly the better team. They played down to the level of the opposition and that's certainly not the sign of class. They faced a much better team in Paraguay and they looked just as outclassed as they should have. It was not an effort to be proud of. Their last effort, though, earns them some credit. Italy was primed to be exploited and was a hurting team, and Slovakia was able to rise to the challenge and exploit them. It was a wild and crazy game that really only got interesting in the final 20 minutes, but you can't say that Slovakia didn't deserve the win. So, to recap - a draw against a terrible team, an ugly loss to a decent team, and a win against a badly flawed, wounded giant. That's not a particularly inspiring set of circumstances.
Netherlands vs. Slovakia World Cup Odds
The oddsmakers see this one as lopsided as I do. Netherlands is favored at -1 (-160) with Slovakia far behind at +1 (+125). If you factor in the draw you have Netherlands at -250, Slovakia at +700, and the draw at +330. The total is at 2.5 with the under favored at -150. Odds are courtesy of Bodog and Sports Interaction.
Netherlands vs. Slovakia Picks and Predictions
Netherlands Wins If: They keep doing what they have been doing. They are the best team in this contest by an extremely wide margin. They have won 21 straight international contests, and it's not particularly a fluke. They may have trouble matching up to the elite teams later on, but they will be able to come out on top here unless they falter badly. They are reasonably healthy, their confidence has to be at a good level, and the style of play is ideal for them. Netherlands just has to be sure that they don't take their opponent too lightly or try to do more than they have to. This has been a tournament of big upsets and a Dutch loss here would be another big one.
Slovakia Wins If: Netherlands lets them. They were able to beat Italy because the Italians let their game plan fall to the side and tried to engage in a style of play that is far from their strength. Slovakia didn't win the game so much as Italy lost it. Netherlands may not be a better team overall than Italy, but they are certainly in a much better place right now. Slovakia needs the Dutch to falter in a similar way. That seems unlikely, but it seems just as unlikely that the Slovakians could stand toe to toe, exchange punches, and come out on top. Of course, this World Cup has truly shown us that anything can happen.
LOOKING FOR WINNING WORLD CUP PREDICTIONS? Doc's Sports has been professionally handicapping all major sports since 1971 and we have a great reputation for winning in our industry. In 2006 our World Cup picks clients hit 71% winners and $100 bettors made $1,820 (HUGE 1,482% ROI). For Euro 2008 we had 67% winners and $100 bettors made $2,225 (Huge 1,834% ROI). Click Here for Winning World Cup picks for 2010 World Cup Soccer.
---
Most Recent World Cup Betting