2010 Uruguay World Cup Predictions
by Doc's Sports - 3/22/2010


Get more World Cup betting information including betting bonuses, World Cup odds and our famous World Cup picks, which in 2006 earned $100 bettors over ten times their initial investment. ($100 bettors earned $1,820 click here for details)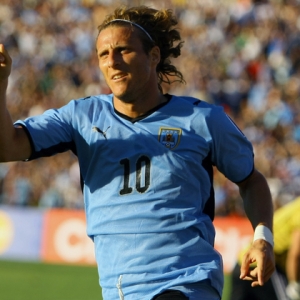 Nickname: Charrúas
Number of World Cup appearances: 10
Best World Cup finish: Winners (1930, 1950)
Team Breakdown
When you think of World Cup past winners from South America, Uruguay isn't the country that first comes to mind. Brazil? Absolutely. Argentina? Yes sir. But Uruguay has won soccer's most glorious trophy multiple times as well. And while 1930 and 1950 seem like ages ago, there is reason for optimism for this widely forgotten football nation.
Uruguay is battle tested if nothing else. They knocked out Puerto Rico in a two-match playoff during the final stage of the qualifying process for the last World Cup bid for a country from North America, Central America or South America.
Japan and South Korea in 2002 was their most recent World Cup appearance, but their last four attempts have all been group stages exits. Uruguay is the wildcard of Group A.
Uruguay 2010 World Cup Odds
Uruguay is currently 100/1 to win the World Cup.
They are 4/1 to win Group A.
Key Player To Watch
Diego Forlán is a fabulous player and one of the best in the tournament that most people don't know. In fact, he is on my shortlist of players that I want to see play the most and a star that can single-handedly carry a team into the knockout stages. Starring for Spain's Atletico Madrid, the Montevideo-born striker led his team with seven goals during qualifying and is a treat to watch up front. Despite his 5-foot-10, 165 lb frame, he is a gifted athlete and in superb physical shape. Watch out. Come July the world will know Diego Forlán.
Best Team Asset
Did I mention Uruguay has a player by the name of Diego Forlán? Well their talisman will need to shine and work well with fellow playmakers Luis Suarez and captain Diego Lugano. If this three-headed monster can consistently put pressure up front and in the box, good things will come. With this trio, Uruguay has star power.
Key Team Weakness
The mental game. They haven't won since 1950 and not since 1970 have they advanced past the group stage. Those are just several of the comments and criticisms this team will hear heading to South Africa. Until they prove they can yet again break through on the world's stage, doubts will be there.
Uruguay World Cup Predictions
They are in the weakest group in my opinion, so that is a plus. I wouldn't be shocked if they beat either France or Mexico. With that said I also wouldn't blink if South Africa beat them and they didn't muster a whole lot during the group stage. Their offensive prowess should see them net some goals, win or lose, and I place them second behind France as the runners-up in Group A.
Key First Round Match (best betting opportunity)
Uruguay won't get much love from the oddsmakers, but not necessarily because they lack talent or the talent to win. They are naturally in the shadow of fellow South American teams, so value will be there. For instance, you won't find odds in their first game against France any lower than +200 or so. That might be a too tough a task with their first World Cup game in eight years. Their second matchup June 16 v. South Africa is a different story. Depending on the South Africans result in their first match-up, I would definitely lean towards Uruguay. If South Africa wins, Uruguay will have good value on a price to win. If South Africa is 0-1 coming into this game, perhaps too much pressure will be on them not to have consecutive losses. Look at Uruguay here.
Uruguay World Cup Group Play Schedule
v. France, June 11, 2010 – 2:30 p.m. ET at Green Point (Cape Town)
v. South Africa, June 16, 2010 – 2:30 p.m. ET at Loftus Versfeld (Tshwane/Pretoria)
v. Mexico, June 22, 2010 – 10 a.m. ET at Royal Bafokeng (Rustenburg)
Doc's Sports is your ultimate, one stop source for everything 2010 World Cup. Our results below from the last two major international soccer tournaments clearly state we are premier capper in the world when it comes to the world's game.
---
Most Recent World Cup Betting