Why to Bet the World Cup
by Trevor Whenham - 5/14/2010


Get more World Cup betting information including betting bonuses, World Cup odds and our famous World Cup picks, which in 2006 earned $100 bettors over ten times their initial investment. ($100 bettors earned $1,820 click here for details)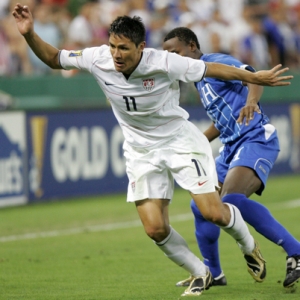 For most North Americans soccer isn't a high priority. It's low scoring, the games are long, and the rules and strategies aren't always clear, so many people ignore it - it's not like there aren't lots of other options for you sports viewing and betting pleasure out there. It also doesn't help that all of the top-level soccer in the world is played on other continents, so you mostly have to watch games early in the morning or late at night, and it can be difficult to get good analysis. While I understand why betting on soccer isn't attractive most of the time, I believe that there isn't a single bettor who shouldn't be betting on the World Cup once it starts on June 11. If you're not convinced then here are five good reasons to bet the World Cup:

Good timing - For North American sports fans the tournament, which runs from June 11 to July 11, couldn't come at a better time. It starts just as the NBA and NHL playoffs are underway. The only major sport that is underway at that time is baseball, and the tournament falls right in the dog days of the endless baseball season. There just isn't a whole lot of other stuff to bet on at this time of year, so the opportunity to bet on an event like this that goes on every day and has so much at stake is a blessing. If nothing else, the World Cup will be a great way to help make the time before football season pass quickly.

Biggest event in the world - It might not register to the extent here that it does elsewhere, but there is no doubt that this is the biggest sporting event in the world. It gets massive TV ratings, and the collective moods of dozens of countries will be determined by how their teams do in their games. This thing is a spectacle like none other, and if you pay attention to it it's very easy to get swept up in the excitement and anticipation. By betting on the World Cup you can be a part of the event, and you can get some enjoyment out of an event that is definitely worth enjoying.

Manageable pace of games - There are no more than four games played on any day of the tournament, and early in the tournament there are just two or three games per day. It can be overwhelming to handicap a lot of games in one day - especially in a sport you aren't entirely familiar with. The leisurely pace of this tournament, though, means that you have the time to carefully analyze and handicap each game without having to quit your day job to do so. It's almost as if the tournament has been designed to be set up in the best possible way for bettors.

Excellent information available - If you look on the typical American sports Web sites you'll find coverage of the event, and previews of what to expect. Some of them are pretty good, but they don't hold a candle to what you can find if you dig around a little bit. Most of Europe is totally soccer-mad, so there is incredibly good analysis available on European Web sites if you can find your way around Google. There is an incredible range of previews currently available, and you can find reports on every detail pertaining to the health and performance of every player. Once the tournament starts you'll be able to find instant analysis of what you have seen, and what that means going forward. The depth of scope of the coverage is absolutely amazing, and information is obviously incredibly valuable for bettors hoping to make a profit. if nothing else, betting on and following the World Cup will expose you to a level of obsession and a style of coverage that is unique and interesting.

Plenty of public money involved - Ultimately it's all about money, isn't it? The single biggest reason to bet on the World Cup is that there is all sorts of value to be found. The tournament is full of very public teams - Brazil, Spain, England, Italy, Netherlands, and so on - that will draw a ridiculous amount of money for each of their games. That means that those teams are going face odds that are going to be worse than they probably should be. that won't help you if you are confident that those teams are going to win, but it will lead to very nice underdog betting opportunities during the tournament. Much of the betting that happens on the World Cup is driven by the heart - betting for your country or against your enemy - rather than by the head. Any time that people are making decisions that aren't necessarily rational there is a good chance for profit for people who can be objective.
---
Most Recent World Cup Betting