World Cup Handicapping: Group B Predictions
by Trevor Whenham - 3/10/2010


Get more World Cup betting information including betting bonuses, World Cup odds and our famous World Cup picks, which in 2006 earned $100 bettors over ten times their initial investment. ($100 bettors earned $1,820 click here for details)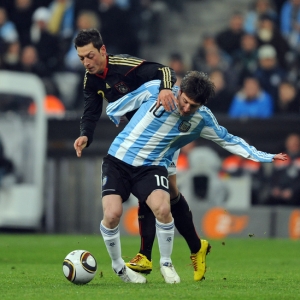 It's 1994 all over again. In that year Argentina, Greece and Nigeria played in the same group - just as they will be doing in Group B this time around. Greece will be hoping things go better this time. Back then they didn't win a game, and were the only team from their group to advance (the 24-team field back then meant that four of the six third place teams also advanced).
Argentina will also hope for far less controversy this time around. In 1994 Diego Maradona, playing in his last World Cup, was kicked out of the tournament after just two games when he failed a drug test, and the team suffered badly as a result. Now Maradona is back as the coach of the Argentinians - an experiment that will certainly be worth watching.
Nigeria likely doesn't look back on 1994 fondly, either - like the Argentinians they were knocked out in the first elimination game. Joining those three teams this time around is South Korea, a team that made the World Cup field in 1994, but which didn't win its first World Cup game until it was the host in 2002. Here's a preview and some World Cup Group B Predictions (all odds are from Bodog):

Argentina is heavily favored to win this group at 1/2, and on paper it shouldn't even be close. They have boatloads of talent, all built around Lionel Messi, last year's European Player of the Year. Through the qualification process, though, the team has been less than impressive. They wound up just fourth in South American qualifying behind Chile and Paraguay - two teams that shouldn't even be remotely competitive with the Argentinians.
The scrutiny around the relative failings of this team have to rest on Maradona. He's the greatest player of all time, but his skills as a coach haven't measured up. That's no real surprise - Wayne Gretzky wasn't much of a hockey coach and Michael Jordan is a pretty lousy basketball executive. His time as coach has been rocky - he was suspended from all soccer activity for two months after telling the media at a press conference to 'suck it and keep on sucking it'. He's probably not the right coach for this program, but he proposed his own name publicly when the job opened up in 2008, and that really meant that the Argentinians had no way of saying no to their national hero.
He won't give his team the boost that a great coach can at the World Cup, but that doesn't mean that the squad should be counted out. Along with Messi - arguably the top player in the tournament - they have guys like the talented youngster Sergia Aguero and stellar striker Carlos Tevez. It's hard to imagine these guys not at least moving on to the second round.

Second choice in the group at 9/2 is Nigeria. Pressure is high on the African nations to put on a good show in the first African World Cup, and Nigeria is in the mix with Ghana and Cameroon to be the second best team on the continent after the clear leaders from Ivory Coast.
The inspirational leader of this squad is Nwankwo Kanu. The two-time African Player of the Year has been on the national team since 1994. He's slowing down a bit these days, but players like the dynamic striking duo of Obafemi Martins and Yakuba Aiyegbeni and the rising 22-year-old midfielder John Obi Mikel, who plays for Chelsea, are more than ready to carry their load. If this team plays up to their potential then they certainly have the game to advance to the second round - like they have in two of the three World Cups that they have played in. With the games being played so close to home, I expect them to reach that potential here.

Greece, at 6/1, is always dangerous, as anyone who remembers their stunning upset win of Euro 2004 will know. This is only their second World Cup, though, and their first since 1994.
The thing I like most about this squad is, unlike most teams which have a revolving door installed at the coaching position with their national program, the Greeks have stuck with Head Coach Otto Rehhagel since 2001, and he has done more than enough to reward that loyalty. He has some solid players around him - most notably striker Theofanis Gekas. It's far from impossible that the Greeks could advance, but a better immediate goal would be just to win their first ever World Cup game.

Rounding out the group is South Korea, the longshot in the field at 12/1 to win the group. The fate of this team probably lies on the shoulders of captain Ji-Sung Park, the star of the team who plays for Manchester United. He's an attacking midfielder who will have to be on full attack here because his team just doesn't have a lot of scoring threats.
Overall, this team just looks like one that is outmatched. They were ranked No. 52 in the world at the end of last year - Nigeria is the second lowest in the group at 22. The Koreans have enough going for them that I won't write them off completely, but they would need pretty much everything to go their way in order to move on to the elimination rounds.
---
Most Recent World Cup Betting