World Cup Handicapping: Group C Predictions
by Trevor Whenham - 3/10/2010


Get more World Cup betting information including betting bonuses, World Cup odds and our famous World Cup picks, which in 2006 earned $100 bettors over ten times their initial investment. ($100 bettors earned $1,820 click here for details)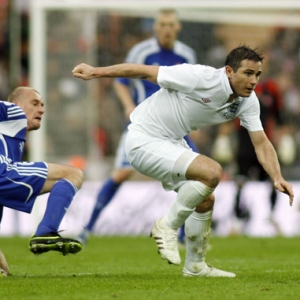 If there is one thing we know about this group it's that it is going to play in front of some big, rowdy crowds. Outside of the South Africans, fans from the U.S. have bought the most tickets for the games, with England close behind. That means that both teams will have virtual home crowds for each game and, in the case of England at least, hooligans will be out in full force.
Joining those two popular squads in Group C are African squad Algeria, and second time qualifiers Slovenia. Only two teams - England and the U.S. - have a strong chance of winning the group. What makes this one really interesting, though, is that both of those teams also have a well-established ability to lay a massive, humiliating egg when expectations are high. Here's a preview and some World Cup predictions for Group B (all odds are from Bodog):

If England doesn't win this group then they should probably just quit playing soccer. They are 4/11 to win the group and the third choice to win the whole tournament at 11/2, and based on pure talent levels they are so much the superior that it's staggering. They were impressively dominant through tough European World Cup qualifying - they won nine of their 10 games, and scored 34 goals while allowing just six. The key to that success has to be the coaching change made in 2007. The questionably-competent Steve Mclaren was replaced by Fabio Capello, and the Italian has brought a whole new attitude and attention to detail to the team.
He landed in an enviable position - the team is loaded with talent. Wayne Rooney is healthy - he wasn't in 2006 - and playing his best soccer, so he is poised to be a major star. The midfield is where the team really shines. David Beckham is the biggest name, but at this point in their careers Steven Gerrard and Frank Lampard are probably more valuable. Expectations for this tournament are running extremely high in England - the country badly wants their second World Cup title. That might be a bit ambitious, but winning this group shouldn't be.

The Americans, the 4/1 second choice in the group, are one of the harder teams in the tournament to assess. When they are at their best - as they were when they beat Spain to reach the finals of the Confederations Cup last year - they can compete with almost anyone. When they are bad, though - as they were when they allowed three goals to Brazil in the second half of the Confederations Cup finals - they would struggle to beat a neighborhood girls team.
They have a major problem with consistency, and this isn't new for this team - after making the World Cup quarterfinals in 2002, they didn't win a game in 2006. The most interesting player to watch on this team is Jozy Altidore. The 20-year-old striker will be making his World Cup debut, but he has incredible skills and a endless potential. He's the type of player that could make a big breakthrough in a tournament like this, and that could really help lift his team.

This is only the second time that Slovenia has been in the tournament, but that's not as bad as it sounds - they only got their independence from Yugoslavia in 1991. They appeared in the 1998 edition and earned one win - against their hosts this time around.
They have limited international success, but they raised some eyebrows in qualifying when they knocked out Russia. That squad was led by Guus Hiddink, one of the best World Cup coaches out there, so Slovenia had to be sharp to win the two-game playoff. You aren't going to be overwhelmed by fireworks when you watch Slovenia - they just don't have a lot of dynamic forwards. What they do have, though, is a potent defense. They'll be tested by the top two teams in this group, but if they can hold up, and if the other two trip up, then advancing is a possibility. Winning the group, as the 12/1 price indicates, is a serious longshot.

Algeria is here because they knocked out Egypt, the three-time winner of the African Cup of Nations, in a two-game playoff. That's not as impressive as it sounds, though, because for some reason Egypt just can't compete in World Cup qualifications like they do in their continental championship.
This is the team's third World Cup berth, and the first since 1986. They have never advanced out of the first round, but they did shock the world in 1982 when they upset West Germany, the ultimate tournament runner-ups, in the first round. Though that means they are dangerous, they lack any real stars, and are likely outclassed here. The country is thrilled to be in the field after a 24-year absence. They are 16/1 to win the group, though, so they might have to just be happy to be there. If they advance out of the group it's because a lot has gone wrong around them.
---
Most Recent World Cup Betting