World Cup Handicapping: Group G Predictions
by Trevor Whenham - 3/12/2010


Get more World Cup betting information including betting bonuses, World Cup odds and our famous World Cup picks, which in 2006 earned $100 bettors over ten times their initial investment. ($100 bettors earned $1,820 click here for details)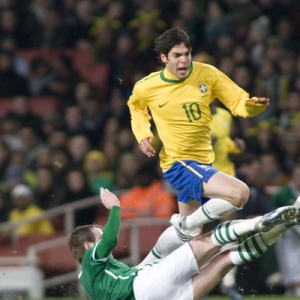 Group G is this year's edition of the dreaded Group of Death. North Korea is totally and utterly outclassed, but Brazil, Portugal, and Ivory Coast are all very legitimate teams that belong in the second round - and perhaps beyond. Unfortunately, only two of them are going to be able to get there.
The makeup of this group is proof that fate hates Ivory Coast - this is only their second World Cup appearance, but also their second time that they have been stuck in the Group of Death. They finished third in their group in 2006 behind the Netherlands and Argentina. Now they face a different South American superpower, and a different European star squad.
It's not fair, but that's how it is. Thanks to the presence of North Korea, though, they will at least be able to match their win total of one last time out. Here's a preview and some World Cup predictions for Group G (all odds are from Bodog):

To the surprise of no one, Brazil, one of the most public teams on the planet, is favored to win the group. What is a bit surprising, though, is how heavily favored they are - they are at 2/3, with no other team better than 3/1.
What can I say about Brazil that you don't already know? They are the only team to have appeared in every World Cup, and the only one to win it five times. The country is a ridiculously potent soccer factory, and they constantly seem to be able to reload.
They qualified strong, and showed that they are still a world power by winning the Confederations Cup impressively last year. They have one of the world's top players (and funniest names) in Kaka, and probably the best striker combination in the world in Adriano and Luis Fabiano.
They can outscore almost anyone, but they don't have to rely on just that - Julio Cesar is an elite goalkeeper, and the defense is strong. Head coach Dunga, a star midfielder in the 1980s, has focused on installing defensive discipline and a commitment to team play since taking over after the last World Cup, and the results are very obvious when you watch the team. This group could be won by three teams, but it would have to be called an upset if Brazil didn't come out on top. It wouldn't be an upset if Brazil were to win their sixth championship.

Portugal is the second choice at 3/1. There has been all sorts of ink spilled over the concern that they aren't at their best because they finished second in their qualifying group behind Denmark. A closer look, though, shows that that doesn't really have to be a concern.
Portugal got off to a very slow start in qualifying, but they didn't lose a single game in 2009, and they only gave up two goals in their 12 games. This is a team in very good form. It's not hard to look good when you have the world's best player, and Portugal quite likely has that in the form of Cristiano Ronaldo. Their defense is obviously strong as well. This is a very strong team, and one that provides more value than most at 28/1 to win the tournament. Their game against Brazil is definitely the one I am most looking forward to in the whole group.

Ivory Coast, at 7/2, is right behind Portugal. They are the strongest of a very strong African contingent hoping to make the first African World Cup a memorable one. To advance out of this group they are going to have to beat at least one very good team. They can do that if they are at their best.
That best is pretty darned good, led by one of the best strikers in the world, Chelsea's Didier Drogba. The key for countries that don't have a long history of success that are looking to emerge is to have as many players as possible playing in major leagues outside of their own country, and on that front Ivory Coast does very well. That experience means that they won't be intimidated by the top European and South American players because they already play against them.
They didn't lose a single game throughout the qualification process, and didn't lose once in 2009. I think that it is very fair that they are the third choice in this group, but it's far from unreasonable to think that they could go through. They open their tournament with a game against Portugal that, quite possibly, will decide how the entire group plays out.

There isn't a team in the tournament that we know less about than the North Koreans. Only six of their players on the current squad play outside of the country, and none are on significant teams. Communists aren't the most open communicators, so we have little sense of what goes on within the country in terms of soccer, either.
It's really just a guess. We can comfortably assume that they aren't particularly good, though, and that they couldn't possibly have landed in a worse spot than they did. They are 150/1 to win this group, and even that seems overly generous. The only thing they have going for them is history. In their only other World Cup appearance, in 1966, they upset the Italians and moved on to the second round. Unfortunately, they were crushed by the Portuguese in the quarterfinals - a fate that will almost certainly fall upon them again here.
---
Most Recent World Cup Betting