World Cup Handicapping: Group H Predictions
by Trevor Whenham - 3/12/2010


Get more World Cup betting information including betting bonuses, World Cup odds and our famous World Cup picks, which in 2006 earned $100 bettors over ten times their initial investment. ($100 bettors earned $1,820 click here for details)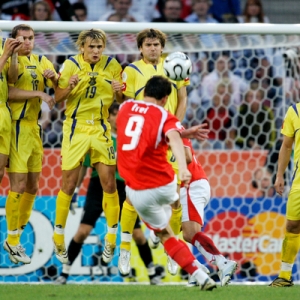 If you sit in the stands for any games during Group H you are going to hear a lot of Spanish around you - Switzerland is the only non-Spanish speaking country represented. The Swiss, along with Chile and Honduras, also face the unfortunate reality of playing for second place.
The Spaniards are the top-ranked team in the world, and are under tremendous pressure to put forward a top performance here to break a long-established trend of cracking under pressure - something they did most recently at the 2009 Confederations Cup. Spain has such a massive edge in talent here, though, that it's hard to imagine them not winning the group, and as close to impossible as anything in the World Cup can be to think of them failing to advance at all. Here's a preview and some World Cup predictions for Group H (all odds are from Bodog):

Despite the loss to the U.S. at the Confederations Cup, Spain was still strong enough - 15 other wins during the year - that they were named FIFA's Team of the Year in 2009. They are ready for this tournament, in other words. As I wrote about earlier, Spain has long been criticized for disappointing performances in major tournaments - despite their strength they have never made it past the quarterfinals in the World Cup.
They started to break that perception with their win at Euro 2008, and they are looking to shatter it by going deep here. Oddsmakers like their chances of doing just that - they are the 4/1 favorites to win the whole tournament. You could argue that the Spaniards don't have the world's best player at any position on their team. What they do have though is a team full of stars in every position.
Their depth is unmatched, and they are the most balanced team in the world as well - they can be defensive if they need to be, or they can stand toe-to-toe and outmatch any opponent offensively. It's ridiculous to think about a price of 1/3 to win any group, but there is little doubt that Spain is worthy of that price here. There isn't a group they wouldn't be favored to win, so the should be heavily favored to win a soft group like this one.

Chile is the second choice in the group at 9/2, and that's a price I find it very hard to like. It's reasonably popular to look at this team as an upstart squad that could be a dark horse, but I just can't get too excited about them. They are on the rise as a soccer country, as the third place showing at the 2007 U20 World Cup shows, but they are just too young and inexperienced to build on that at this point.
They have just one player over 30 on the roster, and none who have World Cup experience - the country last made the field in 1998. They finished second in South American qualification, but it's hard to say that they are the second best team on the continent with Argentina there. In four years I may feel differently about this team, but for now I don't see them as a real threat. They could get the second spot out of this group because some team has to, but they won't challenge Spain, and they will get crushed by the winner of the Group of Death in the second round.

The Swiss aren't getting quite as much respect compared to Chile as I thought they would from the oddsmakers - they are only at 9/1. It doesn't matter, though, because they aren't likely to win it no matter what the price is.
The team looked strong in qualifying, winning their group and beating fellow World Cup qualifier Greece in the process. Their biggest weapon is Alexander Frei, a potent striker who has scored in more than half of his international matches. He's crucial to the success of the team. So is coach Ottmar Hitzfeld, a Swiss coach who has been extremely successful in Germany. I would give the Swiss a slight edge over the Chileans for grabbing the second spot in the group, but only because the payoff will be better if they do so.

Honduras made the field by grabbing the third and final spot from the CONCACAF qualifying round - a task made slightly easier because my beloved Canadians are so dismally bad.
Honduras was abnormally busy last year - most teams played about 12 international matches, but Honduras played 24. They won 15, but only drew one. They lost to the Americans all four times they played them, and the Americans are far from the best team in this tournament, so that's not a good omen for Honduras.
Striker Carlos Pavon is a goal scoring machine, and David Suazo can score his share as well, but they just don't have the depth to play with the big boys. 25/1 to win the group is a harsh price, but it's hard to argue that they deserve better. Their best hope is for history to repeat itself - in their only other World Cup appearance in 1982 they earned a draw against Spain. Another draw against them here would qualify as a miracle.
---
Most Recent World Cup Betting