Breeders' Cup Preview: Breeders' Cup Turf
by Trevor Whenham - 11/5/2009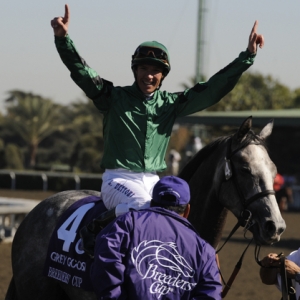 The sixth of seven 'real' Breeders' Cup races we'll preview is the Turf. This is the race for the endurance freaks - the big, tough, impressive animals. Quick aside - I've been lucky enough to see a fair bit of high-level racing in person over the years. The two times I have seen the Derby are at the top of the list. Next, though, was seeing Chief Bearheart win the 1997 Turf at Hollywood Park. He, like me, is Canadian bred, so seeing him take on the best in the world, and beating them with a stunning stretch drive from the back of the pack, is something I will never forget.

I also saw last year's winner, Conduit, unleash a big move to take the Turf last year. It was impressive, but he's no Chief Bearheart. The four year old colt was 6/1 last year, but this year he's a much more daunting 7/5. It's hard to know if he is worth the price, because it's hard to figure out just what to make of his past year.
He's only run four times, and just one of those races was a win. That win was a nice one, though - it came at the same mile and a half distance as this race, and it was at the tough Ascot meet. The third-place finish that came before that - at a mile and a quarter in the Eclipse - saw him beat by a couple of very impressive horses. Rip Van Winkle, the second choice in the Classic, was second, and the winner was Sea The Stars, quite possibly the best horse in the world this year.
It's the last result that is slightly mystifying, though. He entered the Arc de Triomphe, and was again beaten by Sea The Stars. there is no shame in that. The problem, though, is that Conduit was a disappointing fourth, and he looked a long way from good in the race. It's not enough to discard him, and he's clearly the top horse in this field, but it is enough to make us uneasy.

The second choice, at 5/2, is Spanish Moon. The horse has run only three times this year, but all have been at a mile and a half, and he has two wins - his last two - and a second by just a nose. This is his first time in North America, but he has traveled all over Europe and to Dubai, so this trip shouldn't be a problem for him. He hasn't raced since September 13, so he will be fresh and ready to go here, and is a capable contender.

Dar Re Mi is close behind on the tote board at 3/1. Of interest to some is that this four year old filly is owned by Andrew Lloyd Webber, the king of the musical. That's interesting, but it won't help her run any faster. Fortunately, she does a pretty good job of that herself. She has had three Grade 1 wins since the end of June - the last two at a mile and a half - and was just behind Conduit in the Arc de Triomphe last time out. I'd rather have seen this horse enter the Filly and Mare Turf because she would have been hard to beat there, but she certainly makes things interesting here.

Getting the sense that this is a tough race to figure? We're not done yet. Presious Passion has spelling issues with his name, but the six year old gelding, who is at 4/1, can run. If this horse wins then it is going to be memorable. Front-runners rarely come out on top in this race - it hasn't happened since 1998 - but Presious Passion is the lone speed in this race, and it is very likely that he will be able to open up a big lead in this race. It could potentially be such a big lead, in fact, that he would be able to hold it to the finish. That's just what he has done in three of his last four races.

I can't look at this race without talking about Red Rocks. He's at 20/1, and I don't believe he is a factor here, but he's still a great story. This six year old warrior is back for his fourth try at this race. He hasn't been just a pedestrian, either - he won in 2006, and was third in 2007. He's bounced between trainers the last couple of years, and hasn't been particularly successful outside of a win in the Man o' War last July, but he just keeps trying and you have to like that. He's a lunch pail type of guy.