College Football Power Rankings - The Ferringo 15
by Robert Ferringo - 9/9/2009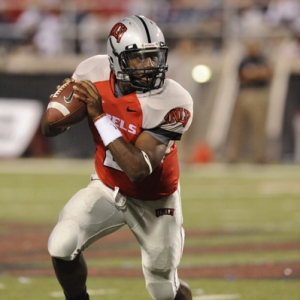 The Ferringo 15 is my Profit-Power Rankings, a ladder or hierarchy based on which teams are the most profitable on the field. I'm not trying to give you some other nonsensical, random, speculative power rankings based on my own biases and conjecture. So instead of Ohio State moving up or down the polls on the basis of how badly they blew out Northwestern the previous Saturday, I'm going to rank each team based on past, present, and projected future achievement against the spread.
And over the past two years they have been on point. In 2007 the teams that finished in the Ferringo 15 had a collective 121-46-1 mark against the spread. Last year the teams that were in the Ferringo 15 each week went 81-63-3 for the season. That means every week when I rotated someone else in I took their performance ATS for that weekend's games. We won 57.6 percent of those situations. Also, after two weeks I had the sport nailed. The teams that were listed in the Ferringo 15 entering Week 3 went on to finish the year a collective 113-67-2 ATS. That's a 62.8 winning percentage and it means that if you had bet $100 per week on only those 15 teams for the whole year you would have finished the season up around $4,000.
We started out 2009 with a profitable first week as well, as the Ferringo 15 went 6-4 for the weekend and earned a nice profit. And while the bobbleheads are slobbering over Michigan, Miami, Boise State and some other "name" schools, I see the value on most of those squads as somewhat zapped because of their strong weekend showing. So with that in mind, here is this week's Ferringo 15:
1. Washington (1-0) - I used Washington as a free pick over the weekend because I just didn't have the stones to make them a rated play. However, they didn't disappoint, giving a very good SEC team a full run for its money. (Tough loss for all of those that had the 'under' on this game as well. Brutal beat.) Jake Locker looked really sharp and the Huskies were one of only two teams (Ok. State being the other) that covered the spread against SEC schools. Washington will be a big spoiler in the Pac-10.
2. UAB (1-0) - I actually am on the verge of bumping down the Blazers because of the buzz they generated from their 44-24 win over Rice. The talk was about multitalented Joe Webb at quarterback and the 516 yards of offense he guided his squad to. However, as more BCS teams get going I'm sure the Blazers will get lost in the shuffle and maintain some value.
3. UNLV (0-0) - This is a big week for UNLV after its 38-3 dress rehearsal against Sacramento State. They host Pac-10 stalwart Oregon State this weekend and genius coach Mike Riley. If the Rebels are the team that I think they may be this year they need to put up a strong effort as a home dog. The Rebels beat Arizona State last year on the road and will be hosting a Pac-10 team for the first time since 1991.
4. Arkansas State (0-0) - The Red Wolves have a very tough draw this week. Nebraska just beat Florida Atlantic, a fellow Sun Belt team, 49-3. And after the game their coach was tearing into the defense. Tough room. Also, the Red Wolves lost senior starters Dom Padria and Evan Van Dolah. The injuries are a blow and have taken some luster out of their 61-0 win over Mississippi Valley State.
5. Clemson (1-0) - I was curious how Clemson would respond against Middle Tennessee State last week knowing that they had a big revenge game with Georgia Tech, on the road, on a short week, waiting in the wings. I thought they were sharp and their defense played great. However, they did just barely manage a cover. MTSU blew two chances inside the Clemson 25. A score of any sort means Clemson backers would have been disappointed. Again.
6. SMU (0-0) - Heading into the fourth quarter the Mustangs were down nearly double digits to Stephen F. Austin. Not good. They did score 17 unanswered to get the win, but now they have to go on the road and tangle with UAB. The 'Stangs have the benefit of a somewhat inflated line this weekend. But they are also 0-17 SU and 6-10 ATS in conference games since 2006.
7. Texas A&M (1-0) - A&M performed as expected against feeble New Mexico last week. (And in case you were wondering: the Lobos are that bad.) The thing I was most impressed with was that they weren't sloppy, either with penalties or turnovers. They now have a week off before four more home games - Utah State, UAB, Arkansas, and Oklahoma State. So get while the getting is good. A hot start could soak all the value out of this group.
8. North Texas (1-0) - The Mean Green are a new addition to the list this week by virtue of their impressive win over Ball State as a hefty underdog last week. Granted, Ball State sucks this year. But North Texas looked good, man. Freshman quarterback Riley Dodge looked outstanding playing against a veteran defense and he definitely has that "it" factor. North Texas was 3-21 SU over the last two seasons and 16-30 ATS over the last four so I expect bettors to be slow to jump on board this team. I am going to try not to be.
9. UTEP (0-1) - Mike Price's club put together one of the sloppiest, and weakest, performances of the Ferringo 15 last week. They weren't anywhere close to covering the spread. But they actually scored a touchdown with 14 seconds left that should have won the game for them. But a holding call negated the touchdown - their second TD brought back by a penalty and their 12th penalty of the game - and dealt the Miners a tough loss. They play Kansas and its high-octane offense this week. If they can stay out of their own way the Miners should compete at home.
10. Arkansas (0-0) - Can't get too excited about 447 yards passing and a 48-10 beat down of lowly Missouri State over the weekend. But I'm still holding out hope for this SEC sleeper. Lots of experience and Michigan transfer quarterback Ryan Mallet looked very good last week. But losing wideout London Crawford isn't going to help. Razorbacks have an extra week to prep before hosting Georgia in a big game.
11. Purdue (1-0) - I have to say that my Toledo pick was one of those games where I posted it and them immediately cringed because I knew I had no chance. Purdue is a team that is much better than people think. They have a ton of experience back and they really are a lot like Washington in that they have just had a lot of tough luck the last few years. They are kicking the hornets' nest this week with a trip to Autzen. And after another pathetic showing by the Big Ten in the non-conference last week it's tough to play on them. But Purdue is a veteran team, playing a reeling Oregon club, in a revenge game that the Boilers really had won last year.
12. Stanford (1-0) - I shouldn't have doubted this team as a monster favorite. They handled an improved Wazzou club pretty handily on the road and covered a fat 18-point line. But they didn't leave that game unscathed. They lost right tackle Matt Kopa for two months and their offensive line depth is starting to become a big problem. Also, the secondary was shaky against the Cougars. But other than that, it's business as usual for what will be a very solid bowl team this year.
13. Nevada (0-1) - I clearly dropped the Wolfpack after Notre Dame embarrassed them over the weekend. However, I'm not going to kill them in the F-15 for it. I still think that this Nevada team is a very good one and is a threat in the WAC. And the fact that they got blitzed in South Bend might even help them from a value perspective. The defense has issues. No question about it. But they have never played well against BCS teams (see: 69-17 loss at Missouri last year) and they are a terrible road underdog (13-23 ATS). So getting whooped by the overrated Irish isn't a stunner.
14. Miami (1-0) - This is how the Ferringo 15 works. Miami was No. 9 last week and actually dropped in my rankings after their solid win over Florida State. While I am one of the few people who was seemingly unimpressed overall with the FSU-Miami game (just awful defense on both sides), I will say that Miami's offense should be able to produce most of this year. But as far as being "Back", this Miami program isn't even close. However, with all of the buzz about this game the Hurricanes have actually lost value in my eyes.
15. Georgia (0-1) - I'm going to hold the Bulldogs here for one more week. I had picked Oklahoma State to beat the Bulldogs so that one wasn't a shock. But Georgia was a little overmatched and still came out with an impressive first half. Their defense also held one of the best offenses in the country to just 24 points and just more than 300 yards. UGA quarterback Joe Cox was sick leading up to the game and overall this was just a bad matchup for the Bulldogs. I'll watch intently this week to see if Georgia will have any staying power this week.
Others Receiving Votes: Iowa, Michigan State, North Carolina, Oklahoma State, Iowa State, UCLA, Marshall, San Jose State, Toledo, Syracuse, Akron, Middle Tennessee State, Louisiana-Monroe, Southern Mississippi.
Robert Ferringo is a professional handicapper and you can purchase a full season's package of his football selections for just $25 per week! Click here for details.
---
Most Recent College Football Power Rankings