College Football Power Rankings - The Ferringo 15
by Robert Ferringo - 10/28/2009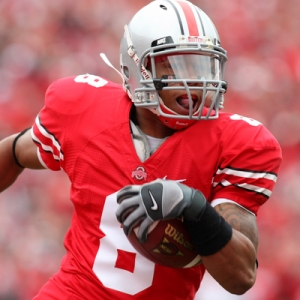 The Ferringo 15 is my Profit-Power Rankings, a ladder or hierarchy based on which teams are the most profitable on the field. I'm not trying to give you some other nonsensical, random, speculative power rankings based on my own biases and conjecture. So instead of Ohio State moving up or down the polls on the basis of how badly they blew out Northwestern the previous Saturday, I'm going to rank each team based on past, present, and projected future achievement against the spread.
And over the past two years they have been on point. In 2007 the teams that finished in the Ferringo 15 had a collective 121-46-1 mark against the spread. Last year the teams that were in the Ferringo 15 each week went 81-63-3 for the season. That means every week when I rotated someone else in I took their performance ATS for that weekend's games. We won 57.6 percent of those situations. Also, after two weeks I had the sport nailed. The teams that were listed in the Ferringo 15 entering Week 3 went on to finish the year a collective 113-67-2 ATS. That's a 62.8 winning percentage and it means that if you had bet $100 per week on only those 15 teams for the whole year you would have finished the season up around $4,000.
Ferringo 15 continues to put up Salvation Army numbers. (That means that they're non-profit). Another losing week here, with the Ferringo 15, going 6-7. However, we are trimming the fat a bit and starting to weed out some of the teams whose value is soaked and who don't deserve to be on the list. For the season that is now just a 47-51-1 mark so there is still work to do. However, I still feel like it's a long season and that the value will increase as the season trudges on.
Here is the Ferringo 15, my college football (profit) power rankings:
1. Connecticut (7-0) - There was a pretty lively debate last week in several forums about the virtues of betting on or against Connecticut in the wake of tragedy. A lot of people think that all is fair in war and gambling and that if they have found a spot to make some cash they should take it. I, on the other hand, am extreme on the other side. I think that it's exploitative and wrong to play on teams in these situations. In my book it's bad karma. And in this gig, karma is everything.
2. Louisiana-Monroe (5-1) - Huge game in the Sun Belt this weekend between No. 1 Troy and No. 2 Louisiana-Monroe. The Warhawks dealt the Trojans their only conference loss last year in a 31-30 nail-biter in which UL-M scored the game-winning touchdown with 34 seconds to play. This game is at Troy and the home team is 5-0 SU in the last five meetings and three of the last five matchups have been decided by five points or less. As a result, UL-Monroe is a solid 4-1 ATS as the dog.
3. Ohio State (6-2) - It really defies logic, but the Buckeyes are still one of the best bets on the board every week. People are so busy talking about what they can't do and what they don't do well that they completely overlook that Ohio State is probably still the best team in the conference. They have an odd non-conference home game against pathetic New Mexico State at The Shoe this week. OSU is 6-4 ATS as a favorite of -27 or more over the last four years, and 4-0 ATS in that role after Game 5.
4. Central Michigan (6-1) - Central Michigan travels to Chestnut Hill this week in one of the more intriguing matchups of the weekend. The Chippewas could be catching the Eagles in a letdown spot after their tight loss to Notre Dame. But as only a five-point underdog it appears that CMU may have to win outright in order to get the cover this week. They are 36-14-2 ATS in their last 52 games and 6-1 ATS as an underdog. However, I have a feeling the B.C. won't be looking past Central Michigan at all.
5. Idaho (6-1) - It was back to reality last weekend for the Vandals, who had 70 points hung on them by a superior Nevada squad. I said that Idaho's schedule was going to get a lot more legit in the next month and that we'd find out what they're made of. Needless to say, they'll likely be sinking like a stone in these rankings over the next few weeks. That said, they are still a quality team with a nice mojo that has covered 10 of 12 games overall. And they are favored this week at home against a Louisiana Tech team that has been pathetic on the road.
6. Boise State (5-1) - Was that somewhat of a statement last week at Hawaii? I actually don't think it was; the Rainbow Warriors are just that putrid. Boise State is laying five touchdowns to San Jose State this week but they are just 7-6-2 ATS since 2002 as a favorite of -30 or more. Boise State is 42-18-2 ATS in their last 62 home games and they hammered the Spartans on the road last year. Boise has covered five of eight in the series, but they are 0-2 ATS against SJSU as a chalk of 30 or more.
7. Alabama (5-2) - 'Bama dodged a bullet last week against Tennessee. However, I'm not ready to jump off the bandwagon. The Tide have two weeks to prepare for a big home game with LSU next week and I don't think that there's any doubt that they'll be ready. After that it's two gimme games against Mississippi State and Chattanooga before a rivalry game at Auburn just prior to the SEC title game.
8. Temple (5-1) - This team caught a break last week when Toledo's starting quarterback was ruled out just prior to kickoff. Temple has been living a bit of a charmed life lately. And they have been the beneficiaries of one of the weakest schedules in the MAC. But the bottom line is that they are getting the job done at the window and on the field. Tough game at Navy this week, but the Owls are 9-2 ATS against independents and are a stellar 5-1 ATS against the Middies in the last six years.
9. Central Florida (5-1) - Central Florida proved its value again last week with an easy cover as a 10-point road favorite. Now they are back home to take on a feisty Marshall squad that sits a game ahead of them in the CUSA East. Central Florida is 5-0 ATS in the last five meetings with the Thundering Herd but the favorite in this matchup is just 1-6 ATS in their last seven meetings. Also, this week's matchup is a rare Sunday start for the Knights.
10. Iowa (5-2) - Maybe now the Hawkeyes will get some love? Even from me. In fact, part of the reason that the F-15 has been struggling is that even I have failed to give teams like Iowa their just desserts - even though I tabbed them as one of my best bets in the Big Ten at the start of the year. There's a big difference between knowing the path and walking the path. Iowa is a heavy favorite this week against Indiana at -17. But be wary. Not only are they in a letdown spot, but also Iowa's game hasn't been about blowouts. With the exception of a 35-3 beat down at Iowa State the Hawkeyes' margin of victory this year is just 5.7 points per game.
11. Georgia Tech (5-2) - Remember at the start of the season when people had tabbed the Yellow Jackets as a potential national title sleeper? Well, they don't have the numbers to get there this year but that hasn't stopped them from playing like it. Four of their last six games have been on the road and Tech has won all but one of them, so heading to Vandy this week won't bother Paul Johnson's group. Tech is 9-2 ATS in their last 11 road games.
12. Wyoming (5-1) - The Cowboys would be infinitely more valuable if they could perform on the road. They'll get another shot this week at Utah against the Utes, a team that walloped them 40-7 last season. In fact, the Cowboys have lost to Utah by 30 points or more in six of the last nine years. I do think that their veteran group is better equipped to handle the size and strength of the Utes this year. But they still need to find a way to move the ball with that 94th-ranked offense of theirs. Also, Wyoming has been cashing very recently but they are still just 7-18-1 ATS in their last 26 games.
13. Clemson (5-2) - The Tigers were a staple of my F-15 earlier this year but I mistakenly bailed on them a bit too early. They are no longer off the radar after their emotional win in Miami last week. And C.J. Spiller's run at the Heisman definitely isn't going to help their value. But the bottom line is that there is a half-dozen future NFL starters on this squad. The Tigers have a tune-up this week against Coastal Carolina before another significant home game against Florida State on Nov. 7.
14. Houston (5-1) - They're still scoring so they're still winning. But the reason that this team is covering their numbers is because their defense has been getting better and better. They are currently ranked No. 112 in yards allowed but they have surrendered an average of just 18 points per game over their last three games and they have stayed well below their totals in four of their last five outings. In fact, that might be where Houston holds the most value - on the 'under'. They have a big game against a veteran Southern Miss squad this weekend. But the big benefit is the fact that the Cougars are playing at home and that the home team is a solid 8-2 ATS in the last 10 meetings in this series.
15. Nebraska (5-2) - I'm going to leave the Huskers in here by the skin of their teeth. A home loss to Iowa State - their first loss in Lincoln to the Cyclones since the Carter Administration - is never good for your image. But I'm wondering if that loss to ISU could create a "buy low" situation on this group. Nebraska has a lot of work to do, but they still have an outside shot at taking the Big 12 North. But in order to do that this group needs to solve its offensive issues. Quickly. They have managed just 17 total points in their last two games. Nebraska has had its way with Baylor lately, and the Bears have been in a tailspin since losing Robert Griffin. So the Huskers should be able to improve on their 4-1 ATS mark against the Bears since 2000.

Others Receiving Votes: Miami (5-2), Virginia (4-2), Pittsburgh (5-2), Cincinnati (5-2), Indiana (5-2), Marshall (5-2), and Mississippi (5-2).
Robert Ferringo is a professional handicapper and you can purchase a full season's package of his football selections for just $25 per week! Click here for details.
---
Most Recent College Football Power Rankings