College Football Weekly Predictions: Week 1
by Alan Matthews - 9/3/2009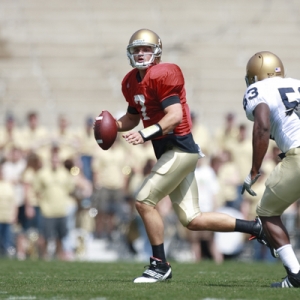 This is the first of a weekly predictions article here on Doc's (look for it normally on Tuesday or Wednesday), where I will give you a few NCAA football games a week with free picks on sides and/or the totals. I'm also going to try and give you an idea of what way the general public is leaning and why.
Nevada at Notre Dame, Saturday, 3:30 p.m.
Current line: Irish -14.5 (61). This opened as 13.5 at most books, but it has moved toward the Fighting Irish from every opening number
Who the public likes: Approximately 61 percent are betting Notre Dame as of this writing. It hasn't dipped below 50 percent all week
For what it's worth, I couldn't disagree more with the public on this one. Nevada was one of the nation's best rushing teams last year, and QB Colin Kaepernick, the 2008 WAC offensive player of the year, is back. In 2008, he became the first player in NCAA history to pass for 2,500 yards and rush for 1,000 in a season, combining for 39 touchdowns.
Also back is RB Vai Taua, who had 1,567 on the ground last year, and RB Luke Lippincott, who had 1,420 on the ground in 2007 before missing all of last season. The Wolf Pack could challenge Navy's four-year dominance as the nation's leading rushing team.
However, Nevada is just 1-8 against BCS teams the past four years and had the worst pass defense in the country last year. If Irish QB Jimmy Clausen is playing anything like who he did in the Hawaii Bowl, then the Irish could score 38 points. Still, I like Nevada to control the clock and cover. I also believe this game goes under.
Georgia at Oklahoma State, Saturday, 3:30 p.m.
Current line: Cowboys -5 (61.5). The side opened at six at most books, while the total also has dropped a shade.
Who the public likes: Approximately 53 percent are betting on Oklahoma State, but it was at nearly 60 percent a week ago.
My guess is the late public action flowed a bit toward Georgia because the fact the Cowboys lost a starting linebacker to injury and starting tight end to a dismissal this week. But the biggest factor may have been what turned out to be a bogus Internet report that Oklahoma State QB Zac Robinson might not play. I wouldn't touch this game if that were the case. But otherwise, the Cowboys have an offensive threesome perhaps unmatched in college football in Robinson, RB Kendall Hunter and WR Dez Bryant. The only edge you would give Georgia here would be on its offensive line against the Cowboys' defensive front. But will Joe Cox be able to make OSU pay? Plus, Dawgs top running back Caleb King isn't making the trip due to an injury. So take OSU give the points.
Mississippi at Memphis, Sunday, 3:30 p.m.
Current line: Ole Miss -17 (54.5). This line opened at 17 and moved nearly a point toward the Tigers before coming back to 17.
Who the public likes: 78 percent favor the Rebels.
Mississippi is clearly the national chic pick to have a breakout year, and the Rebels ended last year on a major roll. But 17 points better than Memphis? That was the difference between these two last year, with the Rebs winning, 41-24, at home. But I believe the Tigers are much better than last year. They bring back most of their offense, including QB Arkelon Hall, who completed 57 percent of his passes in 2008 for 2,275 yards and 12 TDs. And running back Curtis Steele, last year's C-USA newcomer of the year, is also back after totaling 1,223 yards on the ground.
Memphis' two top receivers, Carlos Singleton and Duke Calhoun, are huge and should be able to grab many a jump ball over a tiny Ole Miss secondary.
It is a tad concerning that the Tigers have to replace four offensive line starters and that the Rebel D-Line is outstanding. But Ole Miss star defensive end Greg Hardy reportedly won't start as he still heals from that summer car accident. Hardy is supposed to play significant snaps, but not starting arguably the best defensive end in the country sends up warnings signs to me. So take the Tigers and the 17 points.
I'll keep track of how I do all season so you can decide for yourself whether I am full of it or not! But here's to a successful and profitable college season.
Happy betting.