SEC Championship Game Predictions: LSU vs. Georgia Odds and Picks
by Trevor Whenham - 11/29/2011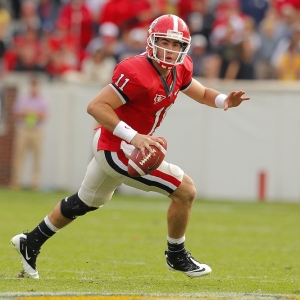 SEC Championship Game
LSU Tigers vs. Georgia Bulldogs
Saturday, Dec. 3, 4 p.m. ET
Considering how strong the SEC has been this year and how significant it promises to be in the BCS Championship game, it is really surprising how anticlimactic this championship game is.
Most people are very confident that the Tigers will roll through this game. If they do that they will play for the National Championship.
If the Bulldogs do pull off the unlikely upset, though, then the Tigers will... still play in the BCS Championship Game.
In both cases their opponent is likely to be Alabama. Again.
Georgia would earn a BCS bid if they won the game, and won't if they lose. That is really the only intrigue in this game — outside of the distinction of being the SEC Champion, of course.
BCS apologists and fans (if any of those truly exist) will be hoping for an LSU win because a Georgia win would create the kind of chaos that critics of the system would love.
LSU vs. Georgia Betting Storylines
Based on the first two weeks of the season I certainly didn't think that the Bulldogs were headed to this spot. Heck, after losses to Boise State and South Carolina to start the season I wasn't at all convinced that Mark Richt would have a job right now.
A 10-game winning streak fixes a lot of things, though, and that's just what the Bulldogs are riding into this game.
You can't help but notice when you look at it, though, that they lost their games against their two best opponents, and that they beat a decidedly week slate of teams.
Their best win was against Georgia Tech, and they managed to avoid Alabama, LSU and Arkansas during the regular season, and face both Florida and Auburn in the depths of rebuilding.
Since LSU is the best team in the country, they are clearly the best team Georgia has faced so far this year. It's a massive jump up in class — one that they have yet to prove they are capable of despite of all the wins. That means that betting on them to win would require a massive leap of faith.
The only sign of mortality that we have seen from LSU this year came from their game against Alabama. In that game the Tide were able to contain the Tigers on the ground, and that put a lot of pressure on their passing game. LSU survived it, but only barely.
Georgia will have to work very hard to contain the Tigers defensively in this one if they want to have any chance of coming out on top. They have held eight of their last 10 opponents to 17 or fewer points, so they can play defense. However, they haven't seen an offense with capabilities like this one.
If there is one thing that could stand in the way of success for the Tigers it could potentially be their own focus. If you look at everything written about the Tigers right now — from major media outlets all the way to fan forums — it focuses on the rematch with Alabama. This game is being totally overlooked — mostly because it has no real bearing on this team's future, and little reason for intrigue.
It's quite possible that they will approach this game with less than full intensity. The Bulldogs will likely be in full giant-killing mode, so this could get interesting. I'm not at all convinced that it will, but it could.
LSU vs. Georgia Betting Odds and Trends
The college football odds for this one are behaving about how you would expect them to.
The game opened with LSU favored by 10. About 80 percent of all bets have been placed on the Tigers, and that has forced the line to move up — it is widely available at 13 and can even be found at 13.5 in some places. It could continue to climb, though I don't expect to move through 14 points unless action really comes in heavily on the favorites.
The total opened at 46 and is unchanged in early betting.
Both teams come into this one performing well for bettors. LSU in 7-1 ATS in their last eight against teams with winning records, and Georgia is 8-2 ATS during their current 10-game winning streak.
SEC Championship Game Predictions: LSU vs. Georgia Betting Picks
Despite the issues of motivation, I can't see any choice but to pick the Tigers here. The Bulldogs just haven't faced opponents of this caliber, and when they have come close they have lost.
They have seen their record and their stats padded by a very weak schedule, and that has allowed them to thrive despite some real weaknesses.
The Tigers are better suited than any team in the country to exploit those weaknesses, and I expect them to do so. Les Miles has had this team extremely prepared all year, and I don't think this will be an exception. Their speed and depth will overwhelm Georgia, and I expect them to pull away in the second half for a comfortable win.
Vegas Sports Informer collected again with his College Football Game of the Year behind Stanford last weekend and he is expecting to nail another big play this weekend for his college football picks. Check out his Insider's Page here and get a week of his college and NFL picks this weekend for only $99.