Pac-12 Championship Game Predictions: UCLA at Oregon Betting Odds
by Trevor Whenham - 11/29/2011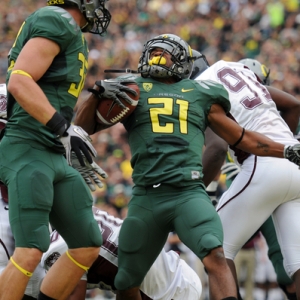 Pac-12 Championship Game
UCLA at Oregon
Friday, Dec.2, 8 p.m. ET
If ever there was an argument against dividing conferences into divisions this is it. Instead of a Stanford vs. Oregon rematch that would be at least a little interesting we are left with unquestionably the worst conference championship game ever played because USC was not eligible for the postseason and the rest of the Pac 12 South was too bad for words.
The Bruins are so bad that if and when they lose this game they will drop to 6-7 and will have to apply for a waiver from the NCAA to be eligible to play in a bowl. Pathetic. And not at all compelling.
This is far from what the league had to be dreaming of when they initiated this championship game.
UCLA at Oregon Betting Storylines
I am going to write several hundred more words about this game because that's what I do, but the fact is this — this is a mismatch of epic proportions, and the only way it will be remotely competitive is if Oregon doesn't care.
Any team can win any game on any day, but UCLA has very, very little chance of winning this one.
Let's review what we know. The Bruins are fresh off of a 50-0 drubbing at the hands of the Trojans that wasn't as close as the score indicated. They have been dealing with one of the worst coaches in a major conference for years, and now he's a lame duck who will command even less respect than he has for years now.
They have lost five of six games on the road, and the last four losses have been by an average of 34 points. They didn't play Oregon in the regular season, but they lost to USC and Stanford by a combined score of 95-19.
The last time these teams met — last year in the regular season — the Ducks won in a 60-13 romp. Oregon is coming into this game off of a 28-point win in which they outgained their rival Oregon State on the ground by 349 yards. USC was able to average 7.8 yards per carry against UCLA last week.
I could go on and on, but by now the point is abundantly clear — Oregon is ready for this game, and UCLA really isn't.
The Oregon offense is clearly and obviously its strength. The Ducks are sixth in the country in total yards, and third in points scored. They are particularly strong on the ground — they are the fifth best rushing team in the country, but just 68th through the air.
It goes without saying that the Bruins would have no chance of pulling off a major upset here if they can't control and contain the Oregon offense. There is no good news here in any way for the Bruins, though. UCLA is 88th in the country in points allowed, 84th in total yards, and 81st against the run.
The spread in this one is understandably massive. It only makes sense, then, to look at how Oregon has fared while facing massive spreads like this in the past.
In five different games this year they have been favored by at least three touchdowns against FBS opponents. Their ATS record in those games in 3-1-1. Coach Chip Kelly is not one to let his foot off the gas late in games regardless of the score, so the large spread isn't a reason to be particularly nervous.
UCLA at Oregon Betting Storylines
Not surprisingly, the action is heavily tilted towards the Ducks — more than three-quarters of all bets have been placed on them. As a result, the line, which opened at 30.5, has climbed up to 31.5 in early betting.
The total opened at 65.5 and has not yet moved.
UCLA is just 5-15 ATS in their last 20 games, and 2-6 ATS in their last eight against teams with winning records. Oregon is 6-2-2 ATS in their last 10 conference games.
The 'over' is 20-5-1 in their last 26 home games.
Pac-12 Championship Game Predictions: UCLA at Oregon Betting Picks
It's probably pretty obvious by now — I am taking the Ducks.
The big spread is a bit of a concern, but UCLA just isn't anywhere near good enough or focused enough to trust regardless of how many points they are spotted.
This one should be really, really ugly. I can't think of many results that would be more surprising to me than a UCLA win here. Appalachian State's upset of Michigan is the closest parallel I can think of.
Vegas Sports Informer collected again with his College Football Game of the Year behind Stanford last weekend and he is expecting to nail another big play this weekend for his college football picks. Check out his Insider's Page here and get a week of his college and NFL picks this weekend for only $99.