College Football Weekly Predictions: Week 10
by Alan Matthews - 11/5/2009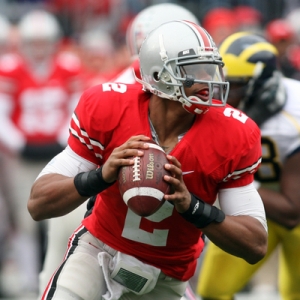 OK, I've now learned two things betting-wise so far this year: Never take a Big 12 North team against a team from the conference's South division and never take Idaho against anyone. I'm bitter because Kansas laid another egg last week, as the Jayhawks were pummeled 42-21 by Texas Tech. That's all that kept me from a 3-0 week. We hit on Houston -6.5 against Southern Miss and on Oregon somehow getting 3 points against Southern Cal. That moves me to 15-12 this season.
On to this week's picks:
Ohio State at Penn State, Saturday, 3:30 p.m.
Current line: Penn State -4. This one has been pretty steady, maybe moving a half-point toward the Nittany Lions at some books.
Who the public likes: Approximately 55 percent on PSU. When this line first opened, less than 40 percent were on the Nittany Lions, but hours later it jumped to about where it is now and hasn't really moved.
I'll make it simple for you on this game: Which QB would you rather have, Daryll Clark or the inconsistent Terrelle Pryor? In the past four games, Pryor has completed less than 50 percent of his passes twice and has four picks. He has been running better of late, totaling 187 yards on 24 carries in the past two games. Pryor, who is fairly beaten up, will be a big-time target for all the PSU fans who are still fuming the Pennsylvania native chose Ohio State over the Nittany Lions - this is Pryor's first game at Penn State. As for Clark, he has led the Nittany Lions to a five-game winning streak and been on fire, throwing nine TD passes and running for five more. Clark has just one pick in that stretch. The visiting team has won the past two in this series, but the home team is 12-4 overall since PSU joined the Big Ten. Don't rule out the importance of OSU losing kicker Aaron Pettrey for the season this week. He leads the Big Ten in kicker scoring with eight points per game and has converted 13 of 17 field-goal attempts and 28 of 29 extra-point attempts.
Take Penn State and the points.
Houston at Tulsa, Saturday, 7:30 p.m.
Current line: Tulsa -1.5. This line is one of the biggest movers on the board, as the Cougars opened as three-pont favorites.
Who the public likes: Approximately 89 percent is betting on Houston as of this writing. Despite the massive point jump, the public lean really hasn't changed too much. It reached a high of about 25 percent on Tulsa back when the Cougars were still favorites.
Houston has been very good to me this year, so I'm sticking on the bandwagon - it is 6-1 ATS overall this season. Frankly, I don't understand how this line moved to favor Tulsa, which has lost three games in a row. The Golden Hurricane's only home win so far has been against Sam Houston State, although they did nearly upset Boise State a few weeks ago. Houston QB Case Keenum is the national passing leader by far this season (throwing for a career-best 559 yards against Southern Miss last week) while leading the Cougars to their best start since 1990 and highest national ranking since 1991. Tulsa does have C-USA's No. 2 scoring and total defense, but look what Oklahoma did to that unit. The past two times these teams have played, the home team has won in a rout. But I think this game looks more like last year's 70-30 Houston win.
Take Houston and the points.
Oklahoma at Nebraska, Saturday, 8 p.m.
Current line: Oklahoma -5. This also has been pretty steady. Depending on the book, it has moved about a half-point toward both teams.
Who the public likes: Approximately 85 percent on the Sooners. This number never even approached 30 percent on the Huskers.
Here's another baffling line in my opinion. I can't figure out why Oklahoma isn't at least a 7.5-point favorite, but I'll take it. Nebraska has lost its past two home games, to Texas Tech and Iowa State. Yes, the Huskers have a terrific defensive front led by potential NFL No. 1 overall pick Ndamukong Suh. The defense hasn't been the problem this season, the offense has. And star RB Roy Helu, who has been limited the past two games with an injury, still isn't 100 percent. OU has won four in a row in this series and cruised by 34 last year. Think that Sooner defense might befuddle Nebraska true freshman QB Cody Green (the first true freshman to start for Nebraska at QB since Tommie Frazier)? Just look at what that unit did to Colt McCoy a few weeks ago.
Take Oklahoma and give the points.