College Football Weekly Predictions: Week 8
by Alan Matthews - 10/22/2009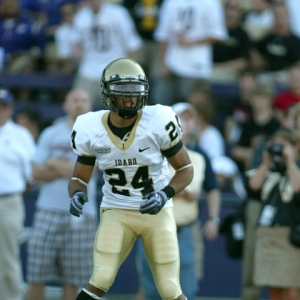 For the second week in a row, a Big Ten team cost me a 3-0 week - this time it was Illinois not only not covering the two points against Indiana but laying down in a 27-14 loss. Why does Ron Zook still have a job, seriously? On the bright side, I told you to take Mississippi State -4.5 against Middle Tennessee State and Notre Dame +10 against Southern Cal - hitting on both of those. It's my third 2-1 week in a row, and I am now 12-9 on the season, a tidy +300.
Let's make it four winners in a row in Week 8:
Georgia Tech at Virginia, Saturday, noon
Current line: Georgia Tech -5.5. This line opened at four nearly everywhere.
Who the public likes: It is all over the Jackets, to the tune of 87 percent as of this writing. It was at nearly 95 percent on the Jackets when this opened.
The Jackets are red hot but haven't won at Virginia in 19 years. And UVA has won four of five in the series, including last year in Atlanta. The Cavs have to be the most anonymous first-place team in any BCS conference, but there they are at 2-0 and leading the Coastal. But almost no one expects them to stay above Georgia Tech, Virginia Tech or Miami.
Jackets QB Josh Nesbitt might be the ACC Player of the Year, as he has rushed for 262 yards and six TDs the past two games in impressive wins against Florida State and Virginia Tech. The Yellow Jackets have a whopping 20 plays of 30 yards or more, which is surprising considering this is a run-first team.
Don't think Tech will have any motivational problems this week, either. "A year ago, we were 6-1 and a two-touchdown favorite against the same team (Virginia), and they came in here and smacked us in the mouth," coach Paul Johnson said. The Cavs have turned their season around, but consider the competition in their three-game winning streak.
Take Georgia Tech and give the points.
Clemson at Miami, Fla., Saturday, 3:30 p.m.
Current line: Miami -4.5. This has been on the move toward Clemson, with the open at seven.
Who the public likes: 80 percent of the action is on the Hurricanes. When this opened at seven, only about 40 percent were on Miami. As soon as it hit six, that number rocketed up.
Back-to-back ACC picks this week, and I'm fairly surprised this line didn't stay at a touchdown if not move to 7.5. The only concern I would have as a Miami backer is that Jacory Harris has been getting sacked a lot lately, including six times last week to C-USA school Central Florida. And Clemson is one of the nation's better teams in getting pressure on the QB (17 sacks), not to mention ranking No. 11 in total defense in the country.
In addition, the Clemson pass defense ranks in the top 30 in the nation and has two Thorpe Award candidates in Chris Chancellor and Crezdon Butler. But the Tigers also usually run man-to-man, and the big, fast UM receivers could feast on that. In addition, the Tigers really haven't faced a top QB like Harris so far. While a good Clemson defense might be able to slow Miami a bit, I don't see the Clemson offense and freshman QB Kyle Parker doing anything against the Canes' D. History in this series means little, considering they last met in 2005.
Take Miami and give the points.
Idaho at Nevada, Saturday, 4 p.m.
Current line: Nevada -15.5. This opened at 13 at some books.
Who the public likes: Approximately 59 percent are on the Vandals. Interestingly, even as the line moved toward Nevada, the percentage of bettors on the Wolf Pack rose, although it has tailed off slightly of late. At open, only 25 percent were on Nevada.
Probably won't be too often we do a WAC game here, but I think Idaho became tremendous value once the line hit 14.5. I was big time on the Nevada bandwagon at the beginning of the season, and the Wolf Pack can still run the ball as well as anyone - they in fact lead the nation in rushing. Nevada is averaging nearly 42 points per game in a three-game winning streak. But Idaho is one of the surprises in the nation, and I believe it is for real, at least as far as the WAC is concerned. Plus the Vandals have a great run defense, allowing just 96 yards per game.
Idaho QB Nathan Enderle is ranked 18th nationally in passing efficiency, while Nevada again is horrid against the pass. The Vandals haven't beaten the Wolf Pack since joining the WAC in 2005 and lost by 35 last year. But I think they stay within two touchdowns this time.
Take Idaho and the points.