Football Betting: Early Week Line Movements
by Robert Ferringo - 9/9/2009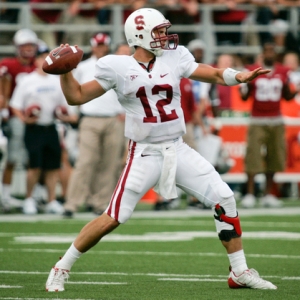 According to legend, early in the week is the time when professional bettors make some of their moves - the other most important time is just prior to kickoff - and they tear apart the ripe lines from the Las Vegas Sports Consultants. For the last two years I have tracked the opening steam movements of lines in both college football and the NFL. The idea was to see if the "sharp" money was really that, or if the idea of trailing these severe early line movements was merely a myth. Well, I'm glad to say that we are back at it this season and ready to build on last year's research.
Here is the basic methodology. If a line starts as Penn State (-1) and moves to Penn State (-4.5) then we're going to track Penn State as our side, because the Lions are getting all of the money and driving the spread up. If the line starts as Penn State (-4) and then moves to Penn State (-1) we're going to track the opponent because they are taking the heavy action and it's moving the line lower.
I have not nailed down a specific movement - either based on percentage of the spread changed or overall points changed - so I have to admit that my research is a little unscientific and based a bit on "feel". However, having done this as much as I have I would have to say that I have an eye for the odd movements.
That said, two years ago the "sharp" money went just 20-30 for the season and we had a solid fade system. But last year I think I opened the parameters up way too much and our tracked teams went 76-69, which was not statistically significant. This year I want to try to tighten it up and keep the total tracked plays somewhere in the range of 70-90 for the season.
Last week the college teams we tracked went just 3-5 against the spread. Here is this week's action for help with your college football handicapping:
Duke at Army (Noon, Saturday, Sept. 12)
Open: Duke -3.0
Current: Army -2.0
Tracking: Army
Duke lost to a Div. I-AA team last week (Richmond) for the second time in as many years. Army and new coach Rich Ellerson looked good in their road domination of Eastern Michigan. Duke is better than Eastern Michigan. At least I think.
Stanford at Wake Forest (Noon, Saturday, Sept. 12)
Open: 'Pick'
Current: Wake Forest -3.0
Tracking: Wake Forest
Be really careful here. Baylor tore up Wake Forest while Stanford looked good in its season-opening blowout over Washington State. But this game is a noon start. And remember what the Deacons did to a very good Cal team in this exact same situation last year.
Hawaii at Washington State (7 p.m., Saturday, Sept. 12)
Open: Hawaii -6.0
Current: Hawaii -2.0
Tracking: Washington State
I don't think that this is necessarily an endorsement of the Cougars this year as much as it is an indictment of a sagging Hawaii program. The Cougars lost by 14 out on the islands at the end of last year, covering the spread in the process, so they have some revenge.
Central Florida at Southern Mississippi (7 p.m., Saturday, Sept. 12)
Open: USM -10.0
Current: USM -15.0
Tracking: Southern Miss
Southern Miss was one of Conference USA's best last year and they welcome back a wealth of experience. They rolled in their tune-up game against Alcorn State last week while UCF struggled and stumbled through a game with Samford. The Eagles won by 11 on the road last year.
Tulsa at New Mexico (8 p.m., Saturday, Sept. 12)
Open: Tulsa -12.5
Current: Tulsa -18.0
Tracking: Tulsa
Tulsa just keeps on keeping on. They dominated Tulane on the road last week with their high-flying offense. New Mexico got humiliated at Texas A&M and it looks like it could be a long year in Albuquerque. The Lobos are 11-9-1 ATS as a home dog. But I don't think that this team is nearly the caliber of those others.
USC at Ohio State (8 p.m., Saturday, Sept. 12)
Open: USC -4.5
Current: USC -7.0
Tracking: USC
I don't think that this one needs much explanation. Ohio State nearly lost at home to Navy last weekend, so what should we expect the Trojans to do to them? USC has covered 10 of 11 games against the Big Ten and we've seen the type of ass-beatings that the Buckeyes take from other BCS teams outside their feeble conference.
Kansas City at Baltimore (1 p.m., Sunday, Sept. 13)
Open: Baltimore -8.0
Current: Baltimore -13.0
Tracking: Baltimore
The bump here is primarily due to the fact that Kansas City lost its starting quarterback, Matt Cassell, to a knee injury. Most people think of Baltimore as a low-scoring, run-the-ball-and-play-defense team and thus not a strong fat chalk. But dating back to the 2000 season the Ravens are a healthy 11-4 ATS as a double-digit favorite.
Denver at Cincinnati (1 p.m., Sunday, Sept. 13)
Open: Cincinnati -1.0
Current: Cincinnati -4.5
Tracking: Cincinnati
As things have gotten sloppier and messier in Denver the bets against them have mounted as well. More than 80 percent of the action is coming in on the Bengals. That's a sad commentary on the Josh McDaniels Era when they are second fiddle to one of the worst organizations in sports. Of course, 80 percent of people are overlooking Cincy's 4-10 ATS mark going back to 2006.
Dallas at Tampa Bay (1 p.m., Sunday, Sept. 13)
Open: Dallas -2.0
Current: Dallas -6.0
Tracking: Dallas -6.0
In some ways this is a natural movement. Dallas is still THE public team in the NFL and still a square bettor's favorite. But this is also a comment on new coach Raheem Morris and the group that he's put together. It's safe to say that gamblers don't have a lot of faith in the Byron Leftwich Era in Tampa. Dallas is just 9-9 ATS as a road chalk dating back to 2004.
Robert Ferringo is a professional handicapper and you can purchase a full season's package of his football selections for just $25 per week! Click here for details.