MLB Betting: Fallout From Peavy Trade
by Matt Severance - 8/4/2009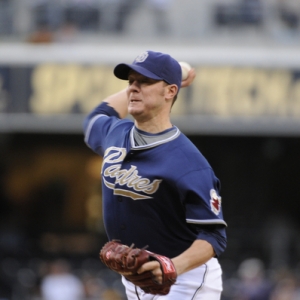 Chicago White Sox general manager Kenny Williams is easily the biggest gambler among all the GMs in Major League Baseball. Williams seems to come up with a creative trade each season, and his track record has been very good despite taking on what looked to be some questionable pieces at times.
But, certainly, Williams' biggest deal to date is one that could set the White Sox up with arguably the majors' best rotation for the next few seasons. It is also a deal that could set this team back because of the financial ramifications. Chicago acquired pitcher Jake Peavy from the San Diego Padres just seconds before last week's trading deadline.
If Peavy and White Sox sounds familiar, that's because Williams had a deal in place to bring the 2007 NL Cy Young Award winner to the Windy City in May, but back then Peavy wouldn't waive his no-trade clause. What made this recent deal so unexpected was that Peavy, who is owed $52 million through 2012, has been sidelined since June 8 with a torn tendon in his ankle.
Yet Williams still gave up the same prospects he did before and this time was able to convince Peavy to come to Chicago. It probably wasn't as hard this time, with the Padres in full-blown fire sale mode and the White Sox in contention in the AL Central.
Williams made the deal looking more to the playoffs, feeling his club couldn't beat the Red Sox, Yankees, Phillies or Dodgers in a short series.
"We're trying to establish that we have a place among the big boys," Williams said to reporters. "To do that you have to sometimes step out on a limb."
And now Peavy might return earlier than expected. He doesn't have the foot cast on any more and threw a pain-free session at U.S. Cellular Field on Sunday, his first time throwing off the mound since being sidelined.
The right-hander needs to build up arm strength at this point, with Manager Ozzie Guillen saying the optimistic goal is for Peavy to return for a series with the Yankees from Aug. 28-30. If that's the case, that probably means about 6-7 starts for Peavy down the stretch.
Can the White Sox stay close until he gets back? Currently Chicago is +160 on Sportsbook.com to win the AL Central, which is second to current leader Detroit, which is -110. Plus the Tigers added a nice starting pitcher of their own in Jarrod Washburn, and they get to use him right away.
A few weeks ago, I wrote a story on the White Sox saying that an upcoming 18-game stretch against playoff contenders would seal their fate one way or another. After a three-game series with the Angels ends on Thursday, that stretch is over; Chicago is a respectable 7-8 in the first 15 games. Following the Angels series, the White Sox have 12 of their next 15 games against teams with losing records (the only winning team in that stretch the around .500 Mariners). If Chicago can stay within three games or so of the Tigers by the team Peavy returns, the White Sox might then have the best rotation in baseball with Mark Buerhle, Peavy, John Danks and Gavin Floyd.
So while it might sound weird, the White Sox might be a better value play as an AL pennant winner at +600 on Sportsbook.com right now than for the division. Because if this team gets in the postseason, that rotation can do some major damage if Peavy is 100 percent.
The question is, Will the White Sox get to the playoffs? This next month or so should tell us.
y.