2009-10 Phoenix Suns Predictions
by Justin Johnson - 10/21/2009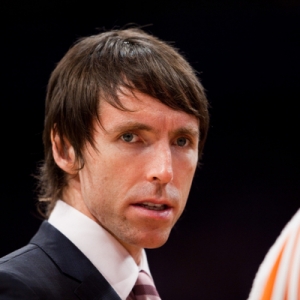 2008-09 Record: 46-36
ATS: 35-44-2
Home: 19-21-1 Away: 16-23-1
O/U: 47-34
Home: 23-18 Away: 24-16
Projected Starting Five: PG, Steve Nash. SG, Jason Richardson. SF, Grant Hill. PF, Amar'e Stoudemire. C, Channing Frye.
Breakdown: The Suns could be one of the biggest surprises, either good or bad, in the West this season.
Terry Porter lost the faith of the team last year and so they replaced him with Alvin Gentry as head coach. Gentry should bring back the fun-and-gun offense that made the Suns a title contender just a few seasons ago.
The coaching move should rejuvenate the team, including Leandro Barbosa, whose minutes, points, and overall production dropped under Porter. His role will most likely be back as a sixth man, which he can excel.
Steve Nash and Grant Hill are both aging veterans who Phoenix will need to find answers for replacing in the near future, and their fragile bodies may also determine the success in 09-10.
Nash has officially punched his ticket to the Basketball Hall of Fame as he has been one of the best point guards of the decade. His best days are behind him but there are still plenty of nifty moves in the creaky body.
Jason Richardson is a pure scorer that should dramatically improve his numbers in this second season with Phoenix. His ankle has been gimpy from time to time, but if healthy he is still a real 20 points per game threat.
Amar'e Stoudemire is now officially injury prone and the Suns cannot afford to keep him. As a power forward his offense is above average and if motivated he can make a difference on defense.
And, oh, by the way, Robin Lopez and Channing Frye are the only centers on the roster with Shaq leaving. Frye has been named the early starter, which may be good for his ability to expand the defense and shoot threes. However, like many of the Suns defense is optional in his game.
The real opportunity for the players on the Suns could be the younger guys - Alando Tucker and Earl Clark. Both players are in between the ideal size for combo guards or combo forwards but both can play multiple positions. Tucker is 6-foot-6 and Clark is 6-foot-9 but both are dynamic players who could contribute if (or maybe when) Hill's body gives out on him.
Phoenix Suns Predictions: The Pacific Division is one that provides a lot of questions once you get beyond the Lakers. The Suns have filled in as a solid No. 2 team in recent years following their run of domination what seems like long ago but was really only a few seasons back. The fun-and-gun will be back so points could come in bunches but with an aging and what looks like an ill-constructed roster being put on the floor, repeating last seasons 46 wins may be tough. A 40-win season and battle from the Clippers for a playoff spot may be more likely. A playoff spot is also not assumed as there are much better teams in the West that can beat the Suns. It is now fair to say the sun has set on the window of opportunity for Phoenix.
Futures Considerations - BetUS
The Suns are not a prohibitive favorite for the West, they are actually not really receiving much preseason hype. A +4000 wager to win the West is - for some reason - very tempting. Nash, Richardson, Stoudemire, and even Frye can score points. If all four can stay healthy and mold together it is not out of the question for them to be quite tough to beat.
The two players on the team with available MVP lines are Nash and Stoudemire and both are set at +3000. While Nash may be the better bet it is largely based on not knowing if Stoudemire will finish the season with the team.