MLB Betting: Will Nationals Sign Strasburg?
by Matt Severance - 8/5/2009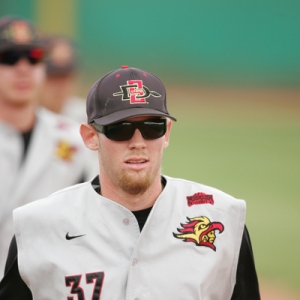 Are you ready for the most intense, perhaps hostile, negotiating session in MLB history between a draft pick and his team?
There seems to be little question that San Diego State pitcher Stephen Strasburg, the No. 1 overall pick of the Washington Nationals in June, is going to ask for a contract that is way off the charts for any draft pick in history. And some would argue that Strasburg is worth it as many scouts have called him the top college pitching prospect ever. The 20-year old regularly hits triple digits on the gun and went 13-1 with a 1.32 ERA in 15 starts this past season for the Aztecs. He struck out 195 batters with just 19 walks in 109 innings and won the Golden Spikes Award as the top amateur player in the United States.
But the real reason for the potential difficult contract negotiations with Washington is that Strasburg is represented by evil incarnate to many baseball GMs: agent Scott Boras.
Boras has often referred to Strasburg as a talent on an "extraordinary" level, comparing him to big-bonus players of the recent past such as J.D. Drew, Mark Teixeira and Mark Prior and saying that history has proven that contract numbers far above the rest of the players in the first round are commonplace. Of course, detractors would argue that Prior really only had one good season before injuries wrecked him; Prior was considered arguably the top college prospect ever when he came out as well.
In addition, Boras doesn't believe it's fair that international players get to sign as free agents while American collegians and high schoolers don't. He might want to make Strasburg a landmark case and ask for Daisuke Matsuzaka money ($50 million-plus) and a guaranteed major-league contract. Only two pitchers ever to be drafted No. 1 overall have played in the majors in the same season: Texas' David Clyde in 1973 and Baltimore's Ben McDonald in '89. And neither of those two lived up to expectations. Strasburg is the 14th pitcher taken with the first pick in the 45-year history of the draft, and not one of the previous 13 has won a Cy Young Award or won 200 career games.
Sportbook.com has posted odds on whether Strasburg will sign before the end of the MLB season (no is +200, yes is -350), but in reality the deadline is midnight on Aug. 17. If Strasburg doesn't sign by then, he can either go back to San Diego State for his senior year or play in an independent league like Drew did. Either way, Strasburg would go back into next year's draft. And there's no guarantee that Strasburg would go No. 1 next year with super-prospect Bryce Harper, a recent Sports Illustrated cover boy, expected to be eligible next season.
The Nationals are so bad that many believe they have no choice but to sign Strasburg, who would immediately become the face of the franchise. If not, this team would get even more negative buzz both locally, where the Nats aren't drawing, and nationally. But Washington has basically said it would exceed the current record for a draft pick (Prior's $10.5 million in 2001) but not multiple times over.
Because of the economy, the commissioner's office is recommending a 10 percent cut in the suggested bonus for each slot of the first round. Disregard that for Strasburg.
This will absolutely come down to the final day, but look for Boras and the Nationals to agree to something like a $21 million deal with the promise of Strasburg pitching in the majors during September call-ups. There is too much money at stake, for both the player and the agent, and Boras has a history of last-minute deals. He can still say he won by doubling Prior's previous record.