NASCAR: 2009 Sylvania 300 Odds and Predictions
by Christopher G. Shepard - 9/18/2009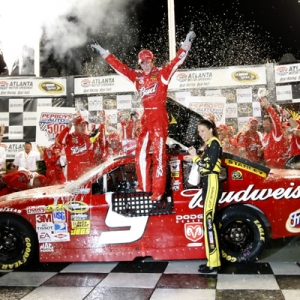 Despite not leading the NASCAR standings during the regular season Mark Martin, thanks to four regular season wins, moved up 10 spots to first place with 5,040 points as the 10-race playoff known as the Chase for the Sprint Cup begins this Sunday at 1 p.m. at New Hampshire Motor Speedway for the Sylvania 300.

Way back in February before the season started I recommended a future sports investment on Jimmie Johnson winning the Sprint Cup for the fourth consecutive year. Before the season began you would have bought this option at 7/2 on the money line. Funny enough those odds have not dropped significantly as BetOnline is offering 5/2 on Johnson to win the Chase.

BetOnline has odds for the rest of the field to win the Chase (in order of next favorite) as well. Mark Martin and Tony Stewart are set at 3/1 while four-time Sprint Cup Champion Jeff Gordon is 4/1, Denny Hamlin is 8/1, Carl Edwards is 10/1, Kurt Busch is 25/1, Kasey Kahne is 25/1, Greg Biffle is 25/1, Ryan Newman is 30/1, Juan Pablo Montoya is 30/1, and Brian Vickers 30/1. While it's almost a forgone conclusion that JJ will win the Chase this year (remember seven of 10 Chase races play to Johnson's strengths) if you are looking for a live middle-odds pick take Denny Hamlin at 8/1. What is that they say about the No. 11 sponsor? I wouldn't be surprised to see Hamlin deliver the Cup either, but not overnight.
Who will win the 2009 Sylvania 300?

Of the 12 races that make up the Chase, NHMS has got to be my least favorite. Not because of the track or the location either; it's in my own backyard and for $39 it's a great deal of entertainment. While I'm on the subject let me just give a shout-out to the ladies of NHMS as well! No, what I dislike about Loudon, NH is that no matter what the weather is like you can almost lay book on the fact that there will be numerous rain delays as well as, if recent history is any indication, rain-shortened races, which for the serious NASCAR fan this is as odious as spending Sunday morning watching "Meet the Press" with their grandmother. It's a glorious, sunny day leading into the weekend but that doesn't mean it is a harbinger for Sunday's weather.
This makes the first race in the Chase difficult to handicap. Murphy, the Optimist, said all skill is in vain when an Angel pisses down the barrel of your rifle and the same is true when that Angel pisses all over your racetrack -- no matter how short or poorly banked it might be.
That said, you can pretty much throw out all the past performances, loop data, crew chiefs and teams when the Angel starts to piss in Loudon. Kurt Busch, the only Busch to make the Chase this year, has done well at New Hampshire. Kurt finished the season fifth in points after Richmond where he finished second after running a great race, but dropped to seventh in the Chase when the points were reset for the 10-race playoff. New Hampshire is a great place to start the Chase since it is so wide-open.

Kurt is a three-time winner at NHMS, sweeping both races in 2004. Remember, last June Kurt limped into pit row in first place when NASCAR officials called the race, giving Busch the back-door win. Then in June of this year the "Blue Deuce" finished third at NHMS. Busch is currently in a three-race streak of finishing in the top 10 at New Hampshire, but after Sunday I wouldn't be surprised if he has a new two-race streak of finishing in the top-five at NHMS.
Pick! Kurt Busch, No. 2, (11/1)
2009 Sylvania 300 - Lucky Dog Long Odds Special
If the Chase is all about peaking at the right time then Kasey Kahne is worth a look at for your sports investment portfolio. Kahne returns to the Chase field after missing out the last two years. He will start his quest for his first Sprint Cup as the fifth seed. He finished 12th at Richmond, after running a defensive race, and moved up one spot in the rankings and now he sits 20 points behind Martin. Kahne finished the regular season with two wins, five Top-5s and 10 Top-10s. However, in 11 starts at NHMS Kahne has never finished better than fourth place and that accounts for his one Top-5 finish. Kahne hasn't done great at Loudon. In five of his last six races he has finished outside of the Top 10. In the spring race Kahne finished 10th and last September he finished 11th. But then he looked really good at Atlanta where he qualified second and ended up winning the race. That was only two weeks ago and I think he still has some of that momentum to recommend the No. 9 car my Lucky Dog Long Odds play.
Pick! Kasey Kahne, No.9, (20/1)
2009 Sylvania 300 - Odds for Top 3 Finish
Picking up on a point I made earlier in the column, I absolutely love the way Hamlin has been driving going into the Chase. In fact in his last six races he has the best average finish of all Chase drivers at 5.5. But, I need to temper my love against the jinx of picking Hamlin to win. I guess my main problem with Hamlin is that I don't really see him as a risk taker (like Edwards, for instance) and that can hurt a driver during the Chase when drivers need to take risks rather than just drive for points. Hamlin comes into New Hampshire off of a win at Richmond last week for his second win of the season. He finished the season in fourth place with nine Top-5s and 14 Top-10 finishes along with his two wins. Hamlin starts his quest for the Sprint Cup in fourth place, tied with Kahne, and I wouldn't be surprised if he improves on this position after this Sunday.

Pick! Denny Hamlin, No. 11, (9/5)
2009 Sylvania 300 - Odds to finish in the Top 3*
Sunday, Sept. 20, 1 p.m. New Hampshire Motor Speedway
A.J. Allmendinger 30/1
Brian Vickers 12/1
Carl Edwards 9/2
Casey Mears 30/1
Clint Bowyer 11/2
Dale Earnhardt Jr. 6/1
David Ragan 30/1
David Reutimann 10/1
David Stremme 30/1
Denny Hamlin 9/5
Elliott Sadler 30/1
Greg Biffle 13/2
Jamie McMurray 30/1
Jeff Burton 9/1
Jeff Gordon 9/5
Jimmie Johnson 8/5
Joey Logano 9/2
Juan Pablo Montoya 9/1
Kasey Kahne 6/1
Kevin Harvick 7/2
Kurt Busch 10/3
Kyle Busch 10/3
Marcos Ambrose 30/1
Mark Martin 5/2
Martin Truex Jr. 15/2
Matt Kenseth 12/1
Michael Waltrip 30/1
Paul Menard 30/1
Reed Sorenson 30/1
Ryan Newman 15/2
Sam Hornish Jr. 30/1
Scott Speed 30/1
Tony Stewart 9/4
Field (Any Other Driver) 11/1
2009 Sylvania 300 - Odds to Win*
Sunday, Sept. 20, 1 p.m. New Hampshire Motor Speedway
A.J. Allmendinger 100/1
Brian Vickers 40/1
Carl Edwards 15/1
Casey Mears 100/1
Clint Bowyer 18/1
Dale Earnhardt Jr. 20/1
David Ragan 100/1
David Reutimann 35/1
David Stremme 100/1
Denny Hamlin 6/1
Elliott Sadler 100/1
Greg Biffle 22/1
Jamie McMurray 100/1
Jeff Burton 30/1
Jeff Gordon 6/1
Jimmie Johnson 11/2
Joey Logano 15/1
Juan Pablo Montoya 25/1
Kasey Kahne 20/1
Kevin Harvick 12/1
Kurt Busch 11/1
Kyle Busch 11/1
Marcos Ambrose 100/1
Mark Martin 8/1
Martin Truex Jr. 25/1
Matt Kenseth 40/1
Michael Waltrip 100/1
Paul Menard 100/1
Reed Sorenson 100/1
Ryan Newman 25/1
Sam Hornish Jr. 100/1
Scott Speed 100/1
Tony Stewart 15/2
Field (Any Other Driver) 35/1

*Odds courtesy of Bodog