Zenyatta and the Other Stars at Breeders' Cup
by Trevor Whenham - 10/30/2009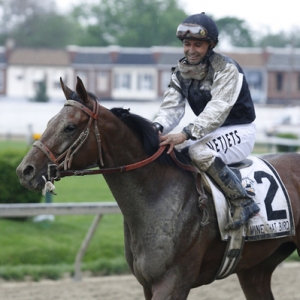 The Breeders' Cup is about two things - excitement and puzzles. On both fronts Zenyatta tops the list. She's the biggest star at the Breeders' Cup this year, and it's not even close. She's also running against the boys for the first time in the second richest race in the world. Figuring out how to deal with her isn't going to be easy. Here's a look at her and two of the other biggest stars on the Breeders Cup Card.

Zenyatta - You can't do any better than Zenyatta has done in her career - she has entered the starting gate 13 times, and she has won every time. Last year she won the Ladies' Classic with ease, and the plan appears to be for her to take a step up to the Classic this year. It's almost certainly the last race of her career, and a win by a mare in the Classic would be unprecedented and almost unbelievable. There is good news and bad news when it comes to determining her readiness for the challenge.

On the plus side, the synthetic surface is the furthest thing from a problem - 12 of her 13 races have been on synthetics, including four at Santa Anita. She also has a running style that suits the race well. She's a closer who likes to sit off the pace before unleashing a ferocious charge for the lead in the stretch. Last year, Classic winner Raven's Pass wasn't in the lead until the final 1/16 mile of the race. Until then he just minded his time and let everyone in front of him burn themselves out. Zenyatta can do just that, and we know it can work very well for her. Her closing kick is so much better than every other female horse in the country that it's certainly possible believe that it will get the best of the boys as well.

Now the bad news. The Classic is run at a mile and a quarter - fittingly known as the classic distance. That's the same distance as the Kentucky Derby. It's also further than Zenyatta has ever run. The majority of her races has been at 1 1/16 miles, with three coming at 1 1/8 miles. The jump in distance here is big - especially for a horse who is trying to make the jump for the first time so late in her career. She's also facing the boys for the first time, and you can never tell how a horse will respond to that. In some cases it is fine, but a filly or mare can be intimidated by the aggressive males and not run to the best of her ability, or she can be distracted and fail to focus. As if that's not confusing enough, there is also a question about her form. In her second to last outing, in August at Del Mar, she won by the narrowest margin of her career, and she was lucky to do so. There are those who believe that this is too much of a challenge for her at this point in her career.

I can understand either argument - deciding to back Zenyatta or look to beat her. Either way, there is a real consideration here - because she is based in California and she has such an impressive record she is almost certain to be significantly overbet. She'll likely be the favorite - second favorite behind Rip Van Winkle at worse - but she'll be at a lower price than she should be because of all the public action. That's means that you'll have to be especially confident in your decision because there won't be any value. On the other hand, the more money she draws, the better the prices will be on the other horses.

Summer Bird - It hasn't been the best year for male racing in the U.S., but that shouldn't take away from what Summer Bird has done. He captured national attention by winning the Belmont, and followed that up by finishing a solid second to Rachel Alexandra in the Haskell. There's no shame in that. The rest of the summer couldn't have gone better - he won the biggest three year old race of the summer, the Travers, and followed that by wining the Jockey Club Gold Cup against older horses. Given his heart, talent, and adaptable running style he'd be a huge factor in this race - except for one thing. Summer Bird has never run on a synthetic surface, and it's far from a certainty that he will handle it well. Given how Curlin, last year's Jockey Club Gold Cup winner, handled the Santa Anita track (very poorly) there is more than a little reason to be concerned.

Mine That Bird - I was at the Kentucky Derby this year. I will never forget seeing the little flash of lightning flying up the rail as he went past us, or the stunned silence in the grandstand as everyone tried to figure out what had just happened. Mine That Bird proved that he didn't get nearly enough respect from bettors in that race. Though he has mostly run okay since then, he hasn't managed to repeat that effort, or even to win a race. His last race was a particular disaster - he was sixth in the Goodwood at Santa Anita earlier in October beyond a couple of other likely Classic entrants. The horse was terrible the previous time he was at Santa Anita as well - he was dead last in last year's Breeders' Cup Juvenile. The horse can run on synthetics - he was the Canadian juvenile champion while running on the synthetic at Woodbine - but he hasn't shown the form or liking for Santa Anita to consider him as a real contender. He'll draw more than his share of sentimental money, though. Heck, I'm all but certain that he won't win and yet I'll likely have a couple of bucks on him just in case - I already made the mistake of counting him out once.