College Football Power Rankings - The Ferringo 15
by Robert Ferringo - 11/11/2010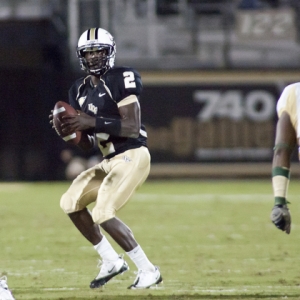 The Ferringo 15 is my Profit-Power Rankings, a ladder or hierarchy based on which teams are the most profitable on the field. I'm not trying to give you some other nonsensical, random, speculative power rankings based on my own biases and conjecture. So instead of Alabama moving up or down the polls on the basis of how badly they blew out Vanderbilt the previous Saturday, I'm going to rank each team based on past, present, and projected future achievement against the college football lines.
And over the past two years this version of college football power rankings has been on point. In 2007 the teams that finished in the Ferringo 15 had a collective 121-46-1 mark against the spread. In 2008 they came back and went 81-63-3 in the week that they were in the Ferringo 15. In 2009 the teams that were in the F-15 only managed to win 53 percent of their games that Saturday. But, all in all, these college football power rankings have been exactly what any good gambler hopes to be: profitable in the long term.
That is now two of three winning weeks for the Ferringo 15, as it put forth a subpar 5-6 ATS record last weekend. That is now a respectable 41-33 mark over the last five weeks for a 55.4 percent winning mark. Also, for the year that makes the F-15 teams a respectable 54-46 the week that they have been listed in these power rankings.
Remember: I'm not listing the 15 teams that I think will cover in a given week. This is just a list of 15 teams that I think present the best blend of immediate and long-term earning potential against the books, while also giving credit to teams for recent, past performances. So without further ado, here is my Ferringo 15 (all records are ATS against the closing line):
1. Central Florida (8-1) – We have a new No. 1 in the Ferringo 15 this week. Central Florida has been absolutely wrecking Conference USA this year and the reason is pretty simple: they are a tough, rugged, run-the-ball-and-play-great-defense team among a conference full of soft, pretty boy, pass-wacky clubs. They have covered seven straight games and posted two convincing wins in their two biggest games of the year these last two weeks. But Southern Miss is a dangerous team this weekend, even though the game is at UCF. The road team has won and covered three of four games in this series. But UCF is an amazing 20-6 ATS in its last 26 games over the course of the last three years and has been the best bet in the nation. That's tough to go against.
2. Hawaii (8-2) – That was a disappointing effort at Boise State last week, but that doesn't take away what has been a great year so far for the Warriors. They have a week off to regroup and then they close the year with perhaps their easiest three games of the year: San Jose State, New Mexico State and UNLV.
3. Ohio State (7-2) – The Buckeyes are massive favorites against Penn State this weekend (-18). But the last time that they were in this range (-16.5 back in 2006) they dominated the Nittany Lions and covered in a 28-6 win. Ohio State is an amazing 11-1 ATS in its last 12 home games and they are 36-15 ATS in their last 51 Big Ten games. Also, the Buckeyes are 41-17 ATS as a favorite and the home team is 9-3 ATS in the last 12 meetings.
4. Oklahoma State (7-2) – In case you hadn't noticed, Justin Blackmon is an absolute freak. This offense is now in the top three in the nation in yards, passing yards, and scoring. As a result, one of the best value plays on this club is on the 'over'. They are 7-2 against the total. The books have corrected a bit, forcing OSU to just 2-2 against the total in the last four games, but this offense is simply unstoppable.
5. Northern Illinois (7-2-1) – The Huskies have been the best bet in football for the last two months. They are a stellar 7-0-1 ATS in their last eight games and their 35-point win over Toledo on Tuesday was easy money. That was the team's final home game, but they have two cupcakes – Ball State and Eastern Michigan – left on the schedule. It appears they are on pace for an excellent clash with Temple in the MAC Title game.
6. Arkansas State (7-2) – In what is a recurring theme of the week, Arkansas State is playing its final home game. They have covered four straight and six of seven and this team just continues to get the job done. The Red Wolves won on the road by just four points over Western Kentucky last December in the first-ever meeting between the schools. ASU is just 1-7 ATS as a double-digit favorite but they are 5-1 ATS in their last six games against a team with a losing record.
7. Utah (6-2-1) – Here is a good example of where the age and experience of Utah's players works in their advantage: this team is 3-0 ATS after a loss over the last three years and they are 4-1-1 ATS over the last decade after a loss of three touchdowns or more. They have to be disappointed about last week. But the site of Touchdown Jesus will help them avoid a letdown.
8. Boise State (6-2) – That was another dominating performance by the Broncos in spite of a huge number. Last week's Hawaii line had actually opened around 28 and was bet down to 21.5. But the Broncos made it a no-doubter. Boise State heads to Idaho this week and they are an amazing 13-3 ATS as a road favorite, 16-5 ATS on the road and 23-9-1 ATS overall. This team is simply a machine and has just one more test – a road trip to Nevada – before a potential national title shot.
9. Illinois (7-2) – That was a tough loss for the Illini at The Big House, but a nice cover against a short line. The Illini play their final home game this weekend, and I don't expect them to take it easy on Minnesota. They do, however, have to make the difficult transition from underdog – which they have been just about all year – to the role of favorite. Illinois is just 3-8 ATS as a chalk and 5-13 ATS against a team with a losing record.
10. North Carolina State (7-2) – The Wolfpack are just another perfect example of a college football truism: if you have a very good quarterback you are almost always going to have a good season. Russell Wilson is still turning the ball over a little too much but he keeps cashing tickets. The Wolfpack are playing their last home game this week and they actually still have a shot at the Atlantic crown. N.C. State is just 5-14 ATS against teams with a losing record. But they are 5-1 ATS at home and they are 3-1-1 ATS as a double-digit favorite.
11. Oregon State (5-2-1) – The Beavers have four games left on the schedule and three of them are at home. This is clearly another one of those teams that is a much better bet as an underdog than as a favorite. So far this year they are just 1-2-1 ATS when laying points and 4-0 ATS as a dog.
12. San Diego State (6-3) – We are now going to find out if the Aztecs are for real or not. They head to TCU this week to play just a devastating Horned Frogs club. Then next week they host Utah, the No. 15 team in the country. Only one time in the last two months has this team won or lost a game by more than 10 points. They are used to tight situations and I'm sure they are hoping to be in one again this week at TCU. SDSU has lost by an average of 29 points over the last three years and by 35 points over the last four.
13. Syracuse (6-3) – As I mentioned with Illinois, it's tough for teams to make that transition from underdog to favorite. And we saw that last week with the Orange. After back-to-back road upsets against West Virginia and Cincinnati, the Orange were home last week as chalk with heavy expectations. But for the second time in a month they got tossed in front of a home crowd just desperate for something to cheer for. Now they are in the unfamiliar position of road underdog at Rutgers. They are a better team, but the Knights have had two weeks to prep for this one and the home team is 10-2 ATS in the last 12 meetings.
14. Virginia Tech (6-3) – The Hokies have a chance to drive a final nail in North Carolina's coffin, and at the same time punch their own ticket for the ACC title game. The road team has won four of six in this series, but the underdog has covered three straight and four of six. In what is an amazing schedule quirk, Virginia Tech has only played two road games this entire year. (In fact, the dirty secret about Hokies football and its success over the last decade is that they perennially play one of the easiest schedules in the country.)
15. Oregon (6-2) – Another day, another dollar for the Ducks. No one has the physical stamina to keep up with this amazing offense and they appear – in my eyes – to be on a crash course with Boise State for the BCS Championship. Over the next two weeks Oregon does have to face two teams – Cal and Arizona – ranked in the Top 20 in the nation in total defense. Oregon is 21-8-1 ATS as a double-digit favorite but the visitor is just 1-4 ATS in the Cal series.
Others Receiving Votes: Arkansas (6-3), Arizona State (6-2-1), Temple (7-3), Maryland (6-3), North Carolina (6-3)
Robert Ferringo is a writer and a professional sports handicapper for Doc's Sports. He has banked $6,000 in profit for his clients after four of five winning football weeks and is rolling out more predictions this week. This week's card will include another exciting Game of the Year. He has brought in over $15,000 in overall profit in all sports over the last two-plus months. You can sign up for his college football and NFL picks and get more information here.
---
Most Recent College Football Power Rankings