College Football Power Rankings - The Ferringo 15
by Robert Ferringo - 11/18/2010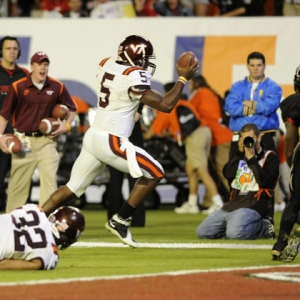 The Ferringo 15 is my Profit-Power Rankings, a ladder or hierarchy based on which teams are the most profitable on the field. I'm not trying to give you some other nonsensical, random, speculative power rankings based on my own biases and conjecture. So instead of Alabama moving up or down the polls on the basis of how badly they blew out Vanderbilt the previous Saturday, I'm going to rank each team based on past, present, and projected future achievement against the college football point spread.
And over the past two years this version of college football power rankings has been on point. In 2007 the teams that finished in the Ferringo 15 had a collective 121-46-1 mark against the spread. In 2008 they came back and went 81-63-3 in the week that they were in the Ferringo 15. In 2009 the teams that were in the F-15 only managed to win 53 percent of their games that Saturday. But, all in all, these college football power rankings have been exactly what any good gambler hopes to be: profitable in the long term.
It was another successful week for the Ferringo 15, as our teams went 7-6 against the spread last weekend for a slim profit. That is now three of four winning weeks with this crop of teams. That is now a respectable 48-39 mark over the last six weeks for a 55.2 percent winning mark. Also, for the year that makes the F-15 teams 61-52 the week that they have been listed in these power rankings.
Remember: I'm not listing the 15 teams that I think will cover in a given week. This is just a list of 15 teams that I think present the best blend of immediate and long-term earning potential against the books, while also giving credit to teams for recent, past performances. So without further ado, here is my Ferringo 15 (all records are ATS against the closing line):
1. Central Florida (8-2) – Lost to a good team. The emotion finally ran out. They have the inside track to the CUSA title and should roll whomever they play from the West. UCF actually lost in its last trip to Tulane, but that was back in 2006. The Knights are 11-1 ATS in their last 12 road games and have covered four straight in the series. But this week's line might be fat. Tulane is just 4-6 on the year, but they also have only lost one game by more than the 18.5 points that they are catching this week.
2. Ohio State (8-2) – It's another Big Game for one of the nation's best Big Game Programs in the country. There is no reason to doubt this team – but I'm going to throw one out there anyway. If you looked back on the Buckeye's schedule you couldn't find a marquee win or big performance against an equal foe. Yes, they hammered Miami at home. But we've seen that Miami isn't any good. Beyond that, they lost at Wisconsin and have zero other big wins to latch on to. That said, it is impossible not to be impressed with a 22-7 ATS road mark, a 42-17 ATS mark as a favorite, and a 37-14 ATS record in conference play.
3. Oklahoma State (8-2) – The national coach of the year should come from one of the teams on this list. And Mike Gundy has to get a load of consideration for the work he's done this year. The Cowboys have gone from overachievers to overwhelming and continue an amazing season. They are 7-1 ATS in their last eight games overall and they are 7-1 ATS in their last eight games against Kansas.
4. Northern Illinois (7-2-1) – The Huskies have the longest non-losing ATS streak in the nation right now. They are 7-0-1 ATS in their last eight games and they have actually failed to cover only one game (at Iowa State) this year against D-I competition. NIU has won four of its last five trips to Muncie but is just 2-4 ATS in the last six meetings overall.
5. Hawaii (8-2) – Hawaii had two weeks to get over their blowout loss at Boise State and to prep for this home game. San Jose State has played the Warriors tough the last few years and the last three meetings have been determined by a touchdown or less. Hawaii has covered five straight home games and is 5-2 ATS in its last seven as a home favorite.
6. Boise State (7-2) – One of Boise's biggest impediments this weekend may not come from Fresno State. The weather in Boise is supposed to be a high of 39 degrees with rain and sleet in the forecast. That should be a big advantage since the host Broncos are lining up against a California team. But because Boise has such a slim margin for error, something like the weather could influence a critical swing in the game (like leading to a missed field goal, botched punt, or costly interception).
7. Illinois (7-3) – It's rare to see an unranked team favored over a team in the Top 25. It's even more rare when that unranked team is on the road and it is almost unheard of – especially this late in the season – for this unranked road team to be favored by more than a touchdown over a Top 25 team. The Illini get to face Northwestern this weekend without its starting quarterback, Dan Persa. But Illinois is just 3-9 ATS as a favorite.
8. North Carolina State (8-2) – The Wolfpack are a stupendous 20-8-2 ATS in their last 30 games spanning three seasons. This week they have a huge rivalry game and an opportunity to drive a stake through the heart of a North Carolina team that has been hanging by a thread all season. State has won and covered three straight in this series and the underdog is 6-1 ATS.
9. Maryland (7-3) – This has been a vintage Ralph Friedgen coaching job. He could win ACC Coach of the Year, and that will likely buy him two more mediocre seasons at the helm. The Terps can seize first place in the Atlantic Division this week with a home win over Florida State. They will have to face FSU with senior quarterback Christian Ponder, who is coming back from a surgical procedure on his elbow. Maryland is 7-3 ATS as a home underdog but just 7-16 ATS after a win.
10. San Diego State (7-3) – This week's game isn't SDSU's last home game, but it is the last big time home game for this senior-laden squad. Utah has dominated this series lately, covering four straight in the series and winning by 31, 49, 16 and 31 points. That makes this a significant revenge spot. But the Aztecs have to avoid the letdown in this one after their failed comeback attempt against TCU. SDSU is 4-0 at home this year and their only three losses have come at Missouri (by 3), at BYU (by 3) and at TCU (by 5).
11. Syracuse (7-3) – Amazingly, the Orange are in the mix for the Big East title. They need some help (they are 1.5 games back of Pitt with two to play) but the fact that they are in the discussion is amazing. Syracuse finishes up at home against Connecticut and Boston College. However, the Orange have been terrible in The Dome this year. They have played only two home games since September and they lost both. The favorite is 6-0 ATS in the UConn series and the home team is 5-1 ATS. But SU is just 4-1 ATS against the Huskies and lost last year despite outgaining Connecticut by more than 100 yards.
12. Virginia Tech (7-3) – Tech is now just one win away from locking up another trip to the ACC title game. They are in the Top 20 in both scoring offense and defense and the only game that they have failed to cover was against an inflated line against Georgia Tech two weeks ago. They will face Miami without Jacory Harris this week. However, I think after three straight 'under' games that this team is going to be involved in a shootout.
13. Arkansas State (7-3) – This week is a horrendous matchup for the Red Wolves. They own the No. 110-ranked rush defense in the country, and have to face a lively option attack from Navy. Despite that fundamental weakness, ASU is still favored in this one. They are 2-10 ATS the last 12 times they have laid chalk and they have to somehow rebound after getting upset at home by lowly Western Kentucky last week in the final home game of the year.
14. Tulsa (7-3) – The Golden Hurricane was a team I was on early this year. Naturally, they lost their first three games ATS. But now they have covered three straight and have put themselves in a position to advance to the CUSA championship game. They have a revenge spot this week at home against UTEP, as the Miners scored twice in the last six minutes last year to beat Tulsa. The Golden Hurricane is 11-5 ATS as a home chalk and 11-6 ATS as a double-digit home favorite.
15. Oregon (6-3) – Even though they didn't cover, I am going to keep Oregon in the final spot here. The reason is that I think the Ducks are the best team in the country and headed for a National Championship. And in four of the past five years the eventual No. 1 team was also one of the most profitable clubs in the nation. They have the week off before facing Arizona next Friday.
Others Receiving Votes: Arkansas (7-3), Ohio (8-3)
Robert Ferringo is a writer and a professional sports handicapper for Doc's Sports. He has banked $6,000 in profit for his clients after four of five winning football weeks and is rolling out more predictions this week. This week's card will include another exciting Game of the Year. He has brought in over $15,000 in overall profit in all sports over the last two-plus months. You can sign up for his college football and NFL picks and get more information here.
---
Most Recent College Football Power Rankings