College Football Power Rankings - The Ferringo 15
by Robert Ferringo - 10/21/2010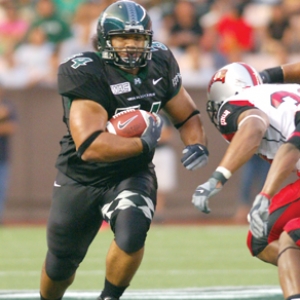 The Ferringo 15 is my Profit-Power Rankings, a ladder or hierarchy based on which teams are the most profitable on the field. I'm not trying to give you some other nonsensical, random, speculative power rankings based on my own biases and conjecture. So instead of Alabama moving up or down the polls on the basis of how badly they blew out Vanderbilt the previous Saturday, I'm going to rank each team based on past, present, and projected future achievement against the spread.
And over the past two years this version of college football power rankings has been on point. In 2007 the teams that finished in the Ferringo 15 had a collective 121-46-1 mark against the spread. In 2008 they came back and went 81-63-3 in the week that they were in the Ferringo 15. In 2009 the teams that were in the F-15 only managed to win 53 percent of their games that Saturday. But, all in all, these college football power rankings have been exactly what any good gambler hopes to be: profitable in the long term.
After another nondescript week (7-7 ATS) that makes the Ferringo 15 23-19 over the last two postings. It is slowly but surely chugging along. For the year the F-15 teams are 36-31 the week that they have been listed in these power rankings. Remember: I'm not listing the 15 teams that I think will cover in a given week. This is just a list of 15 teams that I think present the best blend of immediate and long-term earning potential against the books, while also giving credit to teams for recent, past performances.
So without further ado, here is my Ferringo 15 (all records are ATS against the closing line):
1. Hawaii (6-1) – Yeah, I can't believe it either. But the Hawaii Warriors have been the best bet in the business through the first half of the college football season. Right now they are 5-2 overall and they are actually a game up on Boise State in the WAC standings. You can't say that this team is strictly an island bet. They are 2-1 SU and ATS on the mainland this year and this week they have a short line (-3) against Utah State. Hawaii is now 9-4-1 ATS as a road favorite and they are 22-10-1 ATS against a team with a losing record.
2. San Diego State (5-1) – The Aztecs shot down Air Force last week and now they are huge favorites on the road against New Mexico. But that really has more to do with how awful the Lobos are than how respected SDSU is. San Diego State is really just a couple minutes from being 6-0 and probably in the Top 25, losing last-minute games at Missouri and at BYU. They are one of the top pass offenses (No. 23) and pass defenses (No. 28) in the country and that is really the secret of their success.
3. Utah (5-0-1) – Let's stay in the Mountain West (because the Utes won't be staying their for very much longer.) This team has dominated every opponent and is the only undefeated team (against the spread) in the country. They have been doing it with defense, sporting the No. 7 total defense in the country and a unit in the Top 13 in yards allowed, passing yards allowed, rushing yards allowed and points allowed. We're going to find out what this team is made of in the next month. They have to face the four other top teams in the conference – Air Force, TCU, SDSU and BYU – along with a trip to Notre Dame. I think if they can split their last six games ATS it will have been a great year.
4. Ohio State (5-2) – Ohio State's loss really has only enhanced their value in my eyes. The Buckeyes are 7-0 ATS after a loss against the spread and going back to 2004 they are 19-6 ATS the week after they didn't cash. This team has one loss but I don't think they are out of the national title picture. They have just one tough game left on the schedule – at Iowa on Nov. 20 – and if they can sweep the board with impressive performances (which, I'd imagine, would lead to several ATS scores) then I think they could get back in the discussion. The Buckeyes are 44-20 ATS in their last 64 games so they won't get docked too much for not covering in Madison last week.
5. Oklahoma State (5-1) – All season long I have been waiting for this team to fall on its face. To this point, it hasn't. Back-to-back road wins – including a blowout at Texas Tech last week – show that this team is for real. They are 6-0 straight up right now and they are one of just three unbeaten teams in Big 12 play. This week they have a huge game against Nebraska and, catching nearly a touchdown, they are a live home dog. The Cowboys had a lot of bad luck that kept them from being a big earner last year. It looks like they are boomeranging right now. They are in the Top 3 in the nation in total offense, passing and scoring. And when you can move the ball like that you will cover a lot of numbers.
6. Oregon State (4-1-1) – This team is starting to break down a little bit and they really don't have a ton of talent altogether. However, exceptional coaching and perennial disrespect leave this team as the best bet in the Pac-10. What a lot of people don't realize is that this team has played perhaps the toughest schedule in the country. So while they are only 3-3 right now they have been battling week-in and week-out and that has done nothing but enhance their value. Losing James Rodgers is a big blow to this offense. But the Beavers get four of their final six games in Corvallis, where they are always tough. This week's bye gives them much-needed rest.
7. Central Florida (5-1) – This team is the best in Conference USA and I think that they will continue to dominate throughout the rest of the season. They are the stark opposite of teams in the CUSA West, in that UCF is a smash mouth team that is playing amongst a bunch of pass-wacky, spread-offense softies. The Knights boast a Top 10 defense in yards allowed, passing yards allowed and points allowed. They may be looking past Rice at home this week. They have a pivotal three-game stretch coming up against East Carolina, Houston and Southern Miss and that will really define this group's season. I think they are up for it.
8. Boise State (5-1) – I guess I should have had this group in here sooner and I'm pretty much an idiot for not. I have said in the past that the team that eventually wins the national championship has been one of the best teams in the country ATS in four of the past five years. Boise could be another example. This team knows that they need to not only win, but they need to dominate. And the real strength of why this team continues to cover just insane numbers (they were favored by 43 last week) is because they have one of the most underrated defenses in the country. They are entering the toughest part of their schedule. But playing against teams like Hawaii, Fresno State and Nevada really could just add value to the Broncos. Those teams are good enough to elicit some "upset money" and that could keep some numbers in a playable range for this group.
9. North Carolina (5-1) – I probably should have this team ranked even higher than I do. They were a "Preseason F-15 Top 5" and they have done nothing to disappoint. This team has been radioactive for books and bettors this year because no one ever knows who is playing and who isn't. However, now that the situations have been settled for most of the players in limbo I am interested to see A) how bettors and books respond and B) how the locker room responds to not having to play with such desperation. Their record – in a pretty good ACC – just speaks to the depth and talent that Butch Davis has brought in here.
10. Florida State (5-2) – The Seminoles definitely had a scare last week but you had to expect a letdown after they absolutely demolished their primary rival, Miami, the week before. FSU would likely only be the third-best team if they played in the Coastal in the ACC. But they are simply so far ahead of everyone in the Atlantic that they should continue to cash some tickets. They get extra time off before a key game with N.C. State next Thursday.
11. Kentucky (5-2) – The win over South Carolina wasn't a fluke; this team is tough. Randall Cobb will be playing on Sundays sooner rather than later. This team is pretty physical, has a game breaker in Cobb, has a feisty new coach, and is consistently underrated because they lack any manner of pedigree in the tradition-laden SEC. This week is a great example. They are still home dogs to a Georgia team that was left for dead just two weeks ago. The Wildcats are 3-1 ATS in the last four matchups and have won two of those games outright. And in the last four years I don't think that the talent level has ever been as close as it is this season.
12. Virginia Tech (5-2) – Hey, look who it is. Virginia Tech is still being treated as the team that blew it against Boise State (who, oh by the way, is wrecking people) and the team that lost to Richmond. But they are on a mission. The problem with this team was that Bud Foster was working with one of his youngest, least experienced defenses ever. Well, they are growing up. And the offense is more than experienced and talented enough to carry them. All the Hokies do is win 10 games every year. They are winning by an average of about 22 points per game this year and they are an amazing 37-15 ATS in their last 52 ACC games.
13. West Virginia (4-2) – There is always value in being the best team in a bad conference. (Right, Boise State?) They have covered four straight since their narrow win at Marshall and they are playing their best ball heading into the thick of conference play. Their two toughest games in league play are on the road – at Connecticut and at Pittsburgh – but there is no doubt that this group is good enough to win both of those games. Their defense is No. 5 in the country and now that Geno Smith has a little experience and confidence (having Noel Devine doesn't hurt either) this team feels it can play with anyone. Remember: they were just one drive away from beating LSU in Baton Rouge. These guys are legit.
14. Michigan State (5-2) – I can speak as to the value of this team firsthand! Two weeks ago I cashed an easy ticket with them over Michigan, and then lamented not using them as my Game of the Year. This is a team that should have been better – both SU and ATS – in each of the last two years. But it seemed like they just could not catch a break. However, you can see everything kind of clicking into place this year. Is it going to be enough? Time will tell. The road team in the MSU-Northwestern series is 8-1 ATS. However, this is a series that Sparty has had trouble in. They are just 1-5 ATS in the last six meetings and the underdog is 1-7 ATS in the last eight matchups. The Spartans avoided a letdown at home last week but with a momentous trip to Iowa on deck this is a dangerous spot for State.
15. North Carolina State (5-2) – I know that this seems like a ridiculous fall for a team that I had at No. 1 last week. But it really just speaks to the quality of the teams that I have ahead of them as far as their earning potential. The Wolfpack have a season-defining game on national TV next Thursday against FSU. But after that game there aren't a ton of spots that I like in terms of value for them. They have a letdown spot at Clemson where they will face a short line. They will be favored over hapless Wake Forest. And then they have tricky games at North Carolina before another letdown spot against sneaky Maryland. This team's best bets may be behind them.
Others Receiving Votes: Ohio (4-2), Arizona State (4-1-1), Syracuse (4-2), Missouri (4-2), Idaho (4-2).
Robert Ferringo is a writer and a professional sports handicapper for Doc's Sports. He has banked $6,000 in profit for his clients after four straight winning football weeks and is rolling out an NFL Game of the Month prediction this week. He has brought in over $14,000 in overall profit in all sports over the last two-plus months. He has a Big Ten Game of the Year on the card this week and he's looking for more profit today. You can sign up for his college football and NFL picks and get more information here.
---
Most Recent College Football Power Rankings