March Madness Bracket Predictions: East Region
by Robert Ferringo - 3/16/2010


Other Popular March Madness Pages:
2019 Main Page - Brackets - Odds - Picks - Schedule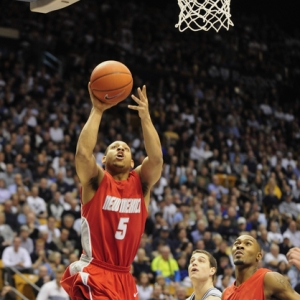 Well, Kentucky has been living a charmed life all season long. I suppose it only makes sense that they are given one of the easiest roads to the Final Four of any No. 1 seed.
My March Madness bracket prediction for the East Region: a whole lot of people with their face buried squarely in the lap of John Wall, John Calipari and the rest of the Kentucky Nation. But what they don't realize (and I'll come back to this with another story tomorrow) is that Kentucky doesn't have a chance in hell in cutting down the nets and winning the NCAA Tournament.
The Wildcats share a bracket with precisely zero other teams that have a shot at a national championship and, realistically, only two other teams (Wisconsin, West Virginia) that have a prayer at Final Four run. Other than that this bracket has a lot of parity and a lot of coin-flip games in the first two rounds that could lead to endless permutations in the region. However, all of that parity is between mediocre teams. And while Kentucky is nowhere near the front-runner that everyone thinks that they are they still have a favorable march to Indianapolis.
Here are Doc's Sports March Madness predictions for the East Region Bracket:
No. 1 Seed: Kentucky (32-2 SU, 17-15 ATS)
I hate to sound like a broken record, but Kentucky is overrated. And I said two months ago that this team wouldn't make it past the Sweet 16. Well, wouldn't you know that they have a gift-wrapped path to the Final Four so it appears that I'm going to have to endure two more weeks of insufferable hype around a team that has done very little to make me think they are among the elite teams in the country.
They have a great big target on their backs and the bottom line is that this team hasn't shown me anything against other top-tier teams. Remember: just last year the SEC was akin to the Pac-10 this season; they both were absolutely pathetic. So Kentucky dominated a still middling SEC this year (they were No. 5 of the six BCS conferences) and the Wildcats did absolutely nothing in the nonconference. Their best win was a tight one, at home, over Louisville, which was an average Big East team.
Kentucky doesn't shoot the ball well from the outside, they have no experience, and they don't play well away from home. That's not the formula of a championship contender and I don't think for a second that they are a legit threat. Teams do need to hold their own on the inside. While John Wall gets all of the hype the real strength of this team is DeMarcus Cousins and Pat Patterson in the post. You watch: when this team gets in trouble they don't turn to Wall. They throw it underneath and let their bigs work.
Kentucky March Madness Prediction: I have said all season long that this team wouldn't play more than three games in the NCAA Tournament. Unfortunately they got a cupcake region and have a walk to Indianapolis. However, I still think that they will come up short if they have to face Texas, Wisconsin and WVU. But the way UK's luck has been this year I doubt that will happen.
No. 2 – West Virginia (27-6 SU, 13-19 ATS)
Right now it appears that West Virginia and Ohio State are the two hottest teams in the country right now. The Mountaineers earned the Big East conference tournament title, but that actually may work against them. In the last decade teams that have won the Big East title have had a hard time getting back up after that grueling weekend and performing in the NCAA Tournament.
The Mountaineers are probably the most athletic team in the field. They are long and strong at all positions and they are deep, with as many as nine guys that they can turn to for minutes. This team really gets after it defensively and they have a true go-to guy with stud senior DaSean Butler.
However, I will say that there are some red flags here that worry me. Bob Huggins' teams are notorious for underachieving in March. Don't forget how many flops he had in Cincinnati and just last year they were upset in the first round by Dayton. This team gets steady point guard play but it isn't elite. And one of the big knocks I have against them is that they can't shoot. They are 97th in the country in three-point shooting and only two of the regulars shoot better than 35 percent from deep and none shoot better than 38 percent. This team is also a better underdog than a favorite and because their offense can go cold it's tough to lay too many points with them. Also, their road resume is less than stellar and makes me even more nervous about this crew.
West Virginia March Madness Prediction: If the Mountaineers can survive their second round game then they could be in business. But I think that their lack of reliable scoring is going to come back and haunt them and that this team has "underachiever" written all over it.
No. 3 - New Mexico (29-4 SU, 18-12-2 ATS)
The Lobos are one of the most surprising teams in the nation. They lost three double-digits scorers from last year's team yet still managed to break through into the Top 10 in the nation. This team has won 15 of 16 games and has some nice scalps (Cal, Texas A&M, BYU twice) this season. Junior college Darington Hobson was The Mountain West's Player of the Year this season and the 6-7 forward is as versatile as they come. He averages 15.8 points and 9.1 rebounds for the year and has actually upped those marks to 18.8 and 11.3 over his last 10 games.
This is a perimeter-oriented team that can matchup with anyone because of their size. Besides point guard Dairese Gary they roll with four other starters that are 6-6 or taller. They can become a bit too perimeter oriented at times and they definitely lack depth. Also, they are just 3-7 ATS in their last 10 games so the books have more than caught up with this group. Are they one of the Top 10 teams in the country right now? No. But that doesn't mean that they can't win a pair and earn their way into the second weekend.
New Mexico March Madness Prediction: A great season will come to a premature end. They aren't going to be able to overpower Washington or Marquette. And I can see this team being one of the top seeds that doesn't survive the opening weekend.
No. 4 – Wisconsin (23-8 SU, 17-12 ATS)
He Badgers enter the tournament as one of the real X-factors in the South region. They are perpetually underrated and brilliant. Bo Ryan's clubs have won at least one game in The Dance in six of the last seven seasons.
This team executes on offense, bangs the board with a seemingly endless supply of 6-10 forwards, and is No. 4 in the nation in points allowed per game. The Badgers have a very deliberate style and are not unlike a boa constrictor in their approach. They have a senior backcourt, with point guard Trevon Hughes a proven stud and one of the most underrated leaders in the nation. Jason Bohanon is the sharpshooter and Jordan Taylor is the flashy new guy.
But the ace in the hole is 6-10 forward Jon Lauer, who has averaged 15.2 points per game since coming back from injury. This team has nice wins over Maryland, Duke and Marquette this year. But two of those three games were at home. This is a dangerous squad but their deliberate style does tend to let teams hang around.
Wisconsin March Madness Prediction: They are going to have two very tough games. Wofford is no pushover at all. A win there will run tem into either an underrated Temple team or a Cornell team that's building momentum. I think they either flameout early or they beat Kentucky.
No. 5 – Temple (29-5 SU, 22-11 ATS)
All the Owls have done is meet and exceed every challenge and expectation that they have had this year. Temple is playing in its third straight NCAA Tournament and still looking for its first breakthrough win. Temple's success is predicated on the No. 3 defense in the country and a stellar backcourt of senior scorer Ryan Brooks and sophomore playmaker Juan Fernandez. Forward Lavoy Allen is a double-double machine and the rest of the roster is all gritty role players.
Temple is also the team that everyone has pegged for a first round exit at the hands of Cornell. There is no doubt that this will motivate this tough Philly crew. Temple has won 10 straight games and 18 of 20, posting a sick 13-6-1 ATS mark in those contests. They've been underrated all year so I guess why wouldn't they be now.
Temple March Madness Prediction: This is one of the toughest teams to predict. They could definitely get rubbed off by Cornell in a vintage 12-5 upset. Or I could see them advancing out of the opening weekend. This is a true dark horse.
No. 6 - Marquette (22-11 SU, 16-10-1 ATS)
This is one of the scrappiest, hardest-working teams in basketball. The Golden Eagles lost as much talent as any team in the nation from last year to this year but haven't missed a beat. This team just never stops fighting and has seemingly willed itself into the tournament field.
Marquette has won 10 of 13 games and has victories over Xavier, Georgetown, Louisville and Villanova on its resume. They also have near-miss games against West Virginia, Villanova (twice losing by two points), Wisconsin and Syracuse. The Golden Eagles are not a strong favorite because they lack top-end talent. But you never have to worry about the effort and you never have to worry if this team is going to come to play.
Marquette March Madness Prediction: It will either be a first round loss to Washington or I can see Marquette hustling its way into the Sweet 16 – and possibly further. They have overachieved all season. So while I'm still a little hesitant to jump on board there is no denying this team has some potential.
Best first-round match up: No. 7 Clemson vs. No. 10 Missouri
There is a host of great matchups waiting for us in the opening round: Temple vs. Cornell, Texas vs. Wake Forest and Marquette vs. Washington each feature potential bracket busting teams. But I will go with Clemson-Missouri simply for the fact that both teams play the exact same style: press, run, press, run, press, run and then press and run. Both teams are full of athletes and each team has shown a penchant for inconsistency and for close calls against elite teams. Missouri is more experienced, with several players from last year's Elite Eight team still earning significant minutes. Clemson has always been an NCAA Tournament bust, but may have better guards and has the best player on the floor in Trevor Booker. Another thing to watch is how much these teams will have in the tank after what should be a frantic 40 minutes.
Best potential second-round match up: No. 1 Kentucky vs. No. 8 Texas
Both teams had a cup of coffee as the No. 1 team in the nation and now instead of meeting up in the Final Four they could be playing for a spot in the Sweet 16. Texas is really not a very good team, as they have proven by finishing sixth in the Big 12 and by going 7-9 since Jan. 18. But with Damion James and some highly touted freshmen of their own, along with two big post players that could bang with Kentucky's powerful frontcourt, this isn't a bad matchup for the Longhorns. This game would come down to a matchup of freshmen Avery Bradley vs. Wall. There's no doubt who has been better this year. But in a one-and-done situation you just never know when the raw talent on Texas could rise to the surface.
Upset Alert (first round): No. 5 Temple vs. No. 12 Cornell
Well, to be honest I don't think that this upset is going to come through. Yes it is the vaunted 5-12 matchup and yes it involves Everyone's Underdog Pick, Cornell. But the fact that Temple is so disrespected heading into this game is what makes me think that it actually shouldn't be an upset alert at all. And to take it further, it may seem like an upset if Temple actually beats the Big Red. The Ivy League hasn't won a tournament game since 1998. There is a reason for that. And considering that Temple is a tough, gritty, defensive-minded team that's played in three straight tournaments as well is probably bad news for the senior-laded Cornell crew. This is Cornell's third straight tournament appearance and their last chance at accomplishing anything significant. Should be a great game but I'm not sure if it will be an upset either way.
Upset Alert (second round): No. 6 Marquette vs. No. 3 New Mexico
New Mexico is a nice team and has been a great story. But there is no ignoring the fact that this team is vulnerable. Marquette matches up very well with the Lobos. New Mexico runs a motion offense that excels at creating mismatches. But the Golden Eagles will be able to switch on everything and still match up so I can see this one being a grind. New Mexico is good. But they haven't proven that they can go on the road and beat tournament-caliber teams on the road. Marquette would enter this game as winners of 12 of 15 games and because they shoot a high volume of threes they can beat any team on any night.
Dark Horse teams: No. 4 Wisconsin
Bo Ryan is the man. And while this isn't anywhere near one of his best Badger teams I don't think that there is any doubt that they could be a thorn in the side of this region. With strong rebounding and defense, excellent execution on offense, a pair of seniors in the backcourt, and a tough matchup on the wing with Jon Lauer. If they can make it out of a really brutal pod, with Temple, Wofford and Cornell standing in the way, then I truly think that the Badgers can give Kentucky a game in the Sweet 16. And depending on what happens in the bottom of the bracket (which I predict will go haywire) the winner of that game could be going to the Final Four.
No. 5 Temple
Coming into this year I had very, very low expectations for this Owls club. So there is still that part of me that doesn't want to believe in them either. But looking at what they were able to accomplish I guess I don't see a reason why they couldn't earn a trip to the second weekend and even give Kentucky some trouble. The Owls dominated a very good Atlantic 10 winning the regular season and tournament crowns. They also hammered – not beat, but hammered – Villanova early this year. Granted, that game as at home. But it still shows that they are capable of playing with top-end talent. On the other hand, they have an incredibly tough draw, having to take on Cornell and then potentially Wisconsin. But there is something about this Temple team that is high-risk, high-reward.
Team That Makes Me Nervous: No. 2 West Virginia
If they make it to a matchup with Kentucky I think that they can take down the Wildcats. At least, the Big East champions should be able to. But there are just so many issues with this West Virginia team that I think an appearance in the Sweet 16 or Elite Eight is far from assured. First, they don't have a true point guard. That is a problem. Second, if DeSean Butler is having an off night they don't have anywhere close to a No. 2 option that can carry them for stretches. Third, how many uber-athletic and highly touted teams did Bob Huggins flame out and underachieve with while he was with Cincinnati. If WVU gets bounced there is very little to stop the amazingly overrated Wildcats from making the Final Four.
Robert Ferringo is a professional handicapper and he has gained around +190 Units in the last 12-plus months in college basketball. He's posted four of five winning Marches over the last five years and you can purchase his college basketball picks here.