MLB Series Preview: Angels at Yankees
by Matt Severance - 4/13/2010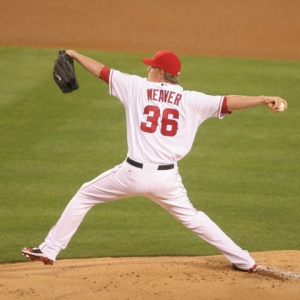 If you are a fan of the Boston Red Sox or the Tampa Bay Rays, it has to be a bit disconcerting already after seeing the New York Yankees win a road series against each of those two other AL East contenders in the season's first week.
What's a bit scary is that the Yankees aren't even getting much from Alex Rodriguez or Mark Teixeira yet – A-Rod is 7-for-27 with no homers and Teixeira, a notoriously slow starter, is hitting .125 and has yet to go deep. But perhaps those power slumps will change starting Tuesday when the Yankees open a three-game series against the Los Angeles Angels in their home opener. No park in the majors saw more homers than Yankee Stadium did in 2009.
In fact, Yankee Stadium last year became the first major league stadium with home runs in all but one regular-season game. Three previous ballparks had home runs in 79 of 81 games: Edison Field (2000), Coors Field (2001) and U.S. Cellular Field (2004). The only game without a home run at Yankee Stadium last season was when the Washington Nationals won, 3-0, on June 18. New York also became the first team to go deep in 73 home games. The previous record was 72, set by the 2004 White Sox. Yankee Stadium finished its first season with a major league-leading 237 home runs, tied for the 18th-most during one season at any park. The high mark at the old Yankee Stadium was 215.
New York is a -250 series favorite on WagerWeb for its ALCS rematch with the Angels. The Halos (+175 on WagerWeb to win this series) have started 2-5 – their worst start since 2003 -- and all those games were at home. They have been outscored 41-18 since beating the Twins on Opening Day. L.A. already misses third baseman Chone Figgins as his replacement, Brandon Wood, is 1-for-19 with seven strikeouts. He also had a key error in Sunday's loss to Oakland. L.A. pitchers have allowed 12 homers, the most in the majors, and only the Royals have a worse ERA in the American League.
The Yankees will raise their 27th championship flag before the game and also will get their World Series rings. One Angel will get a ring too: DH Hideki Matsui, who spent his previous seven seasons with New York. He hit.615 with three home runs and eight RBI in winning World Series MVP honors last season and leads the Angels with a .370 average, two homers and five RBIs this year. He has the game-winning RBI in both L.A. victories so far.
Here are the probable starters for the series:
Tuesday – Angels RHP Ervin Santana (0-1, 6.00) vs. Yankees LHP Andy Pettitte (0-1, 1.50)
Wednesday – Angels LHP Scott Kazmir (first start) vs. Yankees RHP Javier Vazquez (0-1, 12.71)
Thursday – Angels RHP Jered Weaver (1-0, 3.00) vs. Yankees RHP Phil Hughes (first start)
Kazmir was slowed by a strained right hamstring during spring training and the team chose to have him make a minor league start before rejoining the starting rotation. Hughes also was in extended spring training, and Manager Joe Girardi said there would be no pitch limit for his season debut.
These two teams split the 2009 series, 5-5. The Angels, who are 33-20 in their past 53 games against the Yankees, have not lost a season series to New York since 2003.