MLB Betting Advice from a Professional Sports Bettor
by Jason Sharpe - 7/27/2010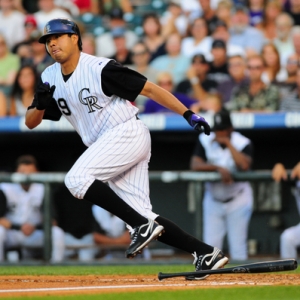 -Who says there isn't much of a home field advantage in baseball? Someone may want to tell the Colorado Rockies that. While playing in the thin air of Coors Field, the Rockies lead all of baseball with a .299 team batting average, but send them on the road and they go from first to worst in baseball, hitting just .228 as a team on the road. This may be one of the highest home/road batting average differentials for a single season in MLB history.
- The Detroit Tigers have been awfully tough at home this year, leading all of baseball with 35 home wins. With their next three home series against the above .500 White Sox, Angels, and Rays, there may be some real nice opportunities to cash in at some decent underdog prices on the Tigers in the coming weeks.
-Speaking of the Tigers, the loss of Brandon Inge, Carlos Guillen and Magglio Ordonez to injuries this past week has taken this team from an above average hitting team to now looking like one of the worst hitting teams in baseball. Sunday's game against the Blue Jays had 5 rookies in the starting lineup to also go along with veterans like Gerald Laird, Ryan Rayburn and Ramon Santiago. That's not a pretty sight and Monday night's no-hitter thrown against them may be a sign of things to come for the Tigers offense.
- I watched quite a bit of the Seattle Mariners this past weekend and, offensively speaking, this team is the worst in baseball, yes even worse then Pittsburgh and Houston. I now have them ranked 27th overall in my MLB power rankings. I have cursed at myself quite a few times this season for betting on this team. The torture of sitting through inning after inning hoping this team will score runs is getting to be too painful for me and my wallet. Well, no more I say -- I am done. I am officially declaring a "no bet on Seattle" rule for the rest of the MLB season. That means no matter how tempting the price is I will not give in and bet this team again. I can play 'unders' on them, but no more bets on Seattle or any 'over' bets either involving the Mariners for the rest of the season. We shall see how it goes but I can tell you just putting that rule in place has me feeling a whole lot better already.
- NFL Preseason football is only a few weeks away, and believe it or not it's what I (and many of my Vegas contacts) consider one of the easiest things to beat when it comes to betting on sports. Why is that you might ask? Well it's pretty simple. I consider myself an information handicapper. Meaning I am someone who handicaps the games through extensive research and hard work. Preseason football is the one sport that if you dig deep and find the valuable information on who is playing, who is sitting and what certain teams are trying too accomplish, you can gain a huge edge on the bookmaker, who doesn't put that type of time and research into making a line on these games. I am very excited and ready to go for the start of the preseason. If you have never bet NFL exhibition football before you are missing out. Remember, money is money and it all spends the same. You don't get more of a reward for winning a $100 bet on the Super Bowl then you do for winning the same bet on a exhibition football game in August. Also be on the lookout for my "How to Beat Preseason NFL Football" article coming soon here to Doc's Sports as I will be sharing with you some of the things I like for when handicapping the NFL Preseason games.
As of last week home runs were up over a half a home run per game in MLB since July 4. This is a considerable jump over a couple hundred game sample size. 2010 is being called the year of the pitcher with five no-hitters this season and even a few more close calls. So what is the reason for the spike in the home runs all of a sudden? Well, I decided to do a little bit of research on this and see what I could come up with. What I was able to find was that most of the home run increases were going on in games east of the Mississippi and also in the hot and muggy states of Missouri and Texas. As a heat wave blanketed much of the Eastern United States, temperatures went soaring into the 90s, along with very high humidity and with that the ball starting flying out of the parks at a much higher rate. Now it seems things have cooled down a bit of late, but I think this is something to keep an eye on going forward. It was obvious when this was going on the bookmaker wasn't making the proper adjustments as they continued to post lower then normal totals when compared to years past. On a few of the warmest days there were actually more than 40+ home runs for the entire league combined for the day and games overall were averaging more than home run more per game. I ended playing and cashing in on quite a few over tickets during this stretch of hot days and many were games that I would have never played without this valuable bit of information. Though I hate the heat as much as the next person, I do have my fingers crossed for one more big heat wave for the summer of 2010.
Good luck to everyone!!!
Jason Sharp is the newest addition to Doc's Sports Advisory Board team and we are very excited to have one of the best MLB Handicapping minds in the country on our team. His underdog baseball picks have helped $100 players earn $2600 in his short time at Doc's. Don't miss out on his profitable MLB picks packages! Click Here for his Insider's Page.