MLB Handicapping: Pitchers Better Than Records May Indicate
by Trevor Whenham - 6/9/2010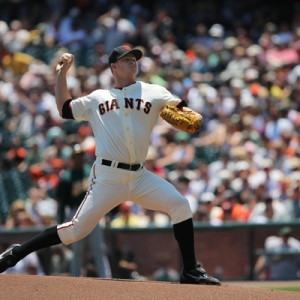 When it comes to handicapping baseball, the record a pitcher has amassed can be deceptive. As a general rule, a pitcher that is 8-3 is pitching a whole lot better than one who is 3-8, but that's not always the case. Sometimes pitchers are throwing much better than their record indicates, but they just aren't getting the breaks going their way. Other times, the pitcher plays for a team that is playing so bad that they aren't doing the pitchers any favors. Here's a look at six pitchers who really aren't pitching nearly as badly as their record would suggest:

Matt Cain, San Francisco - Cain was supposed to be the co-ace of the Giants this year, so at first glance his 4-4 record, and the fact that his team is 5-6 when he starts, is a real disappointment. When you look a little closer, though, you can really see that he's not doing much wrong. His ERA is a very nice 2.33. Even more impressive, his WHIP of 1.00 has only been bettered by four starters on the season. What has really hurt Cain this year is that he's not getting any run support - only five guys in all of baseball have seen their teams score fewer runs per nine innings than Cain. Despite that, Cain has been strong all season, and particularly brilliant in his last three outings. If he keeps this up - and there's no obvious reasons why he can't - then the results are going to come along to match the efforts.

Felix Hernandez, Seattle - King Felix is 3-4 - a disappointing total for the ace of an extremely disappointing team. There is not a lot to complain about with his performance, though. He has had two rough outings, but all 10 of his other starts have been quality starts. Like Cain, his problem isn't keeping his opponents off the board, but seeing his team get on the board - five of his quality starts have still turned into team losses. He also has had absolutely terrible support from his bullpen - on a recent four-game losing streak he averaged seven innings and two runs per game, but the bullpen gave up an average of 4.25 runs per game after he had left the game. It's hard for anyone to look good in the face of incompetence like that.

Roy Oswalt, Houston - Oswalt wants to be traded from Houston, and I can't blame him. He's pitching quite well, yet he has a lousy record - just 3-8. His numbers are still fine - his 3.22 ERA is better than he had in 2008 when he was 17-10, and better than 2004 when he was 20-10. His WHIP of 1.11 is lower than he has posted any year since he was a rookie. He is averaging more strikeouts per nine innings than any time since that rookie year as well. The problem is obvious and one we have heard before - run support. The Astros are worst in the entire league in runs per game, batting average, and on base percentage. Oswalt has allowed three or fewer runs in 10 starts this year, yet his team is just 4-6 over that stretch.

Zack Greinke, Kansas City - Last year's Cy Young winner is being let down by his team to an almost criminal extent. He's not as sharp as he was last year, but then few pitchers could be. He's still putting up significantly better numbers than any guy who is at 1-7 should be. The Royals have scored more than four runs for him just once this year, and that was in a disastrous slugfest against Colorado. He has had eight quality starts, but incredibly the team has lost six of them. Like Oswalt, Greinke should just demand a trade - with a real team this guy could be very special, but the Triple-A team he's stuck with just can't help him out.

Jeremy Guthrie, Baltimore - Guthrie isn't of the caliber of the pitchers ahead of him on this list, but he's pitching too well to have a 3-6 record. His WHIP is by far the best of his career, and his 3.71 ERA is certainly adequate. He has had nine quality starts in 12 tries, and his k/BB ratio is almost 2.5/1, so there is not a lot that he is doing wrong. What he does have in common with the three guys above him on this list is that he could be putting up some pretty solid numbers this year for a good team that can score runs.

Kenshin Kawakami, Atlanta - Kawakami stands out on this list for a couple of reasons - unlike the rest he's on a first-place team running at full throttle, and his 0-8 record is the worst on this list. His numbers aren't as good as the others, either - 4.91 ERA and 1.38 WHIP. Still, those should be good enough to at least have a few wins - especially for a team that is seventh in the league in runs scored. He has five quality starts, has two strikeouts per walk, and plays for a good team, but he just can't catch a break. It's just plain strange. Bobby Cox is a guy who isn't afraid to make a change when it is needed, but he has given Kawakami a vote of confidence. That's a sign that he's clearly better than he seems.