MLB Handicapping: What's Wrong With the San Francisco Giants?
by Trevor Whenham - 7/8/2010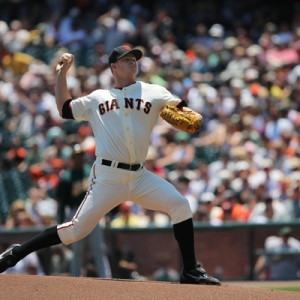 I don't think I have been more disappointed by a team this year than the San Francisco Giants. Okay, the Mariners have been far more disappointing, but the Giants easily earn that crown for the National League. They came into this season with momentum and swagger, and it was hard to come up with a good reason why they wouldn't win the NL West. Instead, they are stuck in fourth place, five games back of a San Diego team that is defying all understanding. They are just 44-40, and that record is only as flattering as it is because they have won four of their last five. A team that was supposed to be elite just looks depressingly average. What's gone wrong? Lots. Let's take a look:
Pitching - By most measures the Giants have had decent pitching - they lead the majors in strikeouts, are third in ERA, and are in the top half of the league in most significant categories. This was a team that was built to overwhelm on the mound, though, and they just aren't doing that. The only area in which this team was far better than average was on the mound, and the pitching just hasn't been good enough to carry them better than their middling 44-40 record and fourth place in the NL West.
Tim Lincecum still has nice numbers and is putting together yet another good year, but they aren't numbers like we have been used to from him, and he's not intimidating teams at the top of the rotation quite like he did. He has had four games in his last 10 starts in which he has allowed four or more earned runs. He had only five all year in each of his Cy Young years. He's far from bad, but the team needed better.
Matt Cain is having a good year by many measures, but he's just 6-7, and the team is just 7-10 when he starts. It doesn't matter how good your numbers are if you have a record like that. Cain's biggest issue s that he is too streaky - the team has lost three straight of his outings twice, and is currently in a four-game slide when he starts.
Barry Zito has shown moments of returning to previous glory - especially early in the season. Unfortunately, he has increasingly looked more and more like Barry Zito recently. Three times in his last six outings he has allowed five or more earned runs, and he's just hard to trust.
Jonathan Sanchez is actually the one I can complain about least - he's clearly only a fourth starter, and in that role 7-6 with a 3.15 ERA and a 1.27 WHIP is more than acceptable.
The fifth spot in the rotation has been a disaster all year, but it is finally showing promise with a roster change. 20-year-old future star Madison Bumgarner has joined the rotation, and he earned his first career win in an eight inning, three hit, scoreless gem against Milwaukee on Tuesday.
Several teams would kill to have the pitching San Francisco has, but it just hasn't been enough for this team.
Pablo Sandoval - I'm picking on Sandoval not because he is the only offender, but he is the biggest one and a symbol of what has gone wrong for this team. Last year Sandoval was a revelation. In his first full year in the majors he hit .330, had a very healthy OPS of .943, and was incredible in the field at third base. This year he has been a disaster. He's hitting just .268, his OPS has plummeted to .716, and he just doesn't look as dynamic on the field. It's not entirely clear what is wrong, and his attitude and work ethic are still reportedly decent, but whatever magic he captured last year has totally been lost this year and he's just another guy. He was being relied upon to be the spark plug and heartbeat of this team, and he's been a dud.
Pat Burrell - I have nothing but respect for Burrell. It's been pretty clear lately, though, that there isn't much left in the tank. The Giants pulled him off the scrap heap after the Rays dumped him earlier this year. It has proven to be a good move, but that's just the problem. Burrell is hitting .305 since joining the team with 11 RBI and five home runs in just 84 at-bats. That's impressive, but it is far from sustainable for a .254 career hitter who is held together by duct tape. A team that wants to contend should not be relying on a guy like Burrell to contribute significantly to the offense. The fact that Burrell and phenom Buster Posey have been the two bright lights for this offense is a sign that management didn't do a good enough job of assembling a roster that was built to compete. You could argue that this team is what they are - a middling, sometimes competitive but not truly dangerous team - because outside of the mound that's just what they were built to be.
Road record - There isn't much to say about this other than it isn't acceptable. They are a very solid 25-17 at home, but just 19-23 on the road. They are chasing the Padres and trailing by five games. San Diego is 22-16 on the road. Teams that want to go deep in October take care of business when they leave home. The Giants haven't done so consistently.
Divisional play - This is where things get incomprehensibly ugly. Against the NL Central the Giants are a stellar 18-7. They look pretty good against the NL East, too, at 10-5. I certainly don't think that the West is significantly tougher than those two divisions, and the Giants should be more familiar with the teams, so why in the world are they just 9-20 against their own division? I would insult you by explaining why a good team can't be this bad against the teams they are chasing in the playoff race. By contrast, the Dodgers are 23-6 against the NL West. Four times already this year the Giants have been swept by teams in their division - including once by the pathetic Diamondbacks. San Francisco really has only two choices - get their act together against the division in the second half, or starting preparing for next year.