MLB MVP Futures Odds and Predictions
by Alan Matthews - 9/17/2010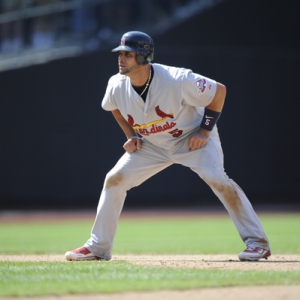 We are into the final few weeks of Major League Baseball's regular season, which means it's time to start considering who wins MLB's major individual awards. Today I will look at the MVP candidates and their odds – courtesy of Sportsbook.com. Keep an eye out for a similar story on the Cy Young candidates in each league.
Let's take a look first at the National League candidates and their odds:
Albert Gonzalez, Padres: +1200
Albert Pujols, Cardinals: Even
Andre Ethier, Dodgers: +3000
Brandon Phillips, Reds: +3000
David Wright, Mets: +3000
Joey Votto, Reds: -400
Ryan Zimmerman, Nationals: +1500
Ubaldo Jimenez, Rockies: +5000
Field (any other player): +400
The first thing I notice about this list is that I'm stunned the wrong Colorado Rockies player is listed. How can Carlos Gonzalez, who entered play Thursday leading the league in batting and RBI, not be on this list? CarGo has an outside shot at the Triple Crown, although he'd have to go nuts in the final few weeks because he's currently seven homers behind Pujols, the NL leader with 39.
However, probably the only chance Gonzalez has is that the Rockies do either catch San Diego and win the NL West or take the wild-card spot. Voters don't like to give the nod to players who aren't on playoff teams – thus you can all but count Pujols out despite another tremendous season. He is theoretically in the Triple Crown race too, leading in homers and tied for second in RBI but is way too far behind Gonzalez in batting average.
Unfortunately in terms of value, I think the oddsmakers have this right in that Votto probably wins the award. He has been the biggest reason the Reds are going to win the NL Central and reach the postseason for the first time since 1995. Votto enters play Thursday third in hitting (21 points behind Gonzalez), third in homers (five behind Pujols) and second in RBIs (with Pujols, two behind Gonzalez).
The last time Cincy made the postseason was 1995 and Barry Larkin was the NL MVP winner. That trend will continue in 2010 with Votto taking home the award.
On the American League side, here are the odds:
Alex Rios, White Sox: +10000
Evan Longoria, Rays: +2500
Josh Hamilton, Rangers: -300
Justin Morneau, Twins: +3000
Kevin Youkilis, Red Sox: +1500
Miguel Cabrera, Tigers: +150
Robinson Cano, Yankees: +500
Vladimir Guerrero, Rangers: +2000
Field (any other player): +500
Clearly Sportsbook.com left up a few players from the preseason, as Morneau and Youkilis clearly have no chance as both have been injured for weeks (just like in the NL list with Wright, Ethier, Zimmerman and Phillips having zero shot).
Hamilton seemed like the runaway winner, but he hasn't played since Sept. 4 because of a rib injury that doesn't seem to be getting better. With Texas a lock to win the AL West, there's obviously no reason to rush Hamilton back other than to get him in sync near the end of the regular season. He currently leads the AL in hitting at .361, is fourth in homers (31) and tied for 10th in RBI (97). Will voters allow him to win if he sits out nearly a month of games down the stretch?
Cabrera, by contrast, is in the Top 3 in each of the three main hitting categories (second in hitting, third in homers and first in RBI), but the Tigers faded big time in the second half and won't be going to the postseason.
One surprise not on this list is Toronto's Jose Bautista, who has been one of the stunning surprises of the season. He enters Thursday by far leading the majors in homers with 47 and is the only guy with a chance at 50. Not bad for a guy who never hit more than 16 in a season. He also could possibly catch Cabrera for the RBI title – seven behind entering Thursday. One negative is that Bautista is only hitting .262 and the Jays are a .500 club.
This vote is honestly a tough call – with Hamilton's injury there's no clear-cut winner. I might recommend a wager on the field because if Bautista hits 50 and outhomers the next closest AL guy by 10 or more, that's going to get noticed. Plus by taking the field you also get Chicago's Paul Konerko, who has more homers and RBI than Hamilton does and is having the best season of his career.