MLB Betting: NL MVP Odds and Predictions
by Matt Severance - 3/30/2010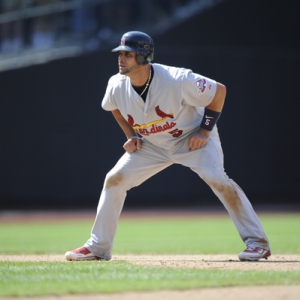 Betting on the NL MVP has been fairly simple in the past decade: pick Albert Pujols, a Giant or a Phillie. That group comprises the past 10 winners of Senior Circuit's MVP award.
Considering that Barry Bonds and Jeff Kent have long retired, I'm guessing a Giant won't win another NL MVP this year – more on betting on pitchers at the bottom. But Pujols is so ridiculously good that he's the 2/1 favorite on Bodog to win it for the third straight year and fourth in six. And I really can't give one tangible reason why you shouldn't bet on him, other than the lousy payoff (did you know Pujols actually led the Cards in steals last year too?). I mean, the guy hit .327 and led the league in homers (47), runs (124), on-base percentage (.443), slugging percentage (.658) and intentional walks (44) last year. Really the only potential issue was Pujols' back, which gave him some trouble this spring but appears to be fine. But now he has Matt Holliday hitting behind him for a full season.
But I would never take a player for an individual baseball award at just 2/1, so let's look at a few guys who will give you a much better return for your money in the NL (all these guys will be on contenders or potential contenders):
Matt Holliday (20/1): Hey, why not. Will any player in the majors get more pitches to hit? Holliday is just a different player in the NL, as he was pretty average at best for Oakland last year but then hit.353 with 13 homers and 55 RBI in 63 games. That average would have easily won the NL batting crown, by the way, and if Holliday manages to do that this year he could steal the MVP from his teammate.
Justin Upton (30/1): I'm a believer that the Diamondbacks will bounce back and could win the NL West this season, and thus Upton would probably get a lot of the offensive credit. He is a 30-30 machine waiting to happen after hitting .300 with 26 homers, 86 RBI and stealing 20 bags last year. He was one of two players under the age of 23 last year to produce .300 average/20 homers/80 RBI or better. In the last five seasons, it's only been done six times. Let's just hope his huge offseason contract doesn't ruin him like it seemed to teammate Chris Young.
Joey Votto (50/1): I must admit I'm a big believer that the Reds will contend in the NL Central this year, and if they do somehow make it to the playoffs I believe it's because Votto blew up. Not that he was bad last year, hitting .322 (fifth in the NL) with 25 homers and 84 RBI. However, Votto does have to prove he can stay healthy, as he played in only 131 games last year. But he could easily hit 35-40 homers this year at homer-friendly Great American Ball Park.
Alfonso Soriano (75/1): He no longer has the pressure of leading off as he will bat sixth and should have a ton more RBI than in the past. And supposedly he's healthy – but then he's always supposedly healthy entering the season. But the Cubs brought in noted hitting guru Rudy Jaramillo from Texas, and if anyone can work wonders on Soriano it's him. Soriano did have two of his best seasons under Jaramillo with the Rangers. Just don't expect Soriano to run much anymore because his legs seem shot.
There are a few pitchers listed among Bodog's MVP candidates, but don't bother wasting your money there. A pitcher hasn't won this award in the NL since Bob Gibson in 1968 – the year of the pitcher. Voters just don't vote for pitchers in this category any longer.