MLB Picks: Yankees vs. Rangers and Giants vs. Phillies Series Odds
by Nicholas Tolomeo - 10/14/2010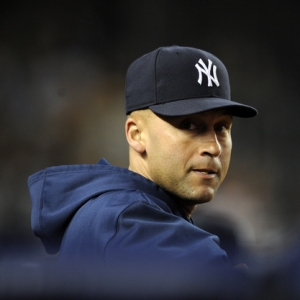 There are four teams still playing baseball and there are very few surprises as the long MLB season moves onto the League Championship Series. The New York Yankees, the defending champions, the most expensive team in baseball history and the top offensive team in the league are still playing. The Texas Rangers had the highest team batting average, and they're still playing. And in the National League the top pitching team in the majors (San Francisco) and the league's best starting rotation (Philadelphia) are the last two teams standing.
Both series offer something for everyone. If you like pitching duels tune in to Fox and the NLCS. If you like the long ball and offense tune in to TBS and the ALCS. The totals of the San Francisco/Philadelphia games should stay around six while the New York Yankees/Texas series will see totals as high as 9.5.
American League Championship Series: New York Yankees vs. Texas Rangers
The Texas Rangers won their first-ever playoff series ever this week. The New York Yankees won their 27th World Series last fall. That just begins to tell the difference between these two franchises. But the makeup of these two teams is actually pretty similar.
Both rely on offense. The Yankees led baseball, averaging 5.27 runs per game, while the Rangers were fifth. The Yankees were third in the majors with 201 home runs, and second in baseball with a .786 OPS. The Rangers hit .276 as a team, the best in baseball, and finished in the Top 10 in every significant offensive category.
Pitching matchups
Game 1: CC Sabathia (LHP, 21-7, 3.18 ERA) vs. C.J. Wilson (LHP, 15-8, 3.35 ERA)
Sabathia, aka Mr. Game 1, has been the Yankees go to pitcher in Game 1 since arriving last season. He has delivered too, posting a 2.34 in his six postseason starts with the Yankees. Lee was the choice for Game 1 but since Tampa Bay pushed Texas to Game 5 Wilson gets the call here. Wilson shutdown Tampa Bay in Game 2 of the ALDS but New York has not been kind to Wilson. He is 0-1 with a 5.65 ERA against the Bronx Bombers.
Game 2: Phil Hughes (RHP, 18-8, 4.19 ERA) vs. Colby Lewis (RHP, 12-13, 3.72 ERA)
Hughes answered the call on the playoff stage by hurling seven scoreless innings against Minnesota. Hughes has never allowed a run at Texas in over 15 innings of work. Texas answers with another pitcher new to the playoffs and with a history of struggles against New York. Lewis has a 6.89 career ERA against New York.
Game 3: Cliff Lee (LHP, 12-9, 3.18 ERA) vs. Andy Pettitte (LHP, 11-3, 3.28 ERA)
The Yankees Kryptonite, Lee is the reason the Rangers have a puncher's chance in this series. He is 6-0 with a 1.44 in his playoff career including two wins over the Yankees in the World Series last year. No pitcher has won more postseason games than Pettitte, but his game has slipped this year and he has struggled against Texas in the past.
Yankees vs. Rangers Series Odds
Even without home-field advantage the New York Yankees are favored to win the American League pennant. They are listed at -170 with the underdog Rangers priced at +140. MLB playoff odds are courtesy of BetUS.
Yankees vs. Rangers Betting Trends
Yankees are 14-2 in their last 16 playoff games as a favorite
Rangers are 6-0 in their last six games vs. a left-handed starter
Yankees are 1-4 in their last five meetings in Texas
National League Championship Series: San Francisco Giants vs. Philadelphia Phillies
The series starts at the launching pad that is Citizens Bank Ballpark, yet everyone is still expecting a pitcher's duel. That gives you an idea of just how special the pitchers involved in this series are and just how hard runs will be to come by when the Giants and Phillies meet. The Phillies are attempting to win an unprecedented third consecutive NL Pennant while the Giants are trying to return to the World Series for the first time since 2002.
Pitching matchups
Game 1: Tim Lincecum (RHP, 16-10, 3.43 ERA) vs. Roy Halladay (RHP, 21-10, 2.44)
Tim Lincecum won the last two Cy Young awards, Roy Halladay will win this year's. Halladay pitched arguably the second-best playoff game of all time when he no-hit the Reds in Game 1 of the NLDS, while Lincecum was not far behind, striking out 14 in a shutout of his own.
Game 2: Jonathan Sanchez (LHP, 13-9, 3.07 ERA) vs. Roy Oswalt (13-13, 2.76)
Sanchez has elevated his game over the course of the final two months of the season and into the playoffs where he struck out 11 in 7 1/3 innings in a Game 3 no-decision. Oswalt has proven to be a solid mid-season pickup for Philadelphia and he is trying to return to the World Series after helping Houston reach it in 2003.
Game 3: Cole Hamels (LHP, 12.11, 3.06) vs. Matt Cain (RHP, 13-11, 3.14 ERA)
Hamels is a different pitcher in October. That was never more evident in a five-hit, no-walk shutout of the Cincinnati Reds in the deciding Game 3. When the series shifts to San Francisco Cain will take the ball for the Giants. He is 8-4 with a 2.93 at home this season.
Giants vs. Phillies Series Odds
The Phillies are heavy favorites (-260) to win a third consecutive NL Pennant while the underdog Giants are priced at +200. MLB playoff odds courtesy of BetUS.
Giants vs. Phillies Betting Trends
Giants are 5-0 in their last five road games with a total set at 6.5 or lower
Phillies are 5-0 in their last five NLCS home games
Phillies are 14-3 in their last 17 playoff home games
Giants are 5-14 in the last 19 meetings in Philadelphia
Giants are 2-5 in Lincecum's last seven starts vs. Philadelphia
League Championship Series MLB Picks
A New York/Philadelphia rematch looks to be a near lock, but the Rangers and Giants will not go quietly. If this were a five-game series like the LDS, the Giants could have a chance to spring the upset. Look for San Francisco to possibly gain an early advantage in the series, but Halladay and the seasoned Philadelphia lineup and rotation are just too strong and experienced. The fact that this is a seven-game series also helps the Rangers. They can match runs with the Yankees and they can send their Yankee killer, Lee, out to the mound in Game 3 and Game 6. The Rangers have the perfect storm of offense and a top-of-the-rotation ace to spring an upset. The Phillies and Rangers both win and both do it in six games.
Indian Cowboy's MLB picks have been making his clients lots of money lately. He has brought home more than $8,000 in profits for $100 players since May 1 and he is on a 10-0 run in all sports heading into Thursday's action. Call us toll-free at 1-866-238-6696 to find out about a free one-week MLB package from Indian Cowboy or any Advisory Board handicapper of your choice - check our homepage for the latest MLB handicapping articles, daily baseball odds, and of course, winning baseball picks.