MLB Handicapping: Veteran Pitchers Primed for Big Year
by Robert Ferringo - 4/2/2010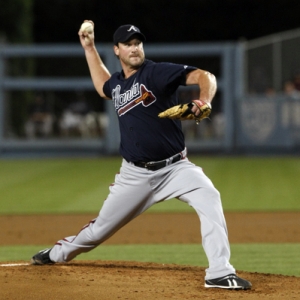 Baseball is a game of habit, routine, ritual and method. The most accomplished players are the ones that can repeat their motions, their approach, and their successes consistently, in spite of constant failures. Betting on Major League Baseball shouldn't be any different.
One habit that a lot of baseball bettors get into is betting on the same pitchers each time out. Generally it takes some time to build up some trust. But if you've had good experiences with an arm and won some big plays then it's natural to go back to them time and time again.
One example for me is Mark Buehrle. I think I have used Buehrle in more big money plays over the last three years than any other pitcher. Why my affinity for Buehrle? First, he is an underrated ace. The guy threw a perfect game last year for crying out loud and that's what it took for him to finally get some love. By extension, I could always get a great price on him because people just underestimated how talented he is.
Below is a list of pitchers that at some time or another, recently, have been noted among the best bets in baseball because of their mix of talent and value. But due to a myriad of issues the 10 arms that I have targeted each struggled, were injured, or were money burners in 2009. I know that some people are quick to give up on some of these aging arms or bypass the early success of some of the young studs. But this group of 10 guys has shown me enough consistency and ability where I'm not ready to bail on them. Instead, I'll be looking for a little bounce back and I think we could find three or four quality earners out of this group.
Here are 10 established names coming off weak 2009s that I think are worth watching this season:
Scott Kazmir, Los Angeles Angels
It wasn't long ago that Kazmir was the stud ace on an up-and-coming Tampa Bay staff. He is a two-time All Star and is just a few months past his 26th birthday. Kazmir has had elbow and shoulder injuries in each of the last two seasons and struggled through a brutal first half last year. He was ditched by the Rays late last year and enters this season almost as an afterthought. However, he went 4-2 with a 1.73 ERA after being traded to the Angels last season. He has been all over the place this Spring – working on new pitches, dealing with injuries – and I expect a slow start. But over the course of the season I think Kaz could have some success out West.
James Shields, Tampa Bay
Shields is a perfect example of Tampa's troubles last year. In 2008 he was one of the stronger bets in the game, with the Rays going 22-11 in his 33 starts. However, last season he slid back to a poor 15-18 team mark in his appearances. Shield actually had more strikeouts and more innings last year than in 2009 but he had some control issues (12 more walks), was victimized by the home run (29), and had 12 unearned runs tacked on to his total by a suspect defense. Also, Fenway Park is Shields' home of horrors and the way it worked out he had to throw there three times. Eliminate those three starts and his ERA drops to 3.93. I like Shields' stuff and think he'll have good value this year.
Derek Lowe, Atlanta
Atlanta's Opening Day starter is now 37 years old and, because of his many postseason conquests, has a little extra wear on his arm. That's a concern. But Lowe's struggles last year can, somewhat, be attributed to some bad luck. He is a groundball pitcher and a lot of those grounders were finding the holes. He was No. 152 of 172 pitchers in terms of BABIP (batting average on balls in play). He rebounded from a terrible 2004 – in which he put up similar numbers to last year – with a great 2005. But then again, that was a whole lot of innings ago.
Tim Hudson, Atlanta
By all accounts Hudson has been brilliant this Spring. After losing the equivalent of a full season spread over 2008 and 2009 to Tommy John surgery, Hudson has come back strong and looks like the ace that went 57-31 between 2002 and 2005. Hudson has had an ERA of more than 3.60 just one time in the last eight years. So if he's healthy he is going to be an elite arm. But because people may be hesitant about betting on him we should be able to get some great prices. Make no mistake: Hudson is back. And he is still a bona fide ace.
Ryan Dempster, Chicago
You have kids? Well I do. And I can attest that any illness or health issue – especially to a newborn – is just a harrowing experience. So I give Dempster a total pass on a rough few months last year. He and his wife had their first child, only to have their new daughter spend her first few months in Intensive Care dealing with a rare disease that impacted her ability to swallow and digest. You think he cared about baseball? You think he slept or was at all mentally prepared to pitch? I don't and I can't blame him. Dempster still recovered to go 11-9 with 172 K's. and a 3.64 ERA. Imagine what he will do this season now that his daughter is OK and he is actually focused on pitching?
Aaron Harang, Cincinnati
Harang was an absolute steal back in 2007 and was one of the best bets in the game. The Reds went 24-10 in his 34 starts and in 2006-07 combined he cashed a ticket to the tune of a 44-25 record. But then the wheels came off. He has a personal mark of 12-31 over the last two seasons, although his team is 23-32 in his starts during that time. Harang is always a guy who has gotten hit. But he's always been a battler. Well, his WHIP, ERA and home runs allowed have skyrocketed while his innings, strikeouts and quality starts have plummeted. A 9.88 ERA this Spring isn't a encouraging either. But Harang also had a lower ERA last year than guys like Jorge De La Rosa (16-9) and Joe Saunders (16-7). Harang got just 3.42 runs of support last season and the Reds hit just .236 in his starts. Those numbers have to go up. And so should Harang's win total.
Jeff Francis, Colorado
A couple scant years ago Francis was the winningest left-handed pitcher in the game. But he had his 2008 derailed by a shoulder injury that robbed him of all of 2009 as well. But he's shown Jim Tracy enough this spring to be named Colorado's No. 2 starter. It's all about feel for Francis and that may take some time to come back. But if he rebounds nicely for this team he could be a real value bet and a difference maker for the Rockies.
Chad Billingsley, Los Angeles Dodgers
Last May I was having conversations with people who were trying to convince me that Billingsley was set to become one of the best in baseball. Now here we are 11 months later and he's not even leading his own staff. Bills has a $1 million arm and a 10-cent head. But there is no doubting the skill set is there. The issue is that despite the facts that Billingsley is a solid 40-26 over the last three seasons the Dodgers are just 47-40 overall in his 87 starts. Billingsley was a Verducci Effect pitcher last year and his plummet is the perfect example of why The Effect is something to be considered. A lot of those Verducci guys never bounce back. Some do. We'll have to wait and see with Bills this year.
Doug Davis, Milwaukee
I really could list just about any Milwaukee starter here as the whole staff is looking for a bounce back after that atrocious 2009. I am not 100 percent sure that they can but I do have some confidence in Rick Peterson. But I'll go with Davis as the Brewers starter I think could provide the most value. He has plenty of experience in Milwaukee, and from 2003-2006 (when the Brewers stunk) he went 37-36 with them. Davis also has a career 19-14 mark with a 3.37 ERA in hitter-friendly Miller Park. Davis had his 2008 season sidetracked by his battle with thyroid cancer. He not only beat cancer, but came back to throw really well for a pretty pathetic team last year in Arizona. I thought his signing was underrated and I think he'll be good for Milwaukee (except against the Cards and Cubs, who both crush lefties). Nothing flashy here but some good, simple value on a veteran arm.
Brad Penny, St. Louis
Like so many of the guys on this list, it wasn't that long ago that Penny was the ace of his staff. In 2007 he went 16-4 with a 3.03 ERA. But injuries and being bounced around to several different teams has put him in limbo the last two years. However, I think that Penny is primed for a real nice bounce back season. He is now throwing near the back end of the rotation in St. Louis, which should give him some very, very favorable matchups versus opposing No. 4 starters. He has low expectations after flaming out in Boston last year. But I actually liked his stuff. He just never got comfortable in the A.L. He was 4-1 with a 2.59 ERA with the Giants at the end of last year. I look for that to carry over and I think Penny will be a steal early in the season.
Honorable mention
Ricky Nolasco, Florida and Kyle Lohse, St. Louis