NBA Free Agent Scenarios - All Depend on LeBron James
by Trevor Whenham - 7/1/2010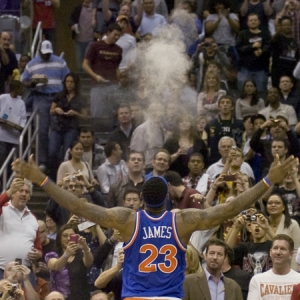 We've been hearing about this impending free agent class in the NBA for at least three years. Things that cause that much anticipation rarely live up to the hype, but this frenzy is giving every indication that it will. The part that is so remarkable about what is going on is that absolutely no one has any idea how it will turn out. There are lots of reports out there, and some people claim that their reports are backed up by reputable sources, but if you believe those reports the LeBron James is simultaneously going to sign with five different teams, and bring along any one of five different players along with him. Until the King makes his announcement we won't know what he is thinking or how the pieces will fall into place as a result.

James is of course just one of the free agents available in a ridiculously strong class. Bosh, Stoudemire, and Wade are world-class players, Joe Johnson is the real deal, and Rudy Gay would be a prize in a merely mortal free agent class. And that's not even considering Nowitzki. Really, though, everything depends on James and, to a lesser extent, Bosh. Wade and Nowitzki likely aren't going anywhere, and Stoudemire, Johnson, and Gay aren't going anywhere until James and Bosh have made their moves. The problem, then, is that Only James himself knows what he is planning to do - and I'm not even entirely convinced that he has made up his mind. Of the most likely scenarios, here are the seven I view as the most likely in the order of likelihood:

1. Chicago - Chicago doesn't quite have the cap space to sign two players to max contracts, but they are close, and they are working hard to get there. The appeal of heading to Chicago and bringing Chris Bosh with him has to be very high. They have a point guard of a caliber James has never had in Derrick Rose, and a pretty nice piece in Joakim Noah as well. Nike would be thrilled to have their big current asset continuing the legacy of their biggest asset ever with the Bulls. They are in a division and a conference that is winnable, and there is no reason that they couldn't win immediately.
There are just a couple of reasons why I hesitate to believe that this move is all but a done deal. First, James has an obvious attachment to Cleveland, so it could be hard for him to go to their rival. More significantly, the way the organization dealt with Vinny Del Negro wasn't the classiest possible,and that could raise concerns about the class and stability of upper management. Still, on the court this is the best solution, and I believe that is what will matter most to James - he knows that he'll never be a legend until he wins titles.

2. Miami - This scenario makes me giddy to think about - three of the four or five biggest stars in the league on the same team. With just a little maneuvering and financial creativity the Heat could conceivably feature Wade, James, and Bosh - and have Pat Riley as the coach. The problem here, though, is that there wouldn't be much money left over, so the other pieces would have to be journeyman and other cheap players. If the three players could mesh together then they would be unbeatable. If it doesn't work quite as well as planned - like if they James and Wade can't share the ball enough to make both happy - or if one of the players gets hurt, though, then the lack of flexibility and depth could be a serious nightmare. It seems like a great idea at first glance, but I ultimately think that the risks will be too high for James to seriously consider it.

3. Dallas - Dallas doesn't have the cap space right now, but they have Mark Cuban, and he's certainly bold enough to do whatever needs to be done to make it happen. Cleveland isn't interested in a sign-and-trade, but they might be if the deal is attractive enough, and it could be with Caron Butler as part of the deal. It doesn't make as much sense as the first two moves, but the story has come up too much recently to be ignored.

4. Cleveland - James is an Ohio boy, so you can't rule out the real possibility that he won't want to crush the spirits of Ohio sports fans. This option would have been far more likely if the last playoff appearance wasn't such a joke, or if the team had more cap space to add another key piece. Still, I won't rule out the possibility of James staying put until I see him putting on another jersey. Part of him has to be very aware that Kobe Bryant has stayed in one place and made it work. The possibility that hasn't been discussed as much as it probably should be is that James could sign a shorter-term contract here, see how things go in another two or three seasons, and then re-evaluate at that point. He'll have plenty of options then as well if he chooses to look elsewhere.

5. New Jersey - The Nets have the cap space, a rich new owner, and a new building on the horizon that needs to be full, so they are going to be very aggressive here. They have some nice young talent, too - Lopez, Harris and Favors chief among them. Ultimately, though, I just don't see James being happy being the king of Brooklyn - if he wants to go to New York wouldn't he go to Manhattan? New Jersey can't offer anything that other teams can't, and they have further to go to success than the others.

6. New York - The Knicks are an absolute mess of a franchise, and I see absolutely no reason why James would want to be involved. On one hand there's the obvious appeal of being in the New York market. The downside, though, is that the tabloids are totally out of control in that city, and the fans are fickle if they aren't winning games. Besides the salary cap space and a good coach there is almost nothing to build on with the Knicks, and no certainty that the incompetent ownership and front office can quickly deliver a winner. There's just far too much risk here.

7. Clippers - The Clippers make sense in so many ways - they have a lot of young talent, they are in L.A., and LeBron and Kobe would be in each other's face all the time. There are two problems here, though. First, I don't really see why James would choose to go to the West if he doesn't have to - it's just more work against better teams, and the travel is worse. There's no reason for him to do that if he doesn't have to. More significantly, Donald Sterling is an absolute joke of an owner, and there is no reason why James would want to have anything to do with him. David Geffen wants to own the team, and if he had been able to buy it then the Clippers would move way up this list. It doesn't seem like that will happen - at least not right away - so I just don't see James making this choice.