NBA Rookie Of the Year Betting Odds and Predictions - Will Blake Griffin Dominate?
by Trevor Whenham - 12/2/2010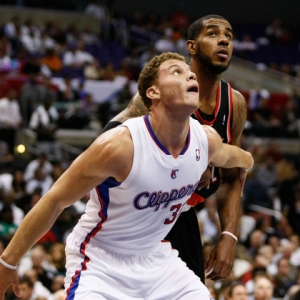 We are not quite a quarter of the way through the NBA season, but the Rookie of the Year race is already pretty clear - there are two guys and then the rest of the field far behind. Really, there is one guy far ahead of a second guy, with both of them far ahead of everyone else. Here's how it breaks down, with my NBA Rookie of the Year predictions and betting odds from Sportsbook.com:
Blake Griffin, Los Angeles Clippers (-250)
As the odds suggest, the award is Griffin's to win. He has had a year of watching the league to get ready for it, and the waiting time obviously helped.
There's really only one thing you need to know about Griffin's play - on Saturday night he scored 44 points with 15 rebounds and it didn't look like it was a fluke.
In fact, Griffin is already playing like one of the best slashing power forwards in the league. His shooting stroke needs some clear work, but once he gets that under control he'll be dangerous.
The biggest thing Griffin has going for him here is that he plays for a terrible team so there is absolutely no challenge to his playing time, and it's not like he'll have to share the ball around a lot. If everything stays like it is then Griffin will certainly win.
The biggest thing that makes his candidacy unattractive from a betting perspective - besides the ridiculously low price, of course - is his health. He plays a very physical game and is coming off a serious injury, so there is no guarantee he can last the whole season.
By betting on him here you are essentially betting that he won't get injured all year. I'd need much better odds than this to make that bet.
John Wall, Washington Wizards (even)
Wall has been dealing with a foot injury this year that has caused him to miss time, yet he's still the very strong second choice here. That's proof of two things - Wall is already really good, and this is not a great rookie class.
Wall has the key ingredient any star point guard needs - he has a swagger that devours the court. He knows he's good, and he is surrounded by a sense that makes everyone around him believe it, too.
If Wall stays healthy and Griffin gets hurt then Wall will step up and win this award. Beyond that I don't see how he'll get past Griffin if they both stay on course. Given that and the foot issues I see no value in this bet.
DeMarcus Cousins, Sacramento Kings (+1500)
The fact that Cousins is tied with two other players as the third choice shows just how little rookie depth there is in this class. Cousins was picked far more for his potential than his immediate impact. So far that potential has required a continued leap of faith because his play has been very underwhelming.
His shooting has been very lousy for a big man, and he turns the ball over way too much. I'm a long way from writing Cousins off, but he's a long way from being a contender in this race. A bet on him would just be throwing your money away.
Derrick Favors, New Jersey Nets (+2000)
Favors is providing what he was picked to provide. He's scoring decently. He is getting to the line - not quite as consistently as he ideally would, but at times he's been very effective at it. His defense has been sound for a young player.
The problem with Favors, though, is that he is far more solid than impressive. That was his problem in college, and that's his problem in the pros. He doesn't spend much time on the highlight reels, and he doesn't put up gaudy numbers.
The only way Favors becomes a factor in this race is if Wall and Griffin both miss significant time.
Al-Farouq Aminu, Los Angeles Clippers (+3000)
Aminu is interesting here because while he is one of just 10 players with odds listed in this race, he's probably only the third best rookie on his team (teammate Eric Bledsoe and Landry Fields of the Knicks are the two most glaring omissions from the list).
Aminu gets consistently outshone in the front court by Griffin, so he stands no chance of winning this award. He has been improving nicely, though. He's shooting the ball well, and killing it from three-point range.
He is more tentative than he should be, and he is mostly a liability on defense, but both those things will change as he gets more comfortable. I'm not sure that Aminu will ever develop into a star, but he's going to be more than good enough to complement the monster he plays beside.
Allen Eastman was the Doc's Sports Advisory Board leader for NBA picks last season, helping $100 bettors earn more than $5,000. His picks have already helped $100 bettors win $1000 so far this season.. Eastman has been in the sports betting business for decades and his NBA handicapping system is a must for any NBA bettor that is serious about making money this season. Also, check our home page daily updated NBA lines, NBA betting articles and daily matchup reports.