NCAA Tournament Projections
by Robert Ferringo - 1/29/2010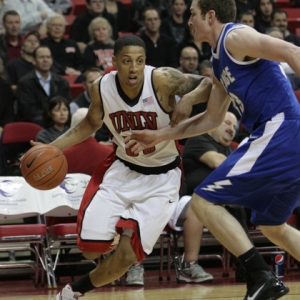 It's starting to get intense.
That's the most obvious thing that I noticed this week watching the college hoops landscape unfold. Lines are getting tighter, teams are getting more emotional, and things are really starting to tighten up. It's not exactly the stretch run yet and there is still a lot of ball to be played.
There are 65 slots in the NCAA Tournament Field. There are 31 automatic bid leagues in college basketball and my projections for the 2010 field show that there are 17 one-bid conferences. That means that there are essentially 48 slots open for tournament teams.
That seems like a lot, but when you consider that, by my count, there are 28 teams that have sealed up bids now we're down to just 20 at-large bids that about 90 other schools are fighting for those openings.
There was some small moving and shaking in my NCAA Tournament projections this week. And over the next few weeks there will be a lot more action. In fact, I'm sure that at least two teams that I'm certain are "In" right now will manage to play their way out of a ticket to The Big Dance.
One of the changes that I made this week was to change the "Bubble" list to a two-tiered system. First there are the Bubble teams that are on the verge of making it into the NCAA Tournament. These are the teams with the inside track that really just need to keep doing what they are doing. The second tier is teams that are really on the fringe of at-large discussion. These are teams with a shot to get a bid but need to put together a serious run in order to jump schools ahead of them.
Right now I have 17 one-bid leagues and 28 teams that are "In". That leaves 20 spots, as long as the "In" teams earn the conference tournament championships for their leagues. I have 13 teams that are on the verge and 27 on the fringe. So if we lean on those "Verge" teams being in the field then that means that I think those 27 "Fringe" teams are fighting for seven open spots right now.
Here's a breakdown of what I think the Race for 65 looks like with some NCAA Tournament projections:
Atlantic 10
In: Xavier, Temple
Bubble (On Verge): Rhode Island
Bubble (On Fringe): Dayton, Charlotte
Skinny: A clutch win by Charlotte over Temple gets them into the bubble discussion. The 49ers have not lost to a team ranked outside of the Top 35 and are building a decent resume. They also have a very favorable schedule, having to play just three games against teams above .500 in A-10 play. Dayton is sinking like a stone. They have a critical game at home against Xavier in two weeks and still have a shot at Charlotte (at home) and Temple (on the road) so all is not lost. But they need to do something, quickly. It will be tough – but not impossible – for this league to find three bids.
ACC
In: Duke, Clemson, Georgia Tech
Bubble (On Verge): Maryland, Virginia, Wake Forest
Bubble: (On Fringe): Florida State, North Carolina
Skinny: I know that Maryland is the team de jour right now and is on top of the ACC. But they played a feeble nonconference slate and their ACC schedule is backloaded. They have four of their next six on the road and won't be sneaking up on anyone. This league is still very much up in the air and the difference between a team like Wake making a move and a team like FSU getting hot is very, very slim.
Big 12
In: Kansas, Texas, Kansas State, Baylor
Bubble (On Verge): Missouri, Texas A&M, Oklahoma State
Bubble: (On Fringe): None
Skinny: Baylor is really a weak "In". But much like Ole Miss I feel like I can predict them making it in and if they picked the tourney tomorrow the Bears would play on. I actually think that, right now, the Big 12 will get all seven of its bubble teams into the Big Dance. Oklahoma State is the most questionable of the seven. And they have a huge game at Missouri on tap this weekend.
Big East
In: Villanova, Syracuse, Pittsburgh, Georgetown, West Virginia, Connecticut
Bubble (On Verge): None
Bubble (On Fringe): Cincinnati, Louisville, Marquette
Skinny: Right now things are pretty cut-and-dry in the Big East. Connecticut's win over Texas all but punched its ticket and they moved from the bubble to "In". Marquette is on the bubble now and is entering a portion of the schedule where they play a lot of games against the second- and third-tier of the Big East. Cincinnati needs quality wins, fast. And right now an overtime loss to Gonzaga and a double-OT loss at Xavier is the difference from this team being "In" and them being "Fringe". That's how razor-thin the margin of error is in the NCAA's.
Big Ten
In: Michigan State, Wisconsin, Purdue, Ohio State
Bubble (On Verge): Illinois
Bubble (On Fringe): Minnesota
Skinny: Michigan dropped off the map here and unless they turn it on pretty quick I think that Minnesota might not be far behind. I don't know if a win over Butler and Ohio State is enough of a resume for the Gophers and their terrible nonconference schedule (and lack of road wins). Illinois' position is strengthening simply by taking care of business against the weaker teams. But the end of their conference schedule – Michigan State, at Wisconsin, Ohio State, at Purdue, at Michigan, Minnesota, at Ohio State, Wisconsin – is absolutely brutal and we'll find out if this team is for real.
Colonial
In: None
Bubble (On Verge): None
Bubble (On Fringe): Old Dominion, VCU, George Mason, William & Mary
Skinny: This is going to be an ultra-competitive league throughout conference play, as teams like Drexel and Northeastern are playing great and capable of knocking out any of the top four clubs.
Conference USA
In: None
Bubble (On Verge): UAB
Bubble (On Fringe): Tulsa, Memphis, UTEP
Skinny: UAB has been exceptional over the last two months, losing just one game since Nov. 15. They have a tough portion of the schedule coming up though, with games against UTEP, Memphis, a letdown/look ahead spot at Rice, and then a game at Marshall. They are a "Verge" team but still have a lot of work to do if they want an at-large berth.
Horizon
In: Butler
Bubble: None
Skinny: As long as Butler wins their league title this is a one-bid league. But the depth in this league is as strong as it has been in three years and I could see the Bulldogs getting nipped by a team like Wright State or one of the UW's.
Missouri Valley
In: Northern Iowa
Bubble: (On Verge): None
Bubble (On Fringe): Wichita State
Skinny: The Bracket Buster schedule comes out this weekend and I think that there are several teams that are interested in their pairing. Creighton, Missouri State, Illinois State and Bradley could all win this tournament so keep an eye on how these clubs jostle for position.
Mountain West
In: BYU, New Mexico
Bubble (On Verge): UNLV
Skinny: This league is creeping up on the Pac-10 for the No. 6 spot in the nation. UNLV suffered a big blow with an injury to Derrick Jasper. But Lon Kruger is one of the most underrated coaches in the nation and he will have the Rebs fighting to the bitter end. New Mexico punched its ticket with their home win over BYU this week.
Pac-10
In: None
Bubble (On Verge): California
Bubble (On Fringe): Arizona State, Washington, Arizona
Skinny: This league is still a calamity. Just two games separates last place from second place here with Cal starting to put some distance between itself and the rest of these clowns. Keep an eye on Arizona. They get six of their last nine games at home and they have the No. 1 strength of schedule in the country. They have a lot of work to do but they are a team that can get hot and make some noise.
SEC
In: Tennessee, Kentucky, Mississippi, Vanderbilt
Bubble (On Verge): None
Bubble (On Fringe): Mississippi State, South Carolina, Florida, Alabama
Skinny: Mississippi State went from "In" to "Fringe" in the span of a week. Bad road losses at Alabama and Arkansas will do that to you. I think Vanderbilt punched its ticket with that marquee win over Tennessee and still has the benefit of playing the Vols at home as well. I moved Mississippi "In" even though they still have some work to do. But their only losses are quality and they have a marquee win over Kansas State. I think the SEC will have a solid five – and I don't think it will include South Carolina.
WCC
In: Gonzaga
Bubble (On Verge): St. Mary's
Bubble (On Fringe): Portland
Skinny: St. Mary's has only lost to Vandy, USC and Gonzaga this year and already has an 18-3 mark. They should pick up three more wins before a rematch at Gonzaga on Feb. 11 followed that Saturday by a tough, tough game at Portland.
WAC
In: None
Bubble (On Verge): Utah State
Bubble (On Fringe): Louisiana Tech, New Mexico State, Nevada
Skinny: This league is still rated just No. 11, behind The Valley, CUSA and the A-10. I think that it's going to be tough for them to get two teams in unless someone not named "Utah State" wins the conference tournament. And that's exactly what I predict will happen.
Automatic Bid Leagues:
America East – Maine
Atlantic Sun – East Tennessee State
Big Sky – Weber State
Big South – Coastal Carolina
Big West – Pacific
Ivy League – Cornell
Mid-American – Akron
Metro – Siena
MEAC – Morgan State
Northeast – Robert Morris
Ohio Valley – Murray State
Patriot League – Lafayette
Southern – Charleston
Southland – Texas A&M-Corpus Christi
SWAC – Texas Southern
Summit – Oakland
Sun Belt – Florida Atlantic
---
Most Recent NCAA Tournament Projection