NCAA Tournament Field Projections and Predictions, Feb. 14
by Robert Ferringo - 2/14/2012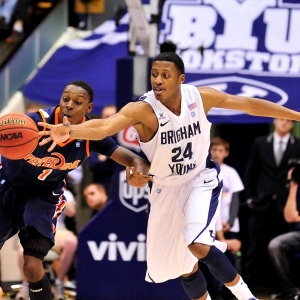 If you had told me a month ago that Notre Dame would be looking like a sure thing to make the NCAA Tournament and Connecticut would be fighting to keep its head above water and out of the NIT I would have laughed in your face.
Ah, college basketball.
Things are changing quickly on the hardwood and we are really getting down to crunch time. And now that the Super Bowl is over people are actually paying attention to college basketball. Selection Sunday is less than a month away and it is going to be a free-for-all for the finish for those teams hoping for an invite to The Big Dance.
Below are my current NCAA Tournament projections and predictions. Our last edition included asterisks denoting teams that I was projecting into the field. Yeah, that's not going to happen this week. Things are such a debacle at the moment (by my calculation there are 21 teams fighting for the last 15 slots) that I'm not even going to put myself through the frustration of it.
Instead, we'll just focus on where we are at right now, even though a week or two from now the field will have a completely different vibe to it. But for now, here are my NCAA Tournament projections and predictions:
Atlantic-10 (Projected Teams: 3)
In: Xavier, Temple, St. Louis
Bubble: Dayton
Skinny:The biggest problem with the Atlantic 10 right now is that it may be too good. These teams are cannibalizing one another. And the result is that they are dragging down teams that could earn potential bids. St. Joseph's is now off the bubble due to their 16-10 overall record. And Dayton is hanging by a thread thanks to a 1-4 slide. But they still have six regular season games left to make some noise. I think they need to win at least four of them to stay in the discussion. But this team is fading fast. The other change is that St. Louis has been moved onto the "in" line. I think they have done more than enough and they have a soft closing schedule. Their ticket is all but punched.
ACC (Projected Teams: 5)
In: Duke, North Carolina, Virginia, Florida State
Bubble: Miami,N.C. State
Skinny: North Carolina State is setting up for the biggest run of its season. They have games against Duke, Florida State and North Carolina coming up, with the last two at home. I think they need two of those wins and then two more (against Clemson, Miami and Virginia Tech) to earn a bid. If they don't get any of those wins they are done, and if they get one of them then things will stay muddled for them. And here comes Miami (as I predicted). They have a soft schedule and should be able to pick up wins over Wake, Maryland and Boston College. But they have two key games with UNC and FSU as well. If they can get one of those (both are at home) then they will be positioned well heading into the ACC Tournament. Attrition throughout the rest of the country has left the door open for those two. Can they barge through?
Big 12 (Projected Teams: 6)
In: Kansas, Missouri, Baylor, Kansas State
Bubble:Texas, Iowa State
Skinny:Oklahoma State is now off the bubble and the fifth bid in this league will come down to Texas vs. Iowa State. The two teams split their regular season. Texas scored a nice win over Kansas State on Saturday but they have four of six on the road and their overall resume, really, isn't that impressive. In fact, it isn't much more impressive than some of the Pac-12 teams that everyone keeps railing against. Iowa State should be able to get to 20 wins heading into the Big 12 Tournament. And with four games left against Baylor (twice), K-State and Missouri they have a chance to get another marquee win to pair with their victory over Kansas. But they can't go in the tank and can't take another bad loss (they get OU and Texas Tech at home) because their nonconference resume is pathetic.
Big East (Projected Teams:8)
In: Syracuse, Louisville, Marquette, Georgetown
Bubble: Cincinnati, Seton Hall, Notre Dame, West Virginia, Connecticut,
Skinny:I don't even know where to begin in this league. West Virginia and Connecticut have actually moved off the "In" line in my tournament projections. And that is incredibly rare. But the Huskies are absolutely in the tank and I don't see how they recover. West Virginia is just 16-10 on the season and still has road trips to Pitt and Notre Dame. They have a better nonconference resume than Connecticut but right now neither can be feeling very confident. The Irish are one of the hottest teams in the country but they still have some work to do and can't peak too early. Cincinnati is in decent shape. And their biggest benefit is that they have four of six at home and the road games are winnable, at South Florida and Villanova. If they can get three home wins and split the road games they will be 20-11 and will be tough to shut out. I am being generous keeping Seton Hall on the bubble. But if they can win at Cincinnati and beat Georgetown at home there is a great chance that they can win their last five games, get to 22-8, and ride a seven-game winning streak into MSG. There are a lot of balls up in the air here and what happens in this conference is going to reverb throughout the rest of the country.
Big Ten (Projected Teams: 7)
In: Ohio State, Wisconsin, Michigan, Indiana, Michigan State
Bubble: Illinois, Minnesota, Purdue
Skinny: Minnesota is another team that has a bid dangling in front of its face. But they have to earn it. They have home games against Ohio State, Michigan State and Indiana, and a road game at Wisconsin. They need at least two of those wins and they can't slip up against Northwestern or Nebraska. It is doable. And if they are really a tourney team (which I don't think they are) they will make it happen. Illinois is right there with Connecticut in terms of mammoth second-half collapses. They are 1-6 in their last seven games and haven't looked good doing it. Their Ohio State win is still a great ace in the hole. But they have to at least go 3-3 down the stretch (no easy feat) to keep their head above water. And Purdue is another team I pulled off the "In" line because they are just 4-6 in their last 10 and they still have a difficult slate the rest of the way. But I think they will find a way to hold onto a spot that has been theirs all season.
Conference USA (Projected Teams: 2)
In: None
Bubble: Marshall, Central Florida, Tulsa, Southern Miss, Memphis
Skinny:I still think this league is going to get two bids because I don't think that Memphis is going to win the conference tournament. Their great schedule and wins over Belmont, Miami and Xavier (along with name recognition) should be enough. The fly in the ointment is Southern Miss. They are 21-4 but I just don't know if they can overcome a nonconference resume that doesn't have any good wins but also no bad losses. It would help them if New Mexico State would win the WAC because the Eagles swept the Aggies. It would be very interesting if they went 4-2 to close the regular season (making them 25-6) and then if they won two games in the CUSA Tournament before losing in the title game to a non-Memphis team. That would leave them 27-7. And if that were the case this league could actually get three bids.
Missouri Valley (Projected Teams: 2)
In:Creighton, Wichita State
Bubble: Northern Iowa, Missouri State
Skinny:This league is rated ahead of both the Pac-12 and Conference USA but could end up with less bids than either. Northern Iowa is in the mix. But they absolutely have to have their Bracket Buster game against VCU this Friday. It is on the road. Their metrics (RPI, SOS, etc.) is actually much better than a lot of teams from BCS leagues but they are just 17-10 and really don't have as much juice as you'd expect from such a good league. Missouri State's only shot is probably to win out and then make the MVC title game. But even that probably wouldn't be enough. This looks like just a two-bid league.
Mountain West (Projected Teams: 3)
In: UNLV, San Diego State, New Mexico
Bubble:Wyoming
Skinny:Do not count out Wyoming. Their nonconference strength of schedule is one of the worst in the country. But they have two more big games (SDSU and UNLV). If they could split those and then get to the MWC Championship Game they would have a 25-8 record that would be tough to overlook. I don't think they will do it, but it's not out of the realm of possibility.
Pac-12 (Projected Teams: 3)
In:California
Bubble: Washington, Stanford, Arizona, Oregon State, Oregon, Colorado, UCLA
Skinny:I think it is pretty obvious that all of the ESPN hate toward the Pac-12 is spreading throughout the rest of the bobblehead media. This league is pathetic at the bottom and is not as good as we are used to seeing. But you are an absolute idiot if you think that this is a one-bid league, like some people are predicting.I think that Cal and Washington are already locks. Arizona is really banged up right now but they have at least three more "gimme" wins and they get UCLA at home in a crucial game. Colorado and Oregon are both going to get to 20 wins. And, again, if you compare their resumes with bubble teams like Minnesota, Dayton, or N.C. State you'll find that these Pac-12 teams are not far off the pace at all. Again, you think ESPN might just be trashing the Pac-12 because it is the one league that they don't own the broadcast rights to? I absolutely do.
SEC (Projected Teams: 5)
In: Kentucky, Vanderbilt, Florida, Mississippi State
Bubble:LSU, Arkansas, Alabama,
Skinny:Alabama is absolutely the team to be watching in this league. They currently have four starters out on suspension. And without them this team is fielding a jayvee squad. They could be headed for a free fall when three weeks ago they were fighting for seeding. That is a huge subplot in this league because if they fall off the cliff and don't get a bid than the SEC will probably only get four teams and that will open up a slot for a team from, say, the Pac-12.
WAC (Projected Teams: 1)
In:None
Bubble:New Mexico State, Nevada
Skinny: If Nevada can beat Iona in its Bracket Buster game and beat New Mexico State at home on March 1 then they are going to be an interesting case. That would leave them at 25-5 and the No. 1 seed in the WAC. If they were to make it to the WAC title game and lose to NMSU in a third meeting they would be 27-6 and at least be able to make a case for inclusion. But outside of that it is going to come down to the top two teams and this is going to be a one-bid league.
WCC (Projected Teams: 3)
In: Gonzaga, St. Mary's
Bubble: BYU
Skinny:I don't think that there is any doubt that this league gets three bids. St. Mary's and Gonzaga are in. Of course, St. Mary's has been screwed before. And if they lose to Murray State this weekend in the marquee Bracket Buster game then their numbers on paper could start to look dicey. But anyone who has watched them play is an idiot if they don't think they are one of the best 65 or 68 teams in the nation. BYU has quietly gone 21-6 and even if they lose to Gonzaga on Feb. 23 they should finish the regular season no worse than 24-7, with wins over fellow bubble teams Oregon, Nevada, Virginia and Gonzaga. With the mess in the BCS leagues I think the Cougars deserve a bid as well.
Big West (Projected Teams: 2)
In:Long Beach State
Bubble:UC-Santa Barbara
Skinny:Something screwy happens every year in at least one of the smaller conferences. Murray State is in kind of the same boat as Long Beach in that everyone agrees they should be in but isn't sure if the selection committee will look past their weak metrics and feeble competition to put them in if they don't win their league. I don't think LBSU is going to win its conference. But they have dominated their league, played the No. 3 nonconference schedule in the nation, have wins over Pitt and Xavier, and have close road losses at Kansas and North Carolina. Their resume is better than more than half of the bubble teams. But if they don't beat Creighton in their Bracket Buster game then this team I feel like people will be too quick to dismiss them if they don't win the Big West.
Automatic Bid Leagues (Projected Teams: 18):
America East – Boston University
Atlantic Sun – Belmont
Big Sky – Weber State
Big South – UNC-Asheville
Colonial – VCU
Horizon – Cleveland State
Ivy League – Harvard
Metro – Iona
Mid-American – Akron
MEAC – Morgan State
Northeast – Wagner
Ohio Valley – Murray State
Patriot League – Bucknell
Southern – Davidson
Southland – UT-Arlington
SWAC – Mississippi Valley State
Summit – Oral Roberts
Sun Belt – Middle Tennessee State
Robert Ferringo is the premier college basketball handicapper in the country right now. He has already banked $10,000 in profit for his clients and dating back to last year his clients have earned $16,000. He has posted three straight winning years and will have his Bracket Buster Game of the Year this Saturday. You can sign up for his college basketball picks and get more information here.
---
Most Recent NCAA Tournament Projection