NCAA Tournament Projections Updated Feb. 19
by Robert Ferringo - 2/19/2010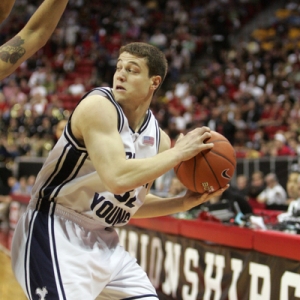 There was some small moving and shaking in my NCAA Tournament projections this week. And over the next few weeks there will be a lot more action. In fact, I'm sure that at least two teams that I'm certain are "In" right now will manage to play their way out of a ticket to The Big Dance over the next few weeks.
So it goes. That is the march to The Madness.
There are 65 slots in the NCAA Tournament Field. There are 31 automatic bid leagues in college basketball and my NCAA tournament projections for the 2010 field show that there are 20 one-bid conferences. That means that there are essentially 46 slots open for tournament teams (with 12 conferences at least threatening to get multiple bids). That seems like a lot, but when you start writing down the names I can assure you the field seems much smaller every week.
I have also begun projecting how many teams form each conference I feel will end up in the field. This is obviously a fluid situation and I'm not ready yet to pinpoint exactly which teams will fill out those NCAA Tournament projections. I like to take a big-picture view when it comes to something like the Big Dance and this is reflected in my projections. There is some "feel" that goes into thee NCAA Tournament projections and this is what I'm feeling this week.
Here's a breakdown of what I think the Race for 65 looks like with some NCAA Tournament projections:
Atlantic-10 (Projected Teams: 4)
In: Xavier, Temple, Richmond
Bubble (On Verge): Charlotte, Dayton
Bubble (On Fringe): Rhode Island
Skinny: I've heard some grumbling about the fact that the A-10 could get four teams in the NCAA Tournament. But I defy you to look at the resumes of Xavier, Temple and Richmond and tell me that those three teams aren't locks as of right now. And past that, I just don't see how Dayton or Charlotte can be denied. Charlotte's loss to Duquesne is definitely a tough one and I think it has helped Dayton inch in front for that fourth spot.
ACC (Projected Teams: 6)
In: Duke, Georgia Tech, Wake Forest, Maryland,
Bubble (On Verge): Clemson
Bubble: (On Fringe): Florida State, Virginia, Virginia Tech
Skinny: I actually lowered the amount of ACC teams that I'm projecting into the field. This week I finally moved Maryland onto the "In" line. I'm sure Clemson will do enough to find their way in the field. And right now Florida State is one of the league's hotter teams and is making a strong push. But that's six right there. And if you look at the resumes of Virginia Tech and Virginia you will find the No. 310 (UVA) and No. 337 (VT) nonconference strength of schedules in the country. How can the selection committee reward that? Oh, wait, because they are huge hypocrites and they are in the pockets of the BCS conferences. Right now I'm still projecting six.
Big 12 (Projected Teams: 7)
In: Kansas, Texas, Kansas State, Baylor
Bubble (On Verge): Missouri, Texas A&M
Bubble: (On Fringe): Oklahoma State
Skinny: I don't think that there is any doubt that watching Missouri and Texas A&M that they are worthy tournament teams. Oklahoma State is solid as well, but they are running into the same problem as Virginia Tech and Virginia: their nonconference schedule ranks just No. 287 and they have zero marquee nonconference wins. Oklahoma State has home games against Baylor and Kansas sandwiched around a trip to Texas (who already beat OSU by 12 at Iba). Oklahoma State has to win at least one of those just to stay in the discussion. In the end this is neck-and-neck with the Big East as the nation's best conference. And I think that they will find that seventh team.
Big East (Projected Teams: 8)
In: Villanova, Syracuse, Georgetown, West Virginia, Pittsburgh
Bubble (On Verge): Louisville, Marquette
Bubble (On Fringe): Cincinnati, South Florida, Connecticut
Skinny: What a wacky week in the Big East. But upsets by St. John's, Louisville, Rutgers and Connecticut just once again shows that the depth in this conference is unrivaled by any league in the nation. Remember: Connecticut is presently No. 12 in the Big East standings. No. 12. And they were good enough to hammer Texas and win at Villanova. That's just sick. I think that the Huskies will find their way into the field as the No. 8 team from this conference. But getting swept by Cincinnati is still an anchor around them and South Florida continues to charge. Cincinnati's chances are on life support. But remember: they have wins over Maryland and Vanderbilt in the nonconference and did sweep UConn. But I think they need to close the regular season with three more wins (they play Marquette, DePaul, at WVU, Villanova, and at Georgetown) to have a shot. Also, if Gus Gilchrist doesn't get hurt then South Florida would be a tournament team. (Remember: I was the ONLY college basketball handicapper in the country that said that South Florida would make a run at an NCAA Tournament berth: Click Here,
Big Ten (Projected Teams: 5)
In: Michigan State, Wisconsin, Purdue, Ohio State, Illinois
Bubble (On Verge): None
Bubble (On Fringe): Northwestern
Skinny: Minnesota's chances are shot. And losses to Iowa and Penn State have sunk Northwestern (and their No. 327 nonconference strength of schedule). Right now I think the Big Ten is a solid five-bid league and don't see an argument otherwise.
Conference USA (Projected Teams: 1)
In: None
Bubble (On Verge): None
Bubble (On Fringe): UTEP, UAB
Skinny: This really is a quality league this year. Memphis, Marshall, UAB, Tulsa and Houston are all teams that could do some work in the NIT or some other postseason tournament. But these clubs just don't have the resumes to warrant Big Dance consideration. UTEP has won nine straight. But three of their last five are on the road and they would probably have to go 4-1 (making them 20-5) to stay in this discussion. I don't see that happening. UAB has lost three of five games and is about a 150-to-1 long shot to find the field right now. But wins over Cincinnati, Butler and surging Arkansas will keep them in the mix. But it will likely take a 5-0 season close and a deep run in the CUSA tourney just to get them considered.
Missouri Valley (Projected Teams: 2)
In: Northern Iowa
Bubble: (On Verge): None
Bubble (On Fringe): None
Skinny: This is a one-bid league…unless there is a tournament upset. And I predict that there will be one. The top seed seemingly never wins this conference tournament.
Mountain West (Projected Teams: 3)
In: BYU, New Mexico
Bubble (On Verge): UNLV
Bubble (On Fringe): None
Skinny: Just when it seemed like the Mountain West was a pretty safe bet to get three teams UNLV goes and loses three straight games to New Mexico, San Diego State and Utah. The good news: their last four games are against Colorado State, TCU, Air Force and Wyoming, and all but the Air Force game is at home. (And Air Force is basically a high school team right now.) UNLV needs to win out and beat one of the other top Mountain teams in the conference tournament. This team still may control its own destiny. But given the selection committee's shafting of the MWC in the past I wouldn't feel safe if I were Lon Kruger's group.
Pac-10 (Projected Teams: 2)
In: None
Bubble (On Verge):
Bubble (On Fringe): California, Arizona State, Arizona
Skinny: Quite naturally, as soon as I'm ready to bump Arizona up they go and lose three of four games, including a disastrous home loss to Oregon State. Absolutely huge game with Arizona State this Sunday at home. A win gives the Wildcats a season sweep over the only other Pac-10 team that really warrants consideration. Cal has to be very careful on its trip through Oregon this weekend. If they get swept (they lost Thursday at Oregon State) they probably won't recover and their at-large hopes will likely be over. A huge part of Cal's sales pitch will involve consideration for injuries early in the season.
SEC (Projected Teams: 5)
In: Tennessee, Kentucky, Vanderbilt
Bubble (On Verge): Mississippi State
Bubble (On Fringe): Mississippi
Skinny: Mississippi is as desperate as any team on the bubble right now and they played terrible in their biggest game of the year on Thursday. They had a shot to punch their ticket with a marquee win over a distracted Vandy squad but couldn't get it done. The SEC has been too good of a conference to get just four teams but unless they win four of five to close the year and then win at least one in the conference tourney then Ole Miss is likely toast. Florida's chances are sunk after getting blown out at home by Xavier last week. South Carolina isn't even close. But they have games against Tennessee, Kentucky, Mississippi State and Vandy coming up. If they win all four maybe we can talk. Oh, and Arkansas keeps charging. Again, they probably got started too late to have a real at-large chance. But they still have games left against Vandy and Ole Miss at home as well as a shot at Tennessee on the road. If they sweep those three and have a strong conference tournament you never know. But those are big ifs.
WAC (Projected Teams: 2)
In: Utah State
Bubble (On Verge): None
Bubble (On Fringe): None
Skinny: None of the secondary teams in this conference have a realistic shot at an at-large berth. But I am already predicting that Utah State will NOT win their conference tournament, which is on Nevada's home floor this year. There is too much depth, experience and talent in this conference for there not to be an upset. I think Utah State will lose in the semifinals or the finals and that a WAC team will "steal" a bid from another conference.
Automatic Bid Leagues (Projected Teams: 20):
America East – Stony Brook
Atlantic Sun – Jacksonville
Big Sky – Weber State
Big South – Coastal Carolina
Big West – Pacific
Colonial – VCU
Ivy League – Cornell
Horizon – Butler*
Mid-American – Kent State
Metro – Siena
MEAC – Morgan State
Northeast – Robert Morris
Ohio Valley – Murray State
Patriot League – Lafayette
Southern – Western Carolina
Southland – Sam Houston State
SWAC – Texas Southern
Summit – Oakland
Sun Belt – North Texas
WCC – Gonzaga*
* Denotes team that is in the field even if they get upset in their conference tournament. The Horizon and the WCC are leagues from which a bid could potentially be "stolen" by the top teams not winning the automatic berth.
---
Most Recent NCAA Tournament Projection