NCAA Tournament Projections Updated Feb. 5
by Robert Ferringo - 2/5/2010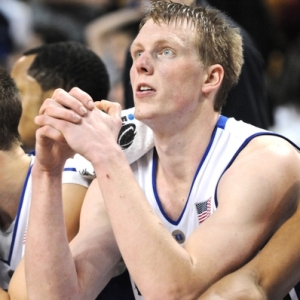 There was some small moving and shaking in my NCAA Tournament projections this week. And over the next few weeks there will be a lot more action. In fact, I'm sure that at least two teams that I'm certain are "In" right now will manage to play their way out of a ticket to The Big Dance over the next few weeks.
So it goes. That is the march to The Madness.
There are 65 slots in the NCAA Tournament Field. There are 31 automatic bid leagues in college basketball and my projections for the 2010 field show that there are 17 one-bid conferences. That means that there are essentially 48 slots open for tournament teams (with 14 conferences at least threatening to get multiple bids). That seems like a lot, but when you consider that, by my count, there are 28 teams that have sealed up bids now we're down to just 20 at-large bids that about 90 other schools are fighting for those openings.
This week three teams, Clemson, Mississippi and Pittsburgh, have been dropped from "In" to "Verge" due to recent slides. I still think that all three of those teams will find their way into the tournament field. But we've seen complete and total collapses this time of year before – as well as mega-surges out of fringe teams – and it's always a fluid situation.
Another thing to consider is that a win that seemed like a good win two weeks ago may not be worth a damn two weeks from now. North Carolina is a perfect example. If they continue to dump games in ACC play that "big" win over UNC that some teams are relying on isn't going to hold the currency that it had a month ago.
Right now I have 17 one-bid leagues, 26 other teams that are "In" and three other leagues (Colonial, Conference USA and the Pac-10) that will earn at least one bid. That means that there are 46 slots that I have filled in at the moment. I have 14 teams that are on the verge and 29 that are on the fringe. That means that if the teams that I have on the verge are in that leaves 29 teams fighting over just five extra slots. And that's assuming nothing wacky in the conference tournaments in leagues like the WAC and Horizon.
Here's a breakdown of what I think the Race for 65 looks like with some NCAA Tournament projections:
Atlantic 10
In: Xavier, Temple
Bubble (On Verge): Rhode Island, Charlotte
Bubble (On Fringe): Dayton
Skinny: It will be tough – but not impossible – for this league to find three bids. Charlotte's RPI is presently No. 34 and they have wins over Louisville and Temple. They also get a crack at Dayton on the road and Xavier at home so they are in a good position to improve. The problem is that their remaining schedule is about 10 times as difficult as Rhode Island (URI gets the lone meeting at home) so while Charlotte could end up at 22-8 heading into the A-10 tourney they could still be behind a 25-4 Rams club. Dayton's next two games are at home against Xavier and Charlotte and they still go to Temple. If they get two out of three of those games things get that much more muddled. Dayton's losses have been against Villanova, K-State, at New Mexico, at Xavier, at St. Joe's and against Rhode Island – by an average of 3.7 points per game. Stay tuned here; this is a great conference race.
ACC
In: Duke, Georgia Tech
Bubble (On Verge): Maryland, Wake Forest, Clemson,
Bubble: (On Fringe): Florida State, North Carolina, Virginia
Skinny: Maryland seems like a lock given their fast start in the ACC. And they are likely in. But this team has played an incredibly soft schedule and needs some signature wins. I think they will get them but they aren't there just yet. Virginia has an RPI of 79 and North Carolina was at No. 77 before their loss to Virginia Tech. But UNC still has marquee wins over Ohio State and Michigan State and that's a resume that a lot of mid-majors don't have. A sweep of Georgia Tech and a win over Marquette is boosting FSU's stock but they have lost four of their last seven and need to turn it around quickly. Clemson and Virginia have both been knocked down. Neither has big wins and neither had a tough nonconference schedule so both have work to do. I still think that the ACC will end up with at least six teams. But they are not there yet.
Big 12
In: Kansas, Texas, Kansas State, Baylor
Bubble (On Verge): Missouri, Texas A&M
Bubble: (On Fringe): Oklahoma State
Skinny: Not much has changed this week. I think that the top four are clearly in. Missouri has lost three of five and plays two of three on the road so they are a team to keep an eye on sliding. A&M is going to work its way in and they still have wins over Clemson and Minnesota in the kicker (assuming Minnesota can make a run). Oklahoma State is entering a soft portion of the schedule and then has Baylor, at Texas and Kansas in one eight-day stretch. They need these next three games and at least one win over one of those other three. They were the only team downgraded and I predict that it will be tricky for the Big 12 to end up with more than five teams.
Big East
In: Villanova, Syracuse, Georgetown, West Virginia, Connecticut
Bubble (On Verge): Louisville, Marquette, Pittsburgh
Bubble (On Fringe): Cincinnati, Notre Dame, South Florida
Skinny: Here I moved Louisville and Marquette up a peg and after four losses in six games I moved Pitt down a peg out of the "In" group. I still think that all three of those teams has enough on their resume, today, to make the tournament, including tough schedules and marquee wins. But in an unforgiving conference with no gimme games a collapse isn't out of the question. South Florida has entered the discussion but they still have a long way to go. Right now three-point losses to Central Michigan and South Carolina are an anchor around this team's neck. They still have plenty of work to do, as does Cincinnati and Notre Dame, both of whom are on life support. When the dust settles I think we'll be looking at eight from the Big East.
Big Ten
In: Michigan State, Wisconsin, Purdue, Ohio State
Bubble (On Verge): Illinois
Bubble (On Fringe): Minnesota, Northwestern
Skinny: Illinois' wins over Clemson and Vanderbilt are keeping them in the discussion. But they play Michigan State, at Wisconsin, Ohio State and at Purdue in their next four games. We're going to find out if they are for real or not. I say not. Northwestern is in the discussion but right now they have NIT written all over them.
Colonial
In: None
Bubble (On Verge): None
Bubble (On Fringe): Old Dominion, VCU, George Mason, William & Mary
Skinny: This is going to be an ultra-competitive league throughout conference play, as teams like Drexel and Northeastern are playing great and capable of knocking out any of the top four clubs in the conference tournament. William & Mary has to play at Iona on Bracket Buster Saturday and that is a definite must-win if they want any hope of an at-large berth, which is still a long shot.
Conference USA
In: None
Bubble (On Verge): None
Bubble (On Fringe): Tulsa, Memphis, UTEP, UAB
Skinny: These teams beating up on one another is dragging the conference down. They are still below the A-10 as a league right now and, to be honest, they still have the look of a one-bid league even though the talent in this conference is much, much better than people realize. An OT loss to Ole Miss and a six-point home loss to BYU are just killing UTEP right now. That's how close I think they are to being in the field.
Horizon
In: Butler
Bubble: None
Skinny: As long as Butler wins their league title this is a one-bid league. But the depth in this league is as strong as it has been in three years and I could see the Bulldogs getting nipped by a team like Wright State or one of the UW's.
Missouri Valley
In: Northern Iowa
Bubble: (On Verge): None
Bubble (On Fringe): Wichita State
Skinny: Northern Iowa gets a home game against Old Dominion on Bracket Buster Saturday and Wichita State has to head to Utah State (one of the toughest venues in the nation). Obviously, that's advantage UNI, who is pretty comfortable at the moment but needs to keep winning and at least earn the Valley's regular season crown.
Mountain West
In: BYU, New Mexico
Bubble (On Verge): UNLV
Skinny: The Rebels have a golden opportunity in their next two games. They get BYU and New Mexico at home and if they want an at-large bid I think that they absolutely have to win at least one of them (preferably a win over BYU). After that they have letdown games at SDSU and at Utah before a very easy home stretch.
Pac-10
In: None
Bubble (On Verge): None
Bubble (On Fringe): Arizona State, Washington, California, Arizona
Skinny: Watch out for UCLA. I said at the start of the season that even though this team isn't any good they were going to factor into the Pac-10 race. Now here they are in a four-way tie for the top spot. Cal has dumped two in a row, Washington got a must-win game over Arizona, and ASU is still plugging along. We're still a long, long way from figuring out what is going on here. And the bottom line is that none of these teams has any marquee nonconference wins. None. Zero. The best wins, collectively, are over Iowa State, Louisiana Tech, New Mexico State and San Diego State. Those are the four best wins of the bubble teams in this conference. This is a two-bid league.
SEC
In: Tennessee, Kentucky, Vanderbilt
Bubble (On Verge): Mississippi
Bubble (On Fringe): Mississippi State, South Carolina, Florida
Skinny: Right now Florida is surging, Arkansas is healthy and building steam, and despite a 1-3 slide Mississippi State is on top of the Western Division. I also dropped Ole Miss down to the bubble. I still think that they will be fine and that they are getting an invite to The Big Dance (they have a huge win over Kansas State). They have four of their next five at home, including home games against Vandy and Florida. They will be OK.
WCC
In: Gonzaga
Bubble (On Verge): St. Mary's
Bubble (On Fringe): None
Skinny: Portland has virtually no at-large hope so I dropped them off the radar. St. Mary's is a two-point home loss against Vanderbilt from really being locked in. They play at Gonzaga next Thursday and I think that if this team has any shot of an at-large bid they are going to need that game. That's because the Zags aren't exactly shoo-ins themselves (although reputation and wins over Wisconsin and Illinois help).
WAC
In: Utah State
Bubble (On Verge): None
Bubble (On Fringe): Louisiana Tech, New Mexico State, Nevada
Skinny: With a couple teams in major conferences dropping back to the bubble I have moved Utah State in. This league is still rated just No. 11, behind The Valley, CUSA and the A-10. I think that it's going to be tough for them to get two teams in unless someone not named "Utah State" wins the conference tournament. But that's exactly what I predict will happen.
Automatic Bid Leagues:
America East – Stony Brook
Atlantic Sun – Jacksonville
Big Sky – Weber State
Big South – Coastal Carolina
Big West – Pacific
Ivy League – Cornell
Mid-American – Kent State
Metro – Siena
MEAC – Morgan State
Northeast – Robert Morris
Ohio Valley – Murray State
Patriot League – Lafayette
Southern – Western Carolina
Southland – Sam Houston State
SWAC – Texas Southern
Summit – Oakland
Sun Belt – North Texas
---
Most Recent NCAA Tournament Projection