NFL Predictions: NFC South Odds and Preview with Football Betting Picks
by Robert Ferringo - 8/27/2010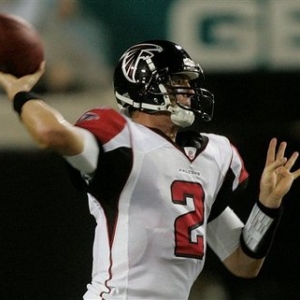 I know that the NFC South has been a crazy, worst-to-first division since its inception in 2001. But if Tampa Bay pulls off the feat again this year I may retire from sports handicapping.
The NFC South has never had a back-to-back division title winner. However, that hasn't stopped the books from posting New Orleans as a solid -180 favorite to win the crown again this season. Atlanta is an appealing and trendy underdog to knock off the Saints, and they have been posted at +200. The odds to win the NFC South for Tampa Bay and Carolina are longshots, at +1500 and +600, respectively.
Here are my NFL predictions for the NFC South in 2010 with betting odds and picks:
New Orleans Saints Predictions
2009 Record: 13-3 (7-1 home, 6-2 road)
2009 Against the Spread: 8-8 ATS, 7-9 vs. Total
2009 Rankings: 1st offense (1st pass, 6th rush); 25th defense (26th pass, 21st rush)
2010 Odds: 8/1 to win SB, 4/1 to win NFC, 1/2 to win NFC South, 10.5 wins O/U
Offense: There isn't much that I can say about this unit that you wouldn't already know. Drew Brees is flawless at quarterback: accurate, tough, a great decision maker and an excellent leader. He is bolstered by a better-than-you-think running game and a fantastic offensive line that allowed only 11 sacks last year. Their receivers are oozing with talent and explosiveness, and on any given Sunday Brees can have a new No. 1 wideout. Teams generally don't get pressure and they simply don't have the overall talent in the secondary to keep up with the receivers. There is depth and they can play a variety of styles. Before the Saints began resting starters late in the season this offense was out of control, scoring more than 40 points in four of 13 games and topping the 30-point mark in nine of their first 13 (as well as all three playoff games). However, despite all of that the Saints were just 7-9 against the total last year so beware of inflated lines.
Defense: All of last season I was screaming about how strong the front seven of the Saints was. They certainly proved it last January and February. They have lost several starters from last year's D, but the core playmakers are back. Jonathan Vilma is still a stud and Tracy Porter is only going to get better and better. However, I feel like a big elephant in the room is the status of Darren Sharper. Sharper was, in my opinion, the NFL's defensive MVP last year (Charles Woodson actually won the award). Sharper almost single-handedly transformed a pass defense that had been atrocious and turned it into a unit that was much, much better than its No. 26 rating indicated (ask Peyton Manning). Sharper had nine INTs and had three touchdowns himself and was the clear leader of this group. He is recovering from microfracture knee surgery and he could start the year on the PUP list (meaning he would miss the first six games). That's a problem. But this group still "good enough" to compliment their awesome offense.
Skinny: There is no doubt that the Super Bowl Hangover is a very real phenomenon. There is an incredible mixture of opportunity, good fortune and execution that goes into getting to The Big Game. And it's a monumental feat to replicate. Unfortunately for the Saints, I don't think that they have the goods to pull it off. I think their front seven is underrated. But in the end they aren't hard enough to repeat the feat. This team benefited from a host of close wins, they zapped their Vegas win total last year, they were No. 3 in the league in turnovers at +11, they ripped through a candy-ass schedule, and their stats didn't match up to their Pythagorean win total. All in all there is only one place to go when you get to the top: down. The Saints are still a tough 'W', but they don't have the look of a repeater to me. (Think 2000 Rams.)
Atlanta Falcons Predictions
2009 Record: 9-7 (6-2 home, 3-5 road)
2009 Against the Spread: 11-5 ATS; 7-9 vs. Total
2009 Rankings: 16th offense (14th pass, 15th rush); 21st defense (28th pass, 10th rush)
2010 Odds: 22/1 to win SB, 8/1 to win NFC, 2/1 to win NFC South, 9.0 wins O/U
Offense: The attitude of this team can best be summed up by the play of the offensive line. They are a physical, violent, trash-talking, chippy, up-and-coming unit that represents one of the toughest run-blocking groups in the league. It all starts up front and the Falcons will again try to establish Michael Turner as the fulcrum of their attack. Turner battled injuries all last season. But when he did play he was extremely effective, rushing for a 4.9 yard per carry average and notching an average of 90 total yards and a touchdown in the 11 games he appeared in. Matt Ryan regressed slightly in his sophomore year, which was to be expected. But even Ryan was banged up, essentially missing three games late in the year with a variety of ailments. Both are good to go this year so I would look for them to match 2008's performance. Atlanta's offense was much less explosive last year. They managed only seven plays of 40 or more yards, which was one of the lowest totals in the NFL. And only six teams had fewer pass plays of 20 or more yards than Atlanta's 39 last season. Roddy White is an excellent all around player and Tony Gonzalez is a first-ballot Hall of Famer. But neither is a true game breaker, and the Falcons need to find some guys with a knack for the big play. If they don't, they will remain a great-between-the-20's group, and that may not be enough.
Defense: The Falcons have some leaky spots and lack depth in certain areas on this side of the ball. But they also have as fast and as athletic of a group as they've featured in some time. They have a core of young linebackers that will be learning around leader Mike Peterson. The same can be said for the front four, where young guns like Kroy Biermann - who is an animal – have been placed around a proven veteran anchor (John Abraham). The secondary has a load of athleticism, but they don't have a true playmaker at safety or a bona fide shutdown corner, unless Dunta Robinson continues to improve. This team plays with speed but has very little girth and true physicality to it, and that worries me a bit. Atlanta hasn't finished in the Top 20 in yards allowed on defense in the last five seasons. I don't see a tremendous upgrade in personnel so far here. Other than Peterson and Abraham they don't have any "big play" guys, in terms of turnovers. So if you're small and flexible as a unit, how exactly are you supposed to hold up against powerhouse offensive lines and attacks like you see in the NFC East and with New Orleans and Minnesota? That's a concern. Until these guys find some bigger bodies, show a lot more bow in their back, or get really crafty at producing turnovers, I think that the best-case scenario for this group is another middle-of-the-pack finish.
Skinny: There certainly is a lot to like about this team. But I feel like they are getting a little too much buzz, especially when being considered as a legit challenger to the Saints. They aren't as "young" as they seem, with an average age ranked No. 14 and average functional age ranked No. 19 (with the youngest team being No. 1) in the game. But they have unquestionable talent. The main issue, as I see it, is that they need to be more dynamic on both sides of the ball. They need more big plays on offense and need more turnovers on defense. If not, they'll be a very good team between the 20's and won't have a whole lot of wins to show for it.
Carolina Panthers Predictions
2009 Record: 8-8 (5-3 home, 3-5 road)
2009 Against the Spread: 9-7 ATS, 6-10 vs. Total
2009 Rankings: 19th offense (27th pass, 3rd rush); 8th overall (4th pass, 22nd rush)
2010 Odds: 50/1 to win SB, 35/1 to win NFC, 6/1 to win NFC South, 7.0 wins O/U
Offense: The Jake Delhomme Era is over and it is now Matt Moore's time to shine. Good luck with that. I'm not buying into the Carolina passing game one bit. Even when Steve Smith returns from his broken arm there is a shocking dearth of weapons on this roster. They are lucky that they have one of the best and most underrated offensive lines in football, because at least they will be able to get a little pass blocking and a lot of running game going. DeAngelo Williams and Jon Stewart are one of the top one-two punches in the league. They are good enough to run through top defenses and I wouldn't be stunned if they got 300 carries apiece this season. This team will try to grind clock, protect the defense and quarterback, and wear teams down. It's a good plan as long as people stay healthy and if they get used to dealing with nine men in the box.
Defense: Carolina's defense actually had an exceptional 2009, finishing No. 9 in points allowed and No. 8 in yards allowed. But that was a whole different animal than the group they will feature this season. As soon as Dan Conner is laid out by his 943rd concussion the Panthers will be rolling with just two of their front seven starters from last year. People will point to the loss of Julius Peppers as the reason this group will step back this year. But the reality is that they lost their girth in the front four and have been shuffling around linebackers. Add in a secondary that, while effective, doesn't instill much fear in the opposition and you have a suspect group. If the starters can hold up I'm pretty confident that they won't fall into the abyss. They've looked good this preseason and have several strong, young bodies that are vying for time. They need the kids to grow up fast and they need their one true stud, Jon Beason, to continue to be the beast that he is. But even that might not be enough.
Skinny: The offense kind of sucks. The defense is already teetering and we haven't even wrapped up the preseason. But I have to tell you: I don't like betting against John Fox. He's an excellent coach and he has never led a team that has finished worse than 7-9. This team does have some talent and he's going to squeeze every last ounce of ability out of them. He also plays a tried-and-true NFL style of pounding the rock and being aggressive on defense. Unfortunately, this group plays four of its last six games on the road, including a finish at Pittsburgh and at Atlanta. That looks like a swan song to me.
Tampa Bay Buccaneers Predictions
2009 Record: 3-13 (1-7 home, 2-6 road)
2009 Against the Spread: 6-10 ATS, 6-10 vs. Total
2009 Rankings: 28th offense (24th pass, 23rd rush); 27th defense (10th pass, 32nd rush)
2010 Odds: 100/1 to win SB, 30/1 to win NFC, 15/1 to win NFC South, 6.0 wins O/U
Offense: Intriguing is the word I use to describe this group. Tampa Bay has a potentially explosive group here. They have an offensive line that's just a little better than you think, even though they have zero depth in those spots. But the real interest I have is in the skill players. I railed against Josh Freeman last year and I still don't think that he's going to make it in The League. But I've been wrong before. His mobility is a big asset and his arm strength is legit. But now it comes down to decision-making and I don't trust that at all. At receiver they are incredibly young. But rookies Mike Williams and Arrelious Benn and second-year man Sammie Stroughter have some serious skills and some high-end upside. Kellen Winslow is somewhat overrated but is also a reliable target. The running game is also set, with several injury prone running backs mixing together to form a solid group. So these guys can score some points and there is some serious breakout potential here. But potential don't pay the bills. And with all of these young guns you can expect a ton of inconsistency and a steep learning curve early in the year. They were held to a touchdown or less five times last year and only topped 24 points one time. So that's a lot of ground to make up. But that will also make this team dangerous because if/when they do click they could do some quick damage.
Defense: Prior to last season the Bucs had posted a Top 10 defense every year but one since 1996. That is incredible. Last year, they were No. 27. And as I look at the roster this year I don't see any way that they finish in the Top 20 this year. Injuries to the secondary and an absolutely brutal schedule led to a lot of big plays allowed and plenty of blowouts in '09. Again, you should expect an improvement this year but I don't expect much. Their front four is one of the weakest in football. I don't see any pass rushers I would be scared of nor do I see any bona fide run stuffers. The linebackers are just as nondescript. The secondary will be better with some healthy safeties this year. But other than Ronde Barber, who is still awesome, I'm not scared of any of these guys. This group stinks. And that means that they won't be able to keep the pressure off the young offense. That's a bad combination.
Skinny: I, like a growing number of others, don't believe in Raheem Morris. Tampa Bay has always been a good bounce-back team, posting an average of 10 wins following each of its last two losing seasons. But that was under the guidance of Jon Gruden and, before him, Tony Dungy. The Bucs were outscored by an average of 10 points per game over the course of 16 games last year. They had some unfortunate injury luck and were learning some new schemes, all on top of having a rookie quarterback. I think they will show progress this year, but that's only because they were so awful last season. The talent level is young and remains to be seen. But in all, be wary of this team. I expect them to endure some ass-kickings but I know they will be good for an upset or two.
Robert Ferringo is a writer and a professional sports and NFL handicapper for Doc's Sports. Last year he brought home +62.5 Units for his football picks clients in the NFL and he is regarded as one of the top totals players in the sport. He guarantees a winning football season this year or he will work for free until you turn a profit. You can sign up for his college football and NFL picks and get more information here.