Advice for Betting NFL Totals
by Robert Ferringo - 8/24/2010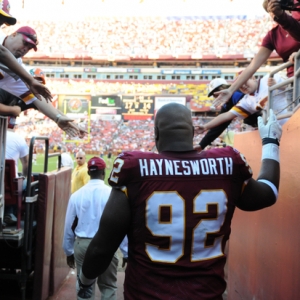 If you can't beat 'em, join 'em.
When it comes to betting on the National Football League I'm sure that most of you have tried to stare down the oddsmakers, going toe-to-toe with those bloodthirsty, integer-wielding wraiths, in an attempt to beat the books and turn a profit. I'll bet that you've tried it all: favorites, underdogs, teasers, parlays, crazy trends and wacky systems, or even coin-flipping to help you get ahead. I'll also bet that none of it worked on any consistent basis.
Unfortunately there are no magical formulas or systems that can guarantee you a profit against the sportsbooks. However, I'm here to tell you that NFL totals betting – the combined score of both teams – in games instead of trying to back a specific side can be one of the most profitable avenues of sports wagering that you can find. And the best way to be successful in this arena is to bet against the general betting public, also known as betting with the House.
The average football bettor probably doesn't gather much enjoyment out of betting on NFL totals. It's much easier, and seemingly more enjoyable, to pick a team, play against the spread, and cheer for your side to come through. No one likes to take an 'under' and then have to root for missed field goals, great punts, and runners to be tackled in bounds. And nobody wants to be on an 'over' involving pathetic quarterbacks like JaMarcus Russell or Jason Campbell.
Yet, what if I told you that over the last three years there is a very simple 'under' trend that's hit at a 64-percent rate while bagging $14,000 for dime bettors? Or how about an 'over' trend that's cashing at a 62-percent rate in over 100 trials? Sounds a lot more fun when I put it that way, doesn't it?
You'll often hear NFL handicappers and professionals talk about "going against the public" or taking the contrarian view when it comes to gambling. This not only applies to underdogs and sides but also is true in regards to totals. And if you're going against the public, or a majority of the action, that means that you are siding with the House by taking the same position as the casinos, sportsbooks, and bookies.
The most blatant totals situation in which we can profitably adopt this "play with the books" mentality is in a game featuring two dynamic offenses in what is expected to be an extraordinarily high-scoring game. If I say, "Cardinals-Saints" or "Colts-Patriots" the average bettor is going to expect a treasure trove of touchdowns. Naturally, the books are well out in front of this general perception and they inflate the total to a seemingly preposterous range – posting it at 50.0 or higher.
Of course, you would think that the sight of a total above half a century would either scare away 'over' money or incite some 'under' betting. But in fact it likely does just the opposite. When two high-flying offenses take the field the squares seem to take these extraordinarily high totals as justification for taking the obvious play and betting 'over'.
Of course, no one ever got rich betting against the books by making the "obvious" bet. And the results on the field are counterintuitive to what the general public would expect.
Since the start of the 2005 season teams are just 21-38 against a total of 50.0 or higher. That creates a slick 64.4 percent 'under' trend and has become one of the most reliable and profitable gambling situations in the NFL. Even someone betting just $50 per game on each of these totals would still be up nearly $700 with a solid 23 percent return on investment.
Here are the year-by-year results for players betting 'over' against a total of 50.0 since 2005:
2005: 2-5
2006: 0-5
2007: 7-11
2008: 9-7
2009: 3-10
This simple system has also been even more successful when the games are more important. Playoff games with a total of 50.0 or greater have gone 'under' in six of eight situations over the past four postseasons. That mark also includes two relatively easy scores in both Super Bowl XLII (Giants-Patriots) and last year's Biggest Game Ever, Super Bowl XLIV (Saints-Colts).
Of course, the best part about this situation is that it doesn't require any handicapping techniques. All it takes is the bold soul of a man willing to stare down Peyton Manning, Drew Brees, Tom Brady and the most high-powered offenses in the NFL and bet that they will be stopped. Or, at least, that they will come up short of their lofty expectations.
It's very simple: if you see a total posted at 50.0 or above run, don't walk, to the window and get your bet down on the 'under'.
That handles totals at one extreme end of the spectrum. But what about the other end? What about games featuring two dominating defenses or a pair of pathetic offenses? It's a different scenario but the concept reigns supreme: a square bettor can clean up by simply going against the expected outcome.
Since November of 2005, games posted between a total of 33.0 to 36.0 have gone 'over' 62.4 percent of the time. What is incredible about that percentage is that it encapsulates 111 trials and the 'over' in those games have a stellar 68-41-2 mark. Over the last two seasons this situation has gone 19-12 and dating back to the second half of 2007 it's a bankroll boosting 33-18.
Overall, that means that a dime bettor would be up nearly $23,000 over the last five seasons on that simple trend alone. And even if you're not laying out $1,000 per game a $50 bettor would have still brought home over $1,100 in that time. And if you combine that with our 'under' betting strategy a dime bettor would be sitting on $37,000 in profit while our $50-per-game bettor would still be up nearly $1,900.
So here we have two very simple, very straightforward concepts that have proven themselves to be extremely profitable in regards to betting NFL totals. In each case, the main idea is to bet against the general public, with the good news being that if you're going against the squares you're on the same side as your sworn enemy: the books. And since the books seem to have this making money-thing down pat, I'm going to say that the best way to soak a few dollars out of them is to line your money up on the same side as the guys with the high-powered statistical databases, complicated mathematical matrices, and overwhelming line-setting experience and ability.
In other words, if you can't beat 'em join 'em.
Robert Ferringo is a writer and a professional college football and NFL handicapper for Doc's Sports. Last year he brought home +62.5 Units for his clients for NFL picks and he is regarded as one of the top totals players in the sport. He guarantees a winning football season this year or he will work for free until you turn a profit. You can sign up for his college football and NFL picks and get more information here.