2010-11 Portland Trail Blazers Predictions with NBA Futures Odds and Betting Picks
by Aaron Smith - 9/30/2010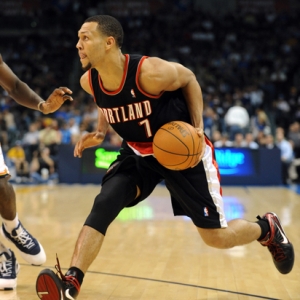 The Portland Trail Blazers would prefer to forget all about last year and just start out completely new in 2010-2011. It isn't that Portland had a terrible season last year. In fact, they were able to win 50 games and make the playoffs. The forgettable part of last season was the fact that they dealt with more injuries than any other team in the Northwest Division. Only two players from their entire roster were available for all 82 games last year. Portland fans can only hope that this year's team will be much healthier.
Portland Trail Blazers Offseason Moves
The biggest move of the offseason was to bring in Wesley Matthews. Matthews went undrafted in 2009, but contributed in a big way to the Utah Jazz last year. He should give the team a great on-the-ball defender and a hard worker that can play the shooting guard or small forward spot. The Blazers also did a nice job keeping Marcus Camby in the fold. Camby is still a great defensive presence, and with all the injury trouble they have had down low he is definitely needed. On the negative side, Rudy Fernandez is disgruntled and wants out of Portland. Fernandez is clearly a talented player, and losing a guy like him would hurt the team's already poor outside shooting percentage.
2010-11 Portland Trail Blazers Outlook
The Blazers have a great young coach in Nate McMillan, and I really like the way he gets this team to compete on the defensive end. Greg Oden was starting to dominate down low before he tore up his knee again last year. Oden can score down low and would instantly become one of the best defensive players in the league if he can stay healthy. Brandon Roy is the franchise player right now, and he has been doing a great job in that role. Roy has become a perennial all-star and one of the best players at his position in the NBA. LaMarcus Aldridge looked much better late last year and he seems to be turning into the player Portland thought he might become. Jerryd Bayless looked brilliant in small spurts last year, and he has the potential to be a breakout player this year. Nicholas Batum is a talented forward who stepped up his production in a big way as the year went along in 2009-10. Portland has the pieces to the puzzle, but they need them to all be healthy to be a real contender.
The Portland Trail Blazers schedule contains some intriguing matchups for the 2010-11 regular season. Portland will face Oklahoma City twice in just eight days time in early November. The first game will be at home on TNT and the second will be Nov. 12 on ESPN. Portland will host the Miami Heat on Jan. 9 in what should be an entertaining game. The Trail Blazers finish the season with five of their last seven games at home, which could be a real boost to their playoff seeding in April.
2010-11 Portland Trail Blazers Futures Odds
It's tough for the books to gauge just how good the Blazers could be this year. The Trail Blazers are currently listed at +2,500 to win the NBA Championship. BetUS lists the Blazers at +1200 to win the Western Conference. What about their chances to reach the Western Conference finals? Right now they are listed at +600 to be one of the final two teams alive in the Western Conference.
2010-11 Portland Trail Blazers Predictions
Portland is one of the most difficult teams in the NBA to predict because of all the injury questions. Oden is now saying he won't be ready until around Christmas, which is a big blow. The Trail Blazers have just as much potential as anyone in the Western Conference, if they can stay healthy all year, but the chances of that happening aren't great. A season with 51 or 52 wins seems very possible.
Should you take a chance on the Trail Blazers this year with your money? The team is both high-risk and high-reward. It might be worth a little bit of money to take Portland at +600 to reach the Western Conference Finals.

Allen Eastman was the Doc's Sports Advisory Board leader for NBA picks last season, helping $100 bettors earn more than $5,000. His picks will be available starting Tuesday, Oct. 26. Eastman has been in the sports betting business for decades and his NBA handicapping system is a must for any NBA bettor that is serious about making money this season. Early Bird specials will be posted soon, so check our homepage regularly. Also, check our home page daily updated NBA lines, NBA betting articles and daily matchup reports.