Saturday March Madness Preview
by Trevor Whenham - 3/19/2010


Other Popular March Madness Pages:
2019 Main Page - Brackets - Odds - Picks - Schedule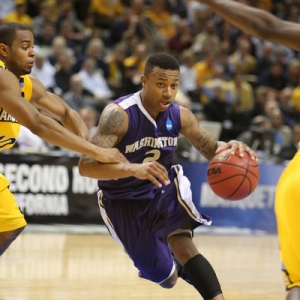 Thursday's first day of March Madness was everything that we have come to expect from the tournament. It was brilliant. Almost every game was tight. Three went into overtime. Seven games were won by the lower seeded teams, and four of those would qualify as significant upsets. It had drama and intrigue and excitement. It was exhausting. Here's hoping that the 16 teams that survived Thursday's games can play games that are half as exciting on Saturday when they hit the court again. Here's a look at Saturday's eight second round games:

Midwest

Kansas vs. Northern Iowa - For a surprisingly long time Lehigh was able to hang tight with Kansas. If you didn't watch the game then you might think that that was a reason to panic. Watching it, though, you clearly saw how good Kansas was, and how quickly they took over the game when they decided that it was time to. They were ruthless. Northern Iowa got past UNLV, and played very well throughout their tough game, but they only barely won the game, and UNLV is a long way from Kansas. Northern Iowa is feisty and defensively sound, so they can and will give Kansas some troubles for a while - and potentially a long while. They will have to really accomplish something special if they want to pull of an upset, though.

Tennessee vs. Ohio - The Bobcats are a stunning story. They were a No. 9 seed in the MAC Tournament with a 7-9 conference record, but they won four games in unlikely fashion to take the tournament and steal the conference's automatic bid. They shouldn't have made the NCAA Tournament, and they certainly shouldn't have won a game once they got there. They didn't just win, though - they dominated a No. 3 seed. Georgetown was terrible - like all of the Big East - but Ohio gets credit for controlling the pace from the outset, and for holding up under the pressure of the second half Hoya charge. It was incredibly impressive. Tennessee faced a big challenge in San Diego State, and they looked solid throughout despite only winning by a narrow margin. On paper, Tennessee is the better team by a wide margin, and should have no problem coming out ahead of Ohio. We learned on Thursday, though, that this Ohio team in March is not the Ohio team from all year, so this one isn't as easy to assess as it should be.

West

Butler vs. Murray State - This could be the game of the second round. I can't wait for tip-off. Butler is a very strong team that has aspirations of playing in a home Final Four game in Indianapolis. If they play like they did in the second half of their game against UTEP then that could happen. They were losing at the half and not looking good, but their second half was as good as a team can play. Murray State was in a fist fight with Vanderbilt throughout, but they never quit, and squeaked out a win in the end. We know they can compete with Butler because they certainly competed with the Vanderbilt, but Butler is as hot as any team in the country and will be hard to beat. Butler will be favored, but this one won't be decided until late.

BYU vs. Kansas State - The Wildcats weren't tested, and we didn't learn much from their win. BYU won a crazy one over Florida in double overtime. They were far ahead in the second half, but then collapsed before earning the tie. Overtime looked bad at the start, but they fought back again for the tie and another overtime period. Double OT was when BYU finally exerted themselves and opened a gap that lasted. I don't like how Kansas State came into the tournament, so I see them as vulnerable. BYU plays a tough, explosive style of game that is hard to adjust to, and could be very hard to deal with for Kansas State. The x-factor in this one is going to be how much the loss took out of the Cougars, and whether they have another street fight in them.

East

Kentucky vs. Wake Forest - Kentucky looked exactly like you hope a promising No. 1 to look against a No. 16 - ridiculously dominant. Wake Forest looked like the better team for much of their game against Texas, but they needed a shot in the dying second of overtime to earn the one point win. They played well given how they performed down the stretch, but they didn't play like a team that is ready to challenge Kentucky. Unless they have an off day for some reason the Wildcats are poised to have a pleasingly simple first weekend.

Washington vs. New Mexico - The Huskies were a disappointing team in a disappointing conference all season, but they played as well as they have all year to get past Marquette. Beating a Big East team wasn't much of an accomplishment on Thursday, though, so this one comes with a grain of salt. At first glance, New Mexico didn't beat No. 14 Montana by much, so they might not look like a strong No. 3. Montana is a very strong team, though, and they played a great game against New Mexico. The Lobos had to play a great game to beat Montana, and they showed that they are here to play. New Mexico is well tested by playing in the Mountain West, and seasoned for this challenge. Washington can make this one a tough contest if they play their best, but their best has been fleeting this year.

South

Old Dominion vs. Baylor - Old Dominion was a lower seed that totally shut down a team's best player and won in impressive fashion. Baylor was a top seed that looked flat footed and almost got caught off guard by a lightly-regarded opponent. If both teams play like they did on Thursday then we could have another upset on our hands. Baylor's a better team than they showed on Thursday, though, and they don't need to rely on Epke Udoh like they did in that first game. It doesn't oversimplify this one, then, to say that the outcome depends on how badly Baylor wants the win.

St. Mary's vs. Villanova - St. Mary's looked good, really good, as they beat Richmond. Once they got rolling in the second half it wasn't close, and they controlled the tempo and frustrated their opponent as well as anyone did all day. Villanova was lousy - they got taken to overtime by a No. 15, and they were lucky to get there. They looked disinterested from the start, and only at the end were they able to sustain any momentum and exert their obvious advantage. Villanova is the better team, and would win if both teams were at their best. They got frustrated by Robert Morris' tenacity, though, and St. Mary's is just as tenacious, and even more talented and unpredictable. Villanova seems vulnerable, and they'll be in trouble if they don't step their game up significantly from what we have seen the last month.