White Sox and Rangers - Two Hot Teams Meet in Arlington
by Trevor Whenham - 7/2/2010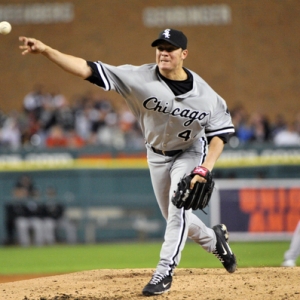 It's fitting that the Rangers and the White Sox are starting a three-game series in Arlington on Friday night. They are the two hottest teams in the American League, and both are performing well above expectation. The White Sox stumbled somewhat in Kansas City against the surprisingly strong hitters from the Royals, but before that they had won 11 straight. The Rangers had their own 11 game win streak, and won three of five since. It's the best June that Texas has had since 1978.
When two teams like this one meet up one is going to falter. Let's look at how these two teams are doing what they are doing to see if it becomes clear which one is likely to do so:
Texas
It doesn't take a rocket scientist to figure out how Texas is succeeding - they are scoring a lot of runs, and aren't allowing as many. Only the Red Sox and Yankees have scored more runs, and on the Royals are hitting to a higher average. They are particularly dominant at home where they have scored 6.2 runs per game and are hitting a combined .306. What makes this team so scary at the plate is their depth. Josh Hamilton is proving just how good he is - he's hitting .340, and just ended a 23 game hitting streak. Vladimir Guerrero looked like he was done, but the Angels would probably give anything to have him back right now - he's at .336 with a major league leading 68 RBIs, and he's tied with Hamilton with 18 home runs - third best in the AL. Those two are leading the way, but they aren't alone. Nelson Cruz is back off the DL and looking good. Michael Young is looking like the all-star he is, Ian Kinsler and Elvis Andrus are more than solid, and youngsters Julio Borbon and Justin Smoak have had their moments. When you have that many guys in a lineup hitting that well the confidence is contagious. Guys ca feel loose because they know that if they have a bad day there are more than enough other guys to pick up the slack.
As good as the bats have been, what's making the difference for the Rangers this year is their pitching. The rotation has been a punchline since Nolan Ryan retired, but for once their arms are overachieving. Colby Lewis has been strong in his return from Japan, C.J. Wilson has been a revelation in his move from the bullpen to the rotation, and Tommy Hunter has been brilliant since joining the club from the minors. Scott Feldman hasn't recaptured his from from last year yet, and Rich Harden has been a disappointment, but this is still a better rotation than they have had in a while. I'd look for them to try to upgrade it this month, too. Cliff Lee would look very good in a Texas uniform, and the Rangers have some nice young pieces to use in leverage.
The bullpen has been a big factor in the Texas success, as well. They are remarkably consistent - essentially the same ERA on the road as at home - and they have avoided looking really bad. When you have arms like Frank Francisco and Neftali Feliz at the back of the bullpen confidence isn't a real issue.
One other big factor in the success of this team is manager Ron Washington. Revelations about his cocaine use last year were a serious embarrassment, and it really seems as if he is making the most of his second chance. He's been far stronger strategically than we have been used to from him. He's at the helm of a team build to contend, and he knows it.
Chicago
While the Rangers have the second best record in baseball, Chicago's recent success has only barely taken them above .500. The difference is obvious when you look at the stats. The White Sox have just one starter hitting better than .300 - Alex Rios at .307. Paul Konerko is having a great year - a league leading 20 home runs to go with 56 RBI - but the more common trend for the lineup is to be underachieving. They took some lineup gambles this year, and they aren't paying off - Omar Vizquel looks as old as he is, Gordon Beckham doesn't look ready for the majors yet, and Juan Pierre has been far below expectations. The Rangers are winning because of their hitting, while the White Sox have been winning recently despite it.
On paper the White Sox have a nice rotation, and at times that potential has been realized, but for the most part a good rotation hasn't been good enough. These five guys - Peavy, Buehrle, Floyd, Danks, and Garcia - should be better than 31-29, and more than one of them should be better than one game above .500. If you takes Freddy Garcia's 8-3 out of the mix the other three are just 23-26. Not acceptable. Danks has an ERA of 3.62, but none of the others are below 4.58. Peavy has found his stride recently, and Floyd has had some bad luck, but it's hard to view this team as a serious AL Central contender until they find some consistency off the mound - even though they are only two games out of the lead. What's been saving the starters from even more heartache is that the bullpen has been good overall, and particularly good on the road.
Ozzie Guillen is a good manager with some impressive accomplishments. The team can't be benefiting form the soap opera that he is starring in this year, though. He and GM Kenny Williams couldn't be more different, ant couldn't have a more dysfunctional relationship. Guillen's kids make Ozzy Osbourne's look drama-free. This is Guillen's seventh year as manager of the White Sox - a fairly long time in this league. Though he has never been a disaster, perhaps it would be good for everyone involved for him to get a change of scenery.