College Football Power Rankings: the Ferringo 15
by Robert Ferringo - 9/7/2011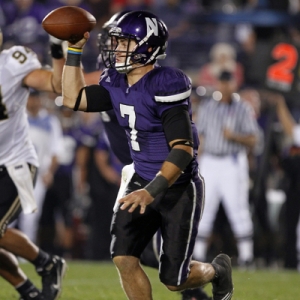 The Ferringo 15 College Football Power Rankings is my own unique twist on the obsessive ranking systems that have dominated the sport for over a half-century. The Ferringo 15 is my Profit-Power Rankings; a rating of the 15 teams that I think hold the most value in college football betting at the moment and it's a reflection of past, present, and projected future achievement against the college football point spread.
Naturally, the Ferringo 15 is a fluid list. As the college football betting markets adjust to teams and situations, the perceived "value" of the teams on my list will change. Think of it like a list of stocks: a stock's value is going to go up or down based on A) how it performs and B) how the expectations from the general public change.
So just because my No. 1-ranked team goes out and blows out an opponent, that doesn't strengthen their hold on the top slot. If anything, blowouts hurt value because the general betting public will then start to overestimate a team's ability. However, teams that quietly go about their business grinding out wins and covering spreads will see their stock – and their spot in the Ferringo 15 as well as their college football odds – steadily rise as the season progresses.
The Ferringo 15 has been exceptional over the past four years at pinpointing undervalued teams. If you were to have bet every team in the Ferringo 15 the week that they appear in my college football power rankings then you would have hit more than 58 percent of your wagers for a four-year period.
For instance, at the start of last year the top three teams were Mississippi State, San Diego State and Syracuse. Those three schools went a combined 24-15 against the spread for the season, a 62 percent winning rate for their backers.
So without further ado, here is my 2011 Ferringo 15 College Football Power Rankings (all records are ATS against the closing line):
1. Tennessee (0-0-1) – For the second year in a row I am tabbing an SEC team as my most valuable wager in the country. I think that this Volunteers team is a year away from being back among the SEC elite. They handled Montana in the opener and the Vols are now 5-1-1 ATS dating back to the end of last year. Tennessee has a tough two weeks on deck, facing an underrated Cincinnati team before taking a trip to The Swamp next Saturday. The Tennessee Volunteers football schedule is absurd, with games – consecutively – against Georgia, LSU, Alabama and South Carolina making up their October slate. However, three of those games are at home and I think that Tennessee will be a very active dog all year.
2. Cincinnati (1-0) –I like the Bearcats to bounce back in a big way after a terrible 2010. They absolutely eviscerated Austin Peay in the opener, ringing up 72 points in a blowout. There is a lot of buzz around West Virginia, South Florida and Pittsburgh to win the wide-open Big East. But I think that the Bearcats have the most talent, particularly on defense, and that they will be cashing tickets all year long. They have a tough trip to Knoxville this week, but I think that the loser might actually see their value increase at the window.
3. Mississippi State (1-0) – For the second year in a row I am starting with the Bulldogs in my Top 3, and right now I think that the Bulldogs have as much value as any team in the country. Sure, they are ranked in the Top 20, so it is not as if they aren't getting much national love. But there are still very few people in SEC country that can accept this program among the league's elite. Dan Mullen has been doing WORK with this group since taking the reigns and his group has a chance to knock off the defending National Champions on the road this week. Mississippi State has one of the toughest schedules in the nation this year. But as I look through the SEC I think that this team can more than hold its own against schools like LSU, Georgia and Alabama.
4. Air Force (1-0) –The Academy is always one of the most difficult teams in the country to handicap. They are one of just a handful of teams in the nation that still features the triple option offense, and this team is perpetually undervalued as a result. But Air Force has its most experienced team in more than five years and they brought back 77 percent of the players from last year's nine-win group. Air Force is overshadowed in the Mountain West by Boise State and TCU. But this team is a legit threat to break into the top-tier and I think that they will cause people problems – at the window and on the field – all fall.
5. Utah (0-1) –Things just appear to be breaking well for the Utes this year. This team has gone 59-38-2 ATS over the course of the last seven years (60.8 percent) so they are consistently undervalued. And I think that a lot of square bettors doubt their ability to make a smooth transition into the Pac-12. But the Pac-12 is a mess, and Utah's strength and maturity will serve them well against a tailor-made schedule. I think that teams are going to have a tough time making that first trip to Salt Lake City and I feel that Utah will be catching too many points in a majority of their games this year. USC is facing a postseason ban and Arizona State is shaky, so don't be stunned if the Utes end up representing the South in this year's Pac-12 title game.
6. Toledo (1-0) –A veteran quarterback and a sweet home field advantage are just two reasons to like this Rockets team this year. Another is the fact that after four years of languishing the Rockets finally got their mojo back last year, going 8-5 overall and 7-6 at the window. People forget: from 2001 to 2005 the Rockets were as good as it got in the MAC, going 45-18 SU and 32-26-2 ATS during that stretch. This team ahs 18 returning starters and they will be big dogs the next three weeks at Ohio State, at home against Boise State, and then at Syracuse. I can see them covering the number in two of those three games.
7. Northwestern (1-0) –Dan Persa may not have a chance in hell of winning the Heisman, but the Wildcats do have a shot at making some noise in the Big Ten Legends Division. I think that head coach Pat Fitzgerald is very underrated and that this extremely experienced team can play with anyone in the conference. They manhandled Boston College on the road last week and have a pair of cream puffs in Eastern Illinois and Army in the next two weeks. People forget that this team was 7-3 last year before Persa blew out his Achilles. They will be in the mix in their division this year.
8. Virginia (1-0) –I think that Mike London is going to make some strides with this group this season and that they are going to offer excellent value in the ACC. This team was 4-4 last year before a late-season swoon saw them lose their final four games. But London welcomes back 18 starters from last year's group and they looked excellent in their opener against William & Mary (which is a decent FCS program). The Cavaliers have a challenging early season schedule, which should lead to some very beatable "in-between" spreads. Then they will resume their normal role of heavy underdog in ACC play. But if this team can get some decent quarterback play I believe that they will stay very competitive and that they could make just their second bowl game since 2005.
9. Ohio State (1-0) –The Buckeyes have been the most profitable team in the country over the course of the last decade and have been a staple of the Ferringo 15. I don't see any reason why they shouldn't make my first list of the season this year as well. Most bettors are caught between wanting to just stay away from this plagued Buckeyes team and wanting to fade a group missing its coach, quarterback, and several star players. Not me. The upperclassmen on this roster have done nothing but dominate the Big Ten over their tenures and this is the most stocked depth chart in the league. I thought Joe Bauserman looked capable and this team is playing with a chip on its shoulder. Everyone appears to be jumping off the bandwagon because of the offseason controversy. All that has done is free up some seats and I will gladly jump back on.
10. Rutgers (1-0) –Greg Schiano looked like he had Rutgers among the top programs in the Big East prior to last season's 4-8 disaster. However, I think that the Knights could be primed for a surprisingly strong season thanks mainly to their schedule. They have only four true road games and one of them is against horrid Syracuse. This weekend is a big one for the Scarlet Knights, who are big underdogs against North Carolina. Rutgers has lost to UNC in the last two meetings (44-12 in 2008 and 17-13 last year). But that gives them revenge. And while I don't believe that UNC is in better shape than they were 12 months ago, I do think that Rutgers is trending upwards.
11. SMU (0-1) –Yes, the Mustangs were noncompetitive in their opener against Texas A&M. However, I will give June Jones the benefit of the doubt. This SMU team has 11 three-year starters and will be a player in Conference USA. The key to their value is their road slate, which includes games at TCU, at Southern Miss, at Tulsa and at Houston. This team is 8-3 ATS as an underdog over the past two seasons and they should be catching points in all four of those games.
12. BYU (0-1) –The Cougars got off to a pretty weak start to their career as an independent last week, pulling the old win-but-no-cover at Ole Miss. BYU dominated that game but just couldn't get ahead of the number. However, I think that this team is going to get better and better as the year slogs on. And once they make the turn past Texas and Utah in the next two weeks I think BYU could hit its stride and start racking up the blowout wins we're used to seeing out of them. The Cougars have covered five of six games overall and five of six nonconference games and they are catching an overrated Texas team this week. Don't be stunned by an upset.
13. Western Michigan (0-0) –The Broncos were victims at the Big House last weekend in a weather-shortened game. However, they did some things that definitely impressed me, and I think that this team is one to watch closely in the MAC West. Much like SMU, Western Michigan is a quality veteran team that gets most of its toughest games on the road. The Broncos have trips to Illinois and Connecticut on the docket, as well as tricky conference road games at Northern Illinois, Toledo and Miami (Ohio). But I believe that this team has enough talent after two down years to really cause some problems. Alex Carder leads one of the league's best passing attacks. And as we have seen repeatedly in the past, teams that can move the ball in the air (think Ball State in 2008 or Central Michigan in 2009) can make a mint at the window in this league.
14. Michigan (0-0) –I know that people are jumping on the Wolverines bandwagon way too quickly after a not-nearly-as-good-as-the-score-looked win over Western Michigan last weekend. But there is also no denying the potential with this team. And the fact that they are home underdogs this weekend against Notre Dame tells me that the Wolverines still have some value left. (Well, that and it tells me Notre Dame is still the most overrated program in the nation.) Michigan plays its first five games at home and then has four very winnable games against Northwestern, Michigan State, Purdue and Iowa. I know that if this team gets on a roll the value will vanish quickly. But even if they lose this week to the Gold Domers I am going to hold my stock on this team and look for some delayed returns.
15. UAB (0-0) –The Blazers open their season in Florida this weekend, a huge disadvantage considering that they will still be shaking the rust off against a Gators squad that played well last week. However, this UAB team could be a sneaky ATS machine in Conference USA this year. The Blazers have 16 starters back from a team that nearly won at Tennessee and at Mississippi State last year. It takes more than a smile to accomplish those two covers. This team needs to get better as a favorite. They are just 17-29 ATS over the last decade when laying points. But led by a deep, experienced defense, and playing for a coach that is working to keep his job, the Blazers are a team to keep in mind if you're looking for an under-the-radar winner some Saturday this year.
Robert Ferringo is a writer and a professional sports handicapper for Doc's Sports. This week's card will include two exciting Game of the Year predictions. He has brought in over $20,000 in overall profit in all sports over the last 12 months and is looking to continue his exceptional football success (21 of 29 winning football months). You can sign up for his college football and NFL picks and get more information here.
---
Most Recent College Football Power Rankings