College Football Power Rankings: the Ferringo 15
by Robert Ferringo - 9/15/2011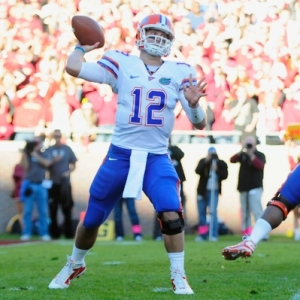 The Ferringo 15 College Football Power Rankings is my own unique twist on the obsessive ranking systems that have dominated the sport for nearly a century. The Ferringo 15 is my Profit-Power Rankings; a rating of the 15 teams that I think hold the most value in college football betting at the moment and it is a reflection of past, present, and projected future achievement against the spread.
Naturally, the Ferringo 15 is a fluid list. As the college football betting markets adjust to teams and situations the perceived "value" of the teams on my list will change. Think of it like a list of stocks: a stock's value is going to go up or down based on A) how it performs and B) how the expectations from the general public change.
So just because my No. 1 ranked team goes out and blows out an opponent, that doesn't strengthen their hold on the top slot. If anything, blowouts hurt value because the general betting public will then start to overestimate a team's ability. However, teams that quietly go about their business grinding out wins and covering spreads will see their stock – and their spot in the Ferringo 15 as well as their college football odds – steadily rise as the season progresses.
The Ferringo 15 has been exceptional over the past four years at pinpointing undervalued teams. If you were to have bet every team in the Ferringo 15 the week that they appear in my college football power rankings then you would have hit better than 58 percent of your wagers for a four-year period.
Here is my Week 2 2011 Ferringo 15 College Football Rankings (all records are ATS against the closing line):
1. Tennessee (1-0-1) – The Vols dominated another one of my Ferringo 15 teams last week (Cincinnati), and dating back to last year they are now 6-1-1 ATS. Tyler Bray is the real deal and right now this offense is locked in. For the second straight week they will face an F-15 club, and, unfortunately for Tennessee, they are just 2-5 ATS in their last seven against Florida and they have been routed in their last two trips to The Swamp. The big question this weekend will be if UT can't crack the Florida defense (1.5 points per game allowed), then will they have enough toughness to hang in there on the road against a better team?
2. Georgia Tech (2-0) –I don't know why this team surprises me and they are by far the biggest jumpers in this week's power rankings. Paul Johnson has an incredible system. And despite massive and rampant roster turnover he was always a moneymaker at Navy. There is no reason why things should be any different at Tech. They have a revenge game this weekend against Kansas (which is also 2-0 ATS), but the Jackets will have to avoid looking ahead to their ACC opener next week against the Tar Heels. I'm looking for this Jackets team to stay a solid option throughout the rest of the year.
3. Florida International (2-0) – It's difficult to say that Florida International is an under-the-radar program right now after scoring a rare win for the Sun Belt against a BCS program last week. But the Panthers are still home underdogs against an in-state foe this weekend and FIU has covered six of its last seven lined games. The Sun Belt, beyond Troy, is always wide open and this is a team that we could jump on early and watch them thrash their way through the rest of the conference.
4. Toledo (2-0) – I was torn on Toledo this week. Their very game effort at Ohio State last week actually may have hurt their value. However, they are catching three touchdowns from Boise State as a monster home dog this weekend so they aren't exactly overrated. In fact, getting blown out by the Broncos wouldn't be the worst thing that happened to this club because it could build up some value heading into next week's trip to Syracuse.
5. Utah (1-1) –This is a difficult two-week stretch for the Utes. Last week they lost a tight, tight game in their emotional Pac-12 opener. And now they have to go back on the road for the Holy War with bitter rival BYU. This game has usually been played at the end of the season for these former Mountain West inhabitants. It will be interesting to see how the intensity is impacted by this early-season matchup. The Utes are an incredible 27-10-1 ATS as an underdog and they are 17-6-1 ATS as a road dog, a role they find themselves in this week in Provo.
6. Arkansas(2-0) – This team is another newcomer to the F-15. The best thing about the Razorbacks is that their skill players are among the most talented in the country. Their receiving corps is loaded, and even without leading returning rusher Knile Davis they look like they are going to have little trouble moving the ball. It took a few years, but Bobby Petrino's system is now firmly in place. He has never been shy about running up the score and that will help this team cover some big numbers. They are also still just a dark horse in the SEC to more highly-touted teams like Alabama, LSU, South Carolina and Florida. But that lack of respect just boosts the Hogs' value.
7. Northwestern (1-1) –Dan Persa's injury could be a blessing or a curse for Northwestern backers. The Wildcats beat Boston College virtually without him. And he is questionable this week. That uncertainty, if it becomes a consistent issue, could make it tough for the books to put out accurate lines on Northwestern games. The Wildcats are just 3-9 ATS in their last 12 games and have been a weak bet for years. But I think this is their best team in a while and when they get Persa back and fully healthy they really could be a great play throughout the Big Ten portion of the Northwestern football schedule.
8. Mississippi State (1-1) – I don't want to give up on Mississippi State just yet. They are home underdogs tonight against LSU, and this could be a big spot for them to earn an upset. The Bulldogs have one of the toughest schedules in the country, so their lines should be tight all season long. They will need to be more prepared to play than they were last week. But even after taking blows on the road at Auburn they still were a yard away from sending the game to OT. They will need that fighting spirit against a very good LSU team that has had two weeks to prepare.
9. Marshall (1-0) – The Thundering Herd have the makeup of a good ATS team: a bad offense and a very good defense. Marshall was making things tough on a high-scoring West Virginia offense in the opener before it was rained out. Then they clamped down to get a big upset win over Southern Miss last weekend. This team isn't moving the ball well, but they are finding ways to make plays. Marshall is an underdog to a MAC team this weekend so they obviously still aren't getting a ton of respect. They could turn out to be this year's Miami, OH.
10. Anyone Playing Notre Dame (2-0) – You may laugh, but this is not the first time that APND has cracked the Ferringo 15. The reality is that the Irish are still the most overrated team in the country. They just lost to a pair of very middling teams in South Florida and Michigan. And you can talk about their numbers all you want but the bottom line is that they are 0-2 against the spread yet still favored this weekend against Michigan State, which is the best team they have faced yet. The Irish still have games against Pitt, Purdue, Air Force, USC, Navy, Maryland and Stanford on the docket and I wouldn't be stunned to see them lose at least five of those games outright. Forget BCS bowl – this team may not even make a bowl game this year.
11. East Carolina (2-0) – I think that this East Carolina team is garbage, I think that they were garbage last year and that they were one of the luckiest, flukiest teams in college football. But I am finally buying in to this team's ATS potential this year because, well, they just keep covering spreads. Despite a horrific defense and a questionable coach the Pirates are 2-0 ATS. Dominique Davis has been one of the more impactful transfers in college football over the past two years and after hanging around with South Carolina and Virginia Tech (both of which will likely be in BCS bowls this year) ECU has to be considered an interesting team in Conference USA.
12. Bowling Green (2-0) –The MAC always ends up with a couple of the more profitable teams in the country because of their off-the-radar situation. The Falcons routed Idaho in their opener and then blasted Morgan State last week and have beaten the Vegas lines by a combined 30 points. This team is only 8-21 ATS in its last 29 home games and they are laying too many points this week to Wyoming. But with three of their next four on the road this team could be a very active dog over the course of the next month.
13. Michigan (2-0) –I would love to move the Wolverines up the rankings because I feel like they are still being undervalued a bit. But after that thrilling win over Notre Dame last weekend the Wolverines have been getting love from every media outlet in the nation this week. Michigan's performance this week – in a letdown situation against one of the worst teams in Div. I – will tell a lot about the maturity of Brady Hoke's crew.
14. Cincinnati (1-1) – I can't slam the Bearcats too much for getting beaten on the road by an SEC team. However, losing by three touchdowns and basically not competing in the second half was troublesome. They should demolish Akron this week. However, they are in between their two biggest nonconference games of the year (Tennessee and N.C. State) and you have to wonder about how motivated they will be this weekend. Cincinnati is just 4-10 ATS after a loss of three touchdowns or more.
15. Florida(2-0) – I know, I didn't see it coming either. But people are sleeping on the Gators in a big way. Last season Urban Meyer was pretty much mailing it in. Add in the Tebow Transition and their lackluster performance is understandable. But this team is 37-18-1 ATS in its last 56 games overall and right now they are a dark horse team to come out of the SEC East. They have covered six of eight going back to last year and this team is showing some signs of life.
Robert Ferringo is a writer and a professional sports handicapper for Doc's Sports. He has brought in $20,000 in overall profit in all sports over the last 16 months and is looking to continue his exceptional football success (21 of 29 winning football months). You can sign up for his college football and NFL picks and get more information here.
---
Most Recent College Football Power Rankings