College Football Predictions: South Florida at Syracuse Betting Odds and Picks
by Trevor Whenham - 11/10/2011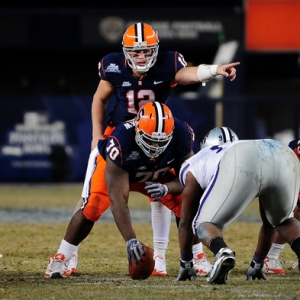 South Florida Bulls at Syracuse Orange
Friday, Nov. 11, 8 p.m. ET
Sometimes the Friday night game is a compelling one — not the highest-profile game, but an interesting one between good teams playing well. This is definitely not one of those times.
These are the two worst teams in the Big East right now, and that conference isn't exactly a murderer's row.
Syracuse has dropped their last two, but that looks strong compared to the four-game losing streak that South Florida is riding. It is not likely that they will be watching this game years from now in football coaching classes.
South Florida at Syracuse Betting Storylines
South Florida opened the season 4-0, and the headlines being written were that Skip Holtz had really turned the program around. Now they are 4-4 and that argument isn't as convincing anymore.
There is a striking difference in their play between the winning streak and this skid — discipline is the culprit; they used to play with it and now they don't. They aren't finishing plays as well, and they are taking far more penalties than they should.
The problem reached a peak last week when an impossibly bad late hit penalty allowed Rutgers to come back to tie the game and win in overtime.
The body language has not been good for the team, but we could see something different here. During the week the team had a players-only meeting. You don't see that happen in college much, so it should have an impact.
Three weeks ago Syracuse was brilliant in a dominating win against West Virginia. The team we saw that night could be a factor in the Big East. Unfortunately, that team was an anomaly.
They obviously have some talent, and QB Ryan Nassib is a reasonably talented QB with a solid cast of characters around him. They have a defense that can be decent as well. They just can't consistently seem to get all the moving parts moving together at the same time, and the skill they have best developed is beating themselves.
Despite the problems on both sides this is actually a pretty good QB battle. Geno Smith is clearly the best QB in the Big East, but you could argue that whoever comes out on top in this one is second best.
Ryan Nassib is a game manager with very high football intelligence. He has a big arm, though he doesn't get to show it off much because of conservative play calling and the lack of big-time receivers.
You can tell everything you need to know about this offense with one stat — there are three games left, yet tight end nick Provo has already soundly broken the Syracuse record for receptions by a tight end. Tight ends aren't generally the primary option unless they have to be. On this team they have to be.
South Florida's B.J. Daniels isn't quite living up to expectations this year, but he has been periodically spectacular. He has set the single game passing record for USF three different times this year — most recently two weeks ago against Cincinnati. The Bulls lost to Cincinnati despite more than 400 passing yards, though, so Daniels can't necessarily do enough by himself to list this team.
More significantly, he has a shocking ability to disappear for long stretches of time — especially on the road. His arm is his biggest strength, but he'll forget that and rely on his legs. He's a good runner, but not good enough to make it the right decision.
South Florida at Syracuse Betting Odds and Trends
The game opened with South Florida favored by four points, according to college football odds, though that quickly fell to 3.5. Nearly two-thirds of bettors have taken the points and the home team. The total opened at 52 and has fallen slightly to 51.5.
Neither of these teams has been any good against the spread. In their last 10 combined games they have covered just one spread — that Syracuse win over West Virginia.
Both teams have gone 'over' the total four times in their last six games. Syracuse won and covered last week as eight-point underdogs, but the Bulls had covered the previous five meetings as favorites.
College Football Predictions: South Florida at Syracuse Picks
I see this one as a coin toss. I've gone both ways in my mind as I've looked at this one.
In the end, though, I have to take the Bulls. They have a more potent offense, and I like that the players — led by the seniors — took it into their own hands to get back on track this week. That could be enough to make a difference here.
This won't be a pretty game, but the Bulls should win it by a touchdown.
Indian Cowboy has been dominating the football bookies and his NFL and college football picks have helped clients to seven of eight winning football weeks. His college football handicapping has uncovered another strong card this weekend. IC is one of the most selective handicappers in the nation and his IC-3 includes three of the best picks on the card each week. A one-week package is only $99 – Click Here for more details.